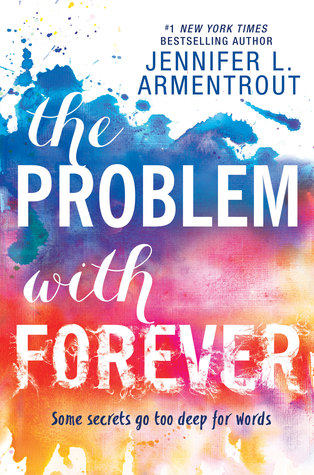 The Problem with Forever by Jennifer L. Armentrout
3 stars
This book………… it had the right idea, but the execution just wasn't quite right. JLA is one of my all time favorite authors, many of you know that because I've been screaming about her books since I discovered them. I enjoyed this book, and I love the concept of it. I just didn't like the execution of it.
This is the story of Mallory, a foster kid who doesn't speak much because of PTSD and conditioning from her previous foster home. Four years later and a nice couple have taken her in and homeschooled her, but now she's going to fulfill her senior year at a public school. On the first day of school she runs into the boy she never thought she would see again, her protector in her old foster home. They are happy to see each other, but their time in that horrible house has left it's mark.
I think Mallory's story was an important one to tell, social anxiety stemming from her issues is a tough subject. I feel teens will be able to relate to her as a character and easily empathize with her. It's important for teens to have books they can relate to so they don't feel alone, and this is a perfect one to hand to a teen who has issues with public speaking/ptsd. What I didn't love was this book was looooooooonnnnnnnnnnnnnggggggggg. Like, the message could have been executed in 350 pages instead of 470. Because for me, this book dragged big time. I never had that excitement to pick it back up again once I put it down.
I think I am one of the few with this opinion, so please pick it up and try it for yourself. JLA is still one of my favorite authors and I will gladly read anything she publishes in the future, this just wasn't exactly my cup of tea. And oh! This book has a pretty cover. That's another bonus 🙂