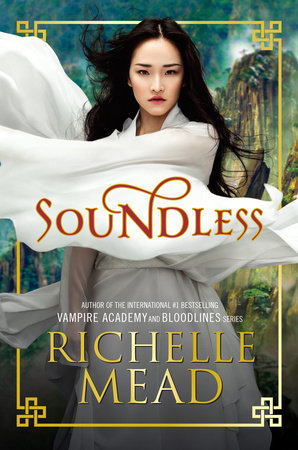 Soundless by Richelle Mead
4 stars
"Look what we've done so far. We're pretty good at the impossible."
I didn't expect to like this one. The only book I've ever read by this author was Vampire Academy, and I wasn't super impressed by that one (despite loving the movie as a guilty pleasure). So Soundless was a bit of a risk going in, but the premise is what had me intrigued.
Fei lives in a small village in China, up on the mountains where they can only be reached by zip line. Years ago an avalanche blocked all exits from the village leaving the people up there for hundreds of years. The village has worked out a negotiation where they send down materials they mine, and food is sent up. The entire population is deaf and has been for a long time. But recently the people have begun to go blind as well.
One day Fei wakes up suddenly and she can hear. This opens up new possibilities of escape and a life greater for her people than just working in the mines. Fei and a childhood friend decide to make their way down the mountain, and what they find changes their lives.
"I went to the library seeking information on what might bring hearing back, but now I wonder if there's a way to make it go away again. I can't see why our ancestors thought hearing was such a great thing, why they mourned its loss so much. It's jarring and distracting, making it impossible to focus on anything else."
As I said before, I liked this a lot more than I thought I would. This book flowed fairly quickly and was fast paced, despite a lot of it being descriptions of surroundings and characters. I liked Fei as a character, she had hard choices to make and ultimately was a good person and made the right ones.
I am very glad this was a standalone, another book after this would have just stretched the story. It's refreshing to come across a YA fantasy standalone as most publishers are making things trilogies for the money. The ending of this felt a bit rushed after all of the build up, but was still a great way to end things. Very romance light, with a hint of what is to come in the future.
If you want to try a different kind of YA novel, I recommend this one. It's a very refreshing and unique read among a genre where similarities and tropes are endless.
"Some things don't need words. Sometimes it's enough to just feel. You don't have to label and articulate all that's around you."