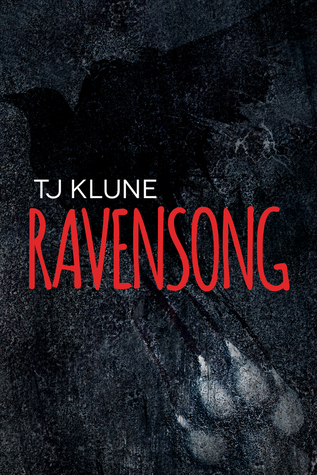 Ravensong (Green Creek #2) by TJ Klune
4.5 stars! 
SPOILER FREE REVIEW!! 
"The funny thing about hate is the razor-thin line that separates it from something else entirely." 
This is the story of Gordo and Mark, characters we met and fell in love with in Wolfsong (the book before this one and yes, you need to read them in order). Gordo and Mark loved each other, but something happened and Gordo sent Mark away. Now years later, Gordo is again the witch of the wolf pack Mark is in, but the two of them cannot seem to work out the past. When a new threat comes to Green Creek they both race against time to save those they love.
"Here, in the dark, hearing him laugh reminded me of the way things once had been. And the way things could be…" 
Not going to lie, I was a little bit apprehensive about reading Ravensong. Don't get me wrong, I was DYING to get my hands on it, but since I loved Wolfsong so much, I was worried my expectations were too high. I needn't have worried, because they weren't. I loved this story, I loved the characters. Reading this book felt like coming home again. I found myself smiling a lot throughout and tearing up at other parts. Klune is an excellent writer, bordering on brilliant in my book.
I'm not going to give away any spoilers, but I will say this had less angst than the first book (which personally I could have used some more, hence the 4.5 and not 5 stars) but angst allergic people will be happy. I also loved that TJ was able to progress the overall plot of this series and didn't just dish us the same thing twice.
A beautiful love story, one I'll never forget. And I hope there is more to come with this series (subtext, there better be more books in this series or else!).
"I have never seen a wolf love another as much as he loved you." 
ARC provided by the publisher in exchange for an honest review