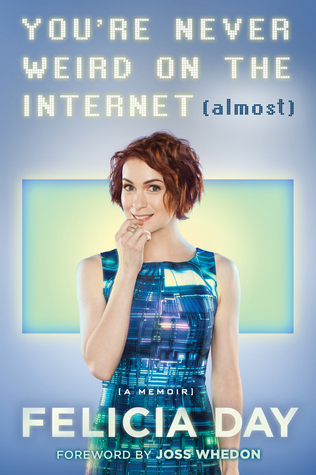 You're Never Weird on the Internet (Almost) by Felicia Day
4 stars!
Do you know Felicia Day? If so, where do you know her from? Personally, I am a crazy Buffy the Vampire Slayer fan since the age of 11, so I always knew her as that potential slayer in season 7. Other people may know her from the tv shows Eureka and Supernatural, or for her own show The Guild.
So as I have mentioned in other reviews, I made a New Year's Resolution to read more types of books and genres other than romance this year (as I used to read ALL genres at one point). So while I was watching Supernatural one day I saw this actress and thought, "Hey, didn't she write a book?" and promptly requested it from the library.
I lost track of the amount of times this book made me laugh. Felicia has a very strong and present voice, and I felt like I could hear her voice talking to me while I was reading. From her childhood being raised in homeschool, to her college experiences, and her efforts to make her show The Guild.
My favorite part of this book was the parts about her childhood and college experience. I found I could relate to some of what she was going through, despite our very different upbringing. Some of the parts about gaming went way over my head, because I'm not a gamer. Wish I was, but I am terrible at video games. They get too hard and I give up, hence I prefer books.
If you're looking for a fun, quirky, different kind of reading experience, this is the book for you. Now I am off to go and watch The Guild. 😀