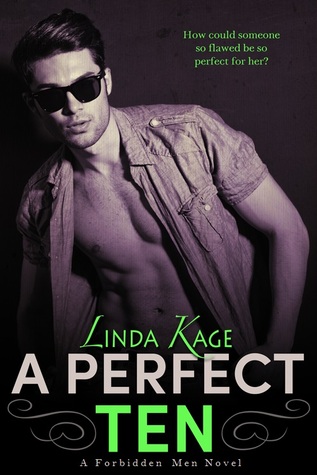 A Perfect Ten by Linda Kage
3.75 stars!
"I was supposed to go with you, wherever you went. We're a team. You told me once that I had to have a place. Well, I finally figured out where it is. It's with you."
A Perfect Ten is the fifth book in the Forbidden Men series. Oren "Ten" Tenning is the college manwhore that no one takes seriously. Caroline is the little sister of Ten's best friend Noel (the hero of book 2 in the series). There's always been an attraction between the two of them, but Ten puts up barriers because he doesn't want to destroy his relationship with his best friend. One day Caroline hatches a totally crazy scheme involving Ten, and he doesn't even know it.
"What the fuck have you done to me Caroline? … Why couldn't I stay away from you? … Why can't I get enough of you? … What do I want to own every fucking piece of you?"
To be completely honest, this was potentially gonna be another wildcard book for me. I almost didn't finish this book. I know I know, I hide from the tomatoes being thrown my way, but the first 50% I really wasn't connecting. LUCKILY I pushed and kept reading and ended up thoroughly enjoying by the end. Ten won me over and pushed his way into my heart.
Like I said before this book was really slow at the beginning, like really slow. But once Caroline and Ten stopped messing around and started dealing with the realities of their relationship I really started to enjoy this book. I love angsty stories, be it caused by romance or otherwise and the tension and issues they faced as a couple, I ate it up like the freaky angst whore I am. I'm glad I dipped my feet back into this series because I loved the first two books and cannot wait to continue reading the rest.
"How can I help you through this? What can I do to ease your pain, because I swear to God, I'll do anything."
Absolutely anything.
She set her hand on her heart and looked up at me, her eyes filled with so much emotion, I swear, some of it overflowed, spilling into me. "Just love me," she whispered.
"I do," I promised."