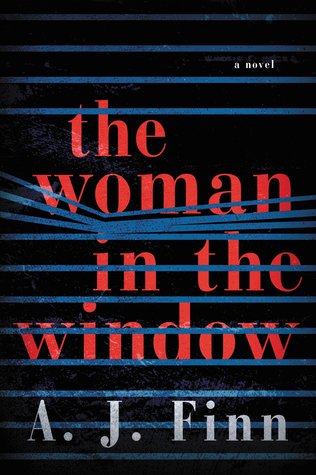 The Woman in the Window by AJ Finn
4 stars! 
"You can hear someone's secrets and their fears and their wants, but remember that these exist alongside other people's secrets and fears, people living in the same room." 
OMG I READ SOMETHING OUT OF MY COMFORT ZONE AND IT WASN'T AWFUL!!!
I have to be honest, I would have never picked this book up on my own. I work at the library that has like seven billion book clubs (just kidding it's more like 5, but still) and this was selected for the mystery book club. Wanting to get more involved I read it…. and really enjoyed it!!
The Woman in the Window is about an agoraphobic doctor who watches her neighbors from her windows. One day she see's something she shouldn't have, and everything goes spiraling out of control. And that's all I am gonna say about the plot, any more is too much.
"No family, happy or unhappy, is quite like any other. Tolstoy was chock-fullo'shit. Remember that." 
This book was very much a modern day take on Rear Window and other old suspense films. So much so in fact the main character talks about them a lot (which made me glad my mother is obsessed with movies from the 30's and 40's because I actually understood a lot of the references). It was interesting to read a book from the perspective of an unreliable character, there are twists you see coming and others you don't because of it.
I picked up this book apprehensive of the size, being almost 450 pages, but I found it read really fast and the other has a great writing style with the ability to suck you into the story. I would read 100+ pages in a sitting and would be shocked they flew by so fast and that I was so invested in the story.
I think this is a book a lot of people would really like. It's not super original but it works because as I said, it's more of a modern day Hitchcock story.
"The world is a beautiful place," she insists, and she's serious; her gaze is even, her voice level. Her eyes catch mine, hold them. "Don't forget that." She reclines, mashing her cigarette into the hollow of the bowl. "And don't miss it."