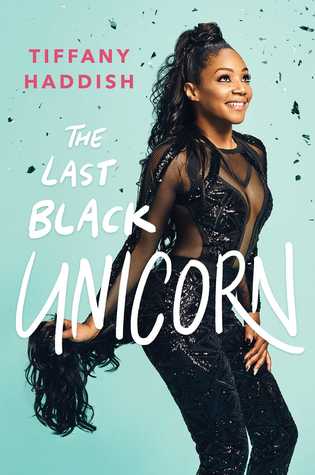 The Last Black Unicorn by Tiffany Haddish
5 stars 
This book gets 5 stars because it made me LAUGH! Not just chuckle laugh while reading, I mean tears down my face I was dying kind of laugh. Tiffany Haddish is someone I only found out about because one of my Facebook friends shared a video of her. I haven't seen Girls Trip yet (despite one of my good friends loaning it to me on DVD. I'm sorry! I'll watch it asap!). You bet your ass I am going to be looking up her backlist and watching everything this woman is in!
First off, this book isn't super PC and I am convinced Tiffany is all kinds of crazy. But you can feel her genuine self in this book, her struggles and her comedy. This woman has lived quite the life and I am sure she's going to keep living on even better throughout the years.
This book is a memoir/series of essays, some about funny points in her life and others, much less funny parts. But everything in this book shows how Tiffany came to be herself and what an amazing woman she is. I have so much respect for her and I admire her hard work.
If you want a book that will make you laugh your ass off and pull at your heart at the same time, you need to read this book. Plus people have told me the audio is amazing, so you can also listen to it!