Jane Eyre by Charlotte Bronte 
4 stars!
Jane Eyre is a book I've been meaning to read for years, literally almost a decade and never have. I remember when I was in middle school my mother showed me the black and white movie and I loved it, and then I saw the 2011 movie and loved the story then as well.
My 2016 new year's resolution was to read a variety of genres and to read books I owned in paperback/hardcover that have been sitting on my shelves unread. Jane Eyre was next. In high school and college I read a lot of literature, but in the last 3 years became addicted to YA, NA and Contemporary romance, so the idea of reading a classic was a bit daunting and intimidating. I needn't have worried because after about 30 pages I was completely sucked into this book with its beautiful language and imagery. There's a reason this book is a famous classic that has withstood the test of time, because there isn't anything out there like it.
Jane Eyre begins at Jane's childhood, recounting her harsh life being raised by distant family members who do not want her. She is sent to a boarding school that is harsh and unsettling. She survives and thrives with information, which leads her to obtaining a job as a governess at Mr. Rochester's estate, educating a young girl who is under his patronage. Here she finds happiness in her job and among the other inhabitants of the house. And soon she develops feelings for Mr. Rochester himself.
I fell in love with the language of the book, it flowed across the page so beautifully. Jane as a heroine is unique, as she is plain and often overlooked, but she observes much and keeps a keen eye on her surroundings and occurrences. I was surprised to constantly read about how plain she was, and how her love interest Mr. Rochester is ugly. But it was refreshing to read about normal people and not beautiful blessed ones. Made the story more believable and authentic.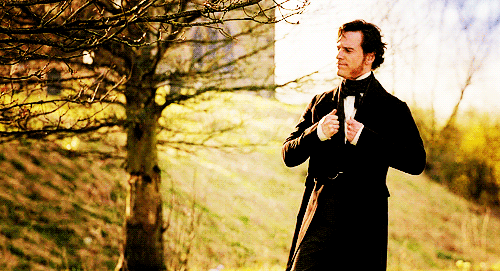 Very angsty romance, and I thought I would love Rochester more than I did. In the book he seemed a tad bit more selfish considering the time period and what he was asking of Jane, whereas in the movies his actions came across as more romantic. Since I have seen the movies I knew what would happen, but the creep factor was still present in the books and I found myself shivering at all the strange happenings around Jane.
If you are considering trying something new (or in the case of this book, old) I highly recommend this book if you are considering delving into the classics. I do not regret reading this book, and I am glad I finally cracked it open.