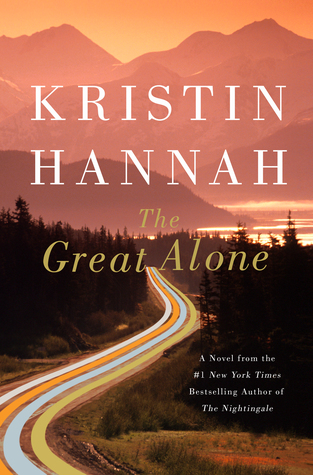 The Great Alone by Kristin Hannah
4.5 stars! 
"All this time, Dad had taught Leni how dangerous the outside world was. The truth was that the biggest danger of all was in her own home." 
Thirteen year old Leni is used to moving around. Her father Ernt was a POW in Vietnam and when he came back from the war, he didn't come back right. On a whim, he moves Leni and her mother up to Alaska in search of a simpler and better life.
But Alaska is more than they all bargained for, and as winter approaches it becomes clear they are not prepared. But as the days grow shorter, so does Ernt's temper and Leni and her mother have more to fear than the dangers of Alaska.
"Love and fear. The most destructive forces on earth. Fear had turned her inside out, love had made her stupid." 
Kristin Hannah is an author I've always been meaning to read and never got to before. I can now say I totally regret not picking up one of her books until now. The Great Alone captivated me from the first page and had me staying up late and sacrificing sleep to finish it.
It's odd because thinking back on the book, I didn't quite love or understand any of the characters. Except for maybe Large Marge because that woman was freaking awesome. But Leni who started out strong for me changed about 75% in. I think what really makes this book amazing is the story and the writing style. I felt like I was in Alaska with the rest of the characters and experiencing everything with them.
"It's scary that people can just stop loving you, you know?"