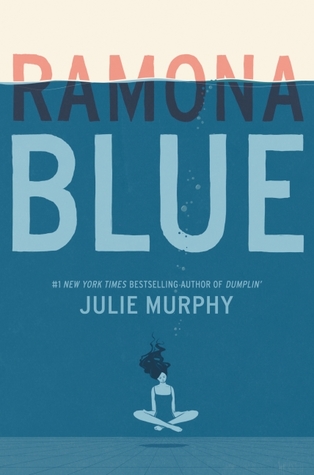 Ramona Blue by Julie Murphy
4 stars! 
"I hate this idea that boys are thinking about sex nonstop and girls are thinking about – what? Stationery and garden gnomes? No." 
I attended Apollycon this year and had the pleasure of meeting Julie Murphy and listening to her talk on a YA panel. She had talked about Ramona Blue and after hearing what she had to say, I was intrigued and decided to check it out from my local library. Julie had said this book was her own personal screw you to the movie Chasing Amy (which I haven't seen but have heard of).
Ramona Blue is about a very tall teenage girl with blue hair who has always known she was a lesbian. After a summer romance with a girl named Grace that doesn't end well, she finds herself resigned to the fact that she will never leave her small town. Starting her senior year, a childhood friend Freddie moves back to her town and the two reconnect. Their friendship is effortless, until Ramona realizes she has feeling for him, that combined with issues at home throws her into an identity crisis.
"You've never dated any guys?'
I shrug. 'Haven't even kissed one.' And then I add, 'Well, in recent years.'
'Then how do you know you don't like guys?'
'I don't know, Freddie,' I say, trying to hide my irritation. 'How many boys did you kiss before you realized you were straight?" 
I really enjoyed reading this book. Sexuality is fluid, and I think this book did a good job of portraying that. I think it also covers how difficult it can be to be bisexual and all of the stigmas and judgments that come at it from both sides, straight or gay. I think Julie covered this topic really well and at no point did anything personally offend me.
Julie Murphy has a writing style I connect with very well, and I am excited to read more by her in the future!