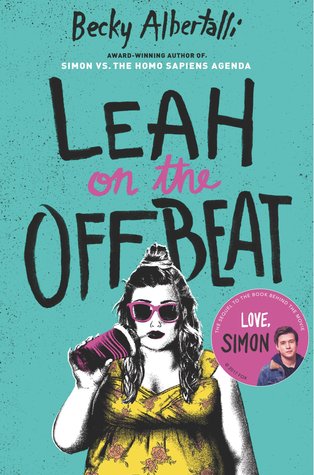 Leah on the Offbeat by Becky Albertalli
4 stars! 
This is the book that made me realize Becky Albertalli is a one click author for me! I had no clue this book was happening but the minute I found out I ordered the hardcover from Barnes and Noble so fast my head was spinning! I love being so excited about a new release that I drop EVERYTHING just to read that authors next book.
Leah on the Offbeat is a sequel to Simon Vs the Homosapien Agenda, except this book is about his best friend Leah. Leah is an artsy, sarcastic bisexual girl, she's just not out to her friends yet. The majority of this book takes place at the end of senior year of high school, a major turning point for many teens. Leah's group of friends finds itself at odds, and Leah ends up realizing she has stronger feelings for someone in the group and doesn't know how to feel about it.
I thoroughly enjoyed reading this book. I liked Leah as a character, it was great to see this world from her perspective and the other characters too. I think many readers might not like Leah because she's not a typical heroine, but I loved her because she wasn't a typical heroine and was her own person, good parts and faults.
If you love banter filled and character driven young adult novels, this is the book for you!