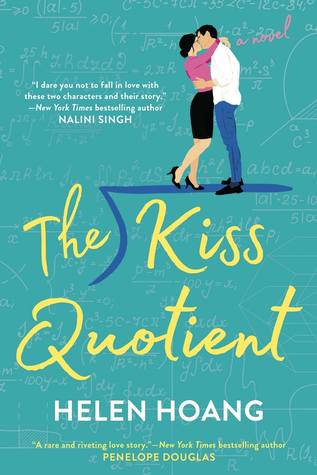 The Kiss Quotient by Helen Hoang
3 stars
I want to reiterate, 3 stars for me still means I liked it, this is not a negative review 
This is the story of Stella, a woman with Asperger's who has trouble connecting with men romantically. When her mother begins to pressure her for grandbabies, she decides she needs to face her fears. To do this, she hires an expert. Or well, an escort. Stella hires Michael, a dreamy escort who seems very understanding of her needs. But he has some secrets behind his reasons for being a male escort, and he doesn't want to get too close to anyone so they can find out.
The Kiss Quotient is a book I was very excited to read, mostly because it has an autistic main character and an Asian male lead. I think this is a great debut novel and I love that we got a male Asian lead, you rarely see those in the romance genre. I also liked Stella because while many people may not have Asperger's like her, I feel she's a relatable character that many women will identify with.
This book was steamy and sweet at the same time. My main issue with it was I felt the plot structure was all over the place and it made the story very choppy for me. This also made the characters seem very indecisive on some things which is a pet peeve of mine in books. But overall I enjoyed reading this book and look forward to seeing what else Hoang has to deliver in the future.
ARC was provided by the publisher in exchange for an honest review