Pestilence by Laura Thalassa
AHHHHHHHHHHHHHHHHHHHHHHHHHHHHHHHHHHHHHHHHHHHHHHHHHH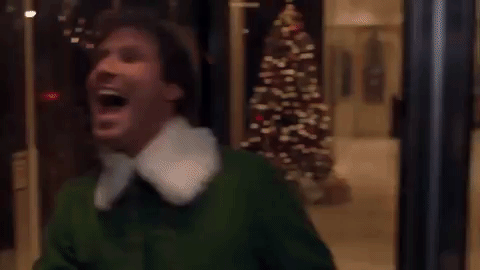 ALL THE STARS! 
In a totally random and weird review, I will be using gifs from the movie Elf to express ALL THE FEELINGS!
So me about Laura Thalassa all the time:

Which will probably lead to this:

Anyways… from the moment I saw the cover reveal for Pestilence, I was DYING (get it?) to get my grubby hands on a copy of this book. I preordered and everything, which I rarely ever do. Then once it hit my kindle I couldn't put it down (except for sleep. Stupid stupid sleep).
Here's what I was like reading the book:
And I loved it so much! My first 5 star book in over a month!
This is about Sara, a young firefighter who attempts to kill Pestilence when he comes to her town. BUT, he cannot be killed. So Pestilence takes Sara captive in order to make her suffer. Over time Sara finds herself conflicted because of the horrible things he does, but she cannot help but see another side to the horseman. The question is, can he ever change and go against his nature?
Laura writes the best new adult fantasy/dystopia novels. I get completely sucked into her world building, her characters and her stories. I demand more of my book friends read her books!!! Seriously, you won't regret it.
And now, to wait for the next book….. le sigh.
Also, here's one more gif just cause: