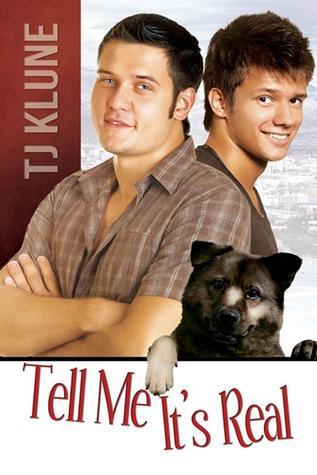 Tell Me It's Real by TJ Klune
This gets 5 stars because it make me LAUGH. Like so hard!!! In places you shouldn't laugh out loud, like public!!!! That and it's one of the best books I've read in a long time.
TJ Klune is an author I have come to love and reading more of his work just showed me what a talented author he is. He can write funny, he can write serious, he can write steamy. He just never fails to disappoint! Next time I am in a massive book slump again, I am turning to his books for help.
Tell Me It's Real has possibly one of the worst book covers ever, which is why I've waited so long to read it. But this is one of those books where you have to look past the awful cover to get to the amazing inside of the book. Paul is a husky guy, insecure and settled in his life. Until he meets the stunningly beautiful Vince who is interested in Paul right away. Except Paul thinks Vince is playing a joke on him, never thinking Vince could be actually interested.
Loved this book, obviously from my 5 star rating. Again, it had me laughing out loud in public, a rare feat for me as I try to remain stoic when reading. I highly recommend this book!