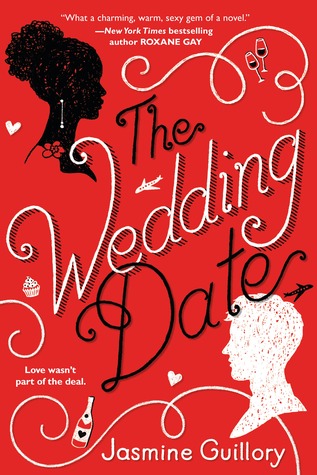 The Wedding Date by Jasmine Guillory
4.5 stars! 
You know how they always say never judge a book by its cover? Sometimes THEY'RE WRONG. Because this cover is cute AF and so was this book!!!! Such a refreshing read, I enjoyed it so much!
The Wedding Date is about Alexa, who when visiting her sister in a hotel gets stuck in the elevator with a hot guy, Drew, when the power goes out. Right off the bat they hit it off and Drew asks Alexa to be hit date at a wedding the next day and she agrees.
One fake night of dating and the two begin seeing each other on the weekends (as she is in the Bay Area and he's in Los Angeles). But a relationship that starts out as fake cannot end up real, right?
This was the perfect book to pick up and forget your problems. Once I picked it up I didn't want to put it down. While it's not as big on the sexy times as most romances, it's one where you will fall in love right along with the characters.
Sweet, fun, enlightening and romantic, this debut novel needs to be your next read!
ARC was provided by the publisher