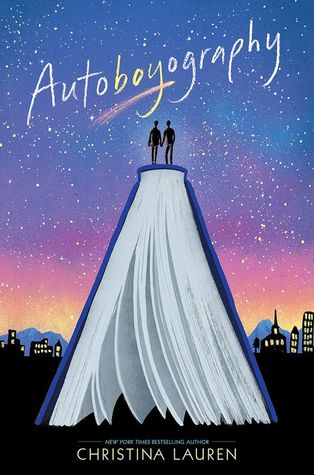 Autoboyography by Christina Lauren
4 stars! 
"His smile ruins me." 
This book follows Tanner, an eighteen year old bisexual Jewish kid who moves from liberal Palo Alto to the mormon town Provo, Utah when he was fifteen. His parents ask him to go back into the closet fearing the community won't accept him. And he does, for three years. But then he meets his new TA Sebastian, the son of the local Bishop. And it doesn't take long for him to fall completely in love.
"Love fails for a million reasons – distance, infidelity, pride, religion, money, illness. Why is this story any more worthy?
It felt like it was. It felt important. Living in this town is suffocating in so many ways.
But if a tree falls in the woods, maybe it makes no sound.
And if a boy falls for the bishop's closeted son, maybe it makes no story." 
This book struck close to home. I've been thinking a lot before writing this review because I don't want to offend anyone with it, so let me be clear. I am a fairly liberal person, and I am not a fan of any organized religion. While I grew up in Southern California, there is a small Mormon community in my home town. I grew up with Mormon kids who I knew were gay, that almost everyone knew were gay and yet they couldn't admit it (and I know because they later came out after high school). I remember when Prop 8 happened, one of those kids kicking a sign his own father had put on his lawn. It's something I'll never forget. To me, love is love, and as long as no one is hurting anyone, everything is okay. So when reading this book, a lot of this was going through my head. Now this isn't to say I hate Mormons or organized religion, but it's difficult for me to accept something that doesn't promote love.
Off my pedestal now, this was an amazing love story. Knowing up front what Tanner and Sebastian face, you can predict what challenges they would face. But this book wasn't predictable, and I was rooting for these two boys the entire time. I think this is a book that teens need and I wish we had when I was a teen. I highly recommend this book and I hope you give it a chance.
"I don't actually care if you break my heart, Sebastian. I went into this knowing it could happen and I gave it to you anyway. But I don't want you to break your own. You have so much space in your heart for your church, but does it have space for you?"