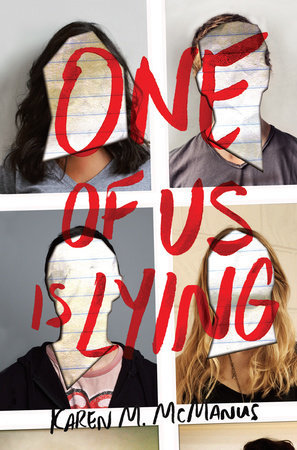 One of Us is Lying by Karen M. McManus
4 stars! 
"She's a princess and you're a jock," he says. He thrusts his chin toward Bronwyn, then at Nate. "And you're a brain. And you're a criminal. You're all walking teen-movie stereotypes." 
The Breakfast Club meets Pretty Little Liars…..
Yeah, I'd actually have to agree with this assessment. One of Us Is Lying is a book I was intrigued by when it came out but didn't make the time to read. That's why I love the Goodreads Choice Awards, because it helps me pick up books that would have been on the tbr list forever.
Anyways, this book is about a jock, popular girl, brain, and a criminal who get detention with their school's version of gossip girl. Except by the end of detention, Simon aka gossip monger, ends up dead. Now the four students there with him are suspected of murder, and all of them have secrets no one could ever have expected.
"I guess we're almost friends now, or as friendly as you can get when you're not one hundred percent sure the other person isn't framing you for murder." 
I ended up really enjoying this one, the murdery side of teen books don't really appeal to me, but this book was more focused on the characters and their development than the mystery plot. Some things were fairly predictable, but they were in a way that I liked it. Does that make any sense? I liked all four main characters equally, each of them had something interesting to bring to the table. One of them had to grow on me but by the end I liked them.
I think this book is perfect for teens who love shows like Pretty Little Liars and Gossip Girl. Perfect for the relucant readers and those who would like a murdery John Hughes movie, if one existed.
"Things'll get worse before they get better."