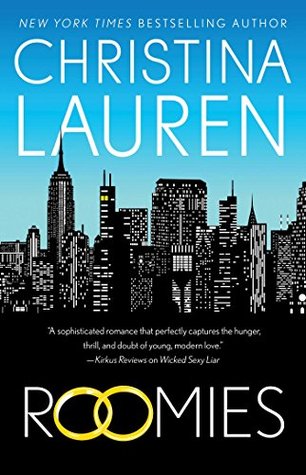 Roomies by Christina Lauren
4.5 stars! 
"You're too beautiful to be inexperienced in love." 
Roomies is a charming book that sneaks up on you and grabs your heart! Holland has had a crush on subway musician Calvin for months who then saves her when she gets attacked on the subway. Recognizing his musical talent, she is able to get him his big break in broadway. There's only one problem, he's from Ireland and has been living in America illegally for the last four years.
Holland finds a crazy solution, she decides to marry Calvin so he can be in the show. Marriage of convenience turns into lovers, and maybe something more. But how can either of them know if this relationship is real?
I loved this book. It started off a bit slow at the beginning, but this is a story that BUILDS. By the end I was so in love with this couple and wanted them to find their happiness. I see a lot of reviews calling this book sweet, and I totally agree. But it did have small doses of angsty bits that gave my angst whore self the hit I needed to bring this rating up!
Holland was an amazing heroine, unsure of where she was in life and yet not at all annoying. She didn't see herself clearly, others around her did and Calvin always wanted what was best for her, trying to put her needs before his as much as he could. To me this was also a slow build romance, starting out strangers then friends then lovers, then finally more. You need to have the patience for this couple because it's well worth it.
This is a story you savor, one you think about when you set the book down and continue to think about once you've finished it. I highly recommend roomies, it's a perfect book to curl up with.
"I think you might be the best girl there ever was."
"I think you're the best boy there ever was, too." 
ARC provided by the publisher via netgalley. All/any quotes in this review came from an advance unedited copy and may be subject to change in the final product.