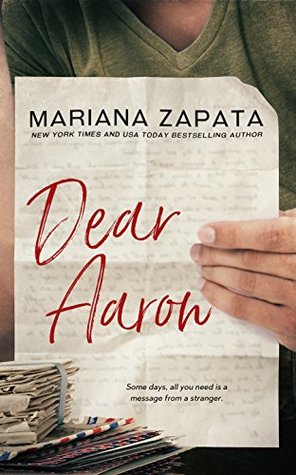 Dear Aaron by Mariana Zapata
4 stars! 
Full confession, I totally went into this book knowing mini spoilers. By that I mean I knew the majority of the first half of the book was in epistolary form aka written in emails, IMs and texts. I think it helped knowing that going in, because if I hadn't I think I would have quit this book, and that would be a damn shame.
Dear Aaron is a love story between a soldier and his assigned pen pal. Ruby and Aaron meet via email when he is deployed in the Middle East through a letters to soldiers program. Over time, they become very good friends and some feelings develop, at least on one side.
I really don't want to say more than that, go into this knowing it's a slow burn, the first half the interactions are all written, and that it's a long book and you'll be good. Mariana Zapata writes the best slow burn romance. Hands down. You want a romance you'll long for? Turn to this woman's books. And while this one was on the sweeter side for me, I still found myself smiling as I was reading it.
This book was really a double edged sword for Zapata, and by that I mean the way it's written is a tough balance. Too much written interaction and it's too long, not enough and then people would complain it's not developed enough. While it's not perfect, I think she did an excellent job in building the relationship she did and that many readers will enjoy it.
I'm off to read the rest of Zapata's books! I have two more to go until I run out and will sit here waiting for her to publish more!