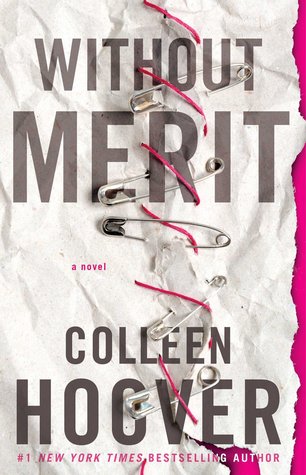 Without Merit by Colleen Hoover
4 stars! 
Right off the bat I just want to say, there's not much I can tell you about the plot of this book. I really want to, but it's all just one giant spoiler, and I don't want to be that person so please don't put that on me. What I can say, is that from the very beginning of this book Colleen Hoover keeps you on your toes and you have no idea where she will go next with this story.
I also want to make one thing clear, this book is unlike anything else Hoover has written. She's said so herself, but I think it merited reminding < —- see what I did there? And I love that about Hoover. She never delivers the same thing twice, she continues to evolve and grow as a writer. As a reader, I really appreciate this, because it means I never know what to expect. And in a way, when she brings us something new it's her way of respecting the reader, knowing that we will grow with her.
Without Merit revolves around the life of a high school senior, and while this does deal with young adult characters, this book read more like an adult contemporary fiction novel. Not that anything was super graphic or inappropriate, but it's all in the writing style. Honestly, I think if Oprah read this book she would put it in her book club. I really mean that. I think this book is an amazing conversation piece, bringing up and addressing family issues (and more but that's spoilery) and a great book for book clubs. When this book releases, I foresee A LOT of discussion surrounding it.
Everyone at some point has thought their family was fucked up, believe me as an adult that has become abundantly more clear to me. But what if your family really was fucked up in some way? If I were to compare this novel to anything, it would be the movie August Osage County. By that I don't mean every little single thing that happens, but more conceptually. I also compared November 9 and the old movie Same Time, Next Year, the concept is similar but the execution is different.
It also at times felt like I was reading a play in terms of how the scenes and dialogue were delivered between the characters. And we are the audience watching this play unfold. This book at its heart is a family trying to work out its issues, and come out the other side hopefully in a good way.
I devoured this book the second I got (giant shout out to Atria for giving me my first ever Colleen Hoover arc, that rocked my world). I stayed up until 3 am reading this baby, and it took me a long time to process my feelings on it. I think there's going to be a lot of differing opinions on this book. I think the majority of Hoover's fans will love this book, despite maybe not expecting what it's about. But what I think is even better is that this specific novel will open up a new reader base to her work and hopefully we will gain a lot of Cohorts with it.
ARC provided by the publisher via Netgalley in exchange for an honest review