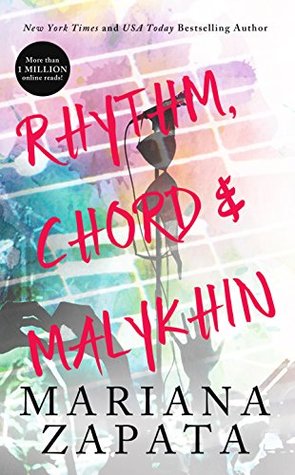 Rhythm, Chord & Malykhin by Mariana Zapata
4.5 stars! 
"Not liking you is like fighting gravity." 
After her boyfriend dumps her, Gabby is asked to go on tour with her twin brother selling merchandise for his band. Which would be fine, if she wasn't insanely attracted to the lead singer of the other traveling band, Sacha. Three months and a bunch of countries, everyone will be tight together making for some interesting happenings.
"Because if I remember correctly, your text message said, 'I just kicked the hottest guy I've probably ever seen in the ass.' And I asked you what he looked like and you texted me back, 'Like a double bacon cheeseburger I'd take a bite out of." 
Mariana Zapata is an author who has never let me down. I've read six of her books and thoroughly enjoyed them all. She takes the time to develop her characters and her relationships, so everything feels more real. I love that she writes slow burn instead of instalove, I love seeing the journey her characters take when falling for each other.
Rhythm, Chord & Malykhin is an excellent book and falls in the middle of the spectrum, not my favorite Zapata and not my least favorite. It's a solid rock star romance, but I also wondered why none of the band players were running around getting laid with everything that moved. Not that I want that, but I wonder if this was a more accurate depiction of the lifestyle where it takes place.
You need to start reading Zapata if you haven't already. And if you have read some of her books, bump this one up the to be read list.
"He was the end to my beginning."