Axios by Jaclyn Osborn
5 stars! 
"Our lives may take us to unexpected places and it might alter many a things, but I will forever be yours."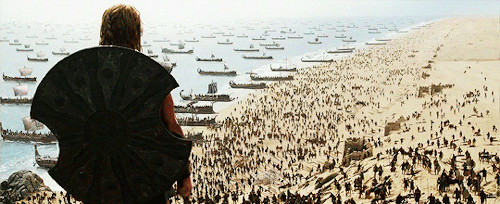 I've been needing an epic romance, and who knew I'd get it from an author I'd never read or heard of before? High five to Arabella for the spot on book recommendation. Axios is the story of two Spartan soldiers (Eryx and Axios), who from a very young age they were trained to kill, always knowing they would live their lives fighting wars.
Eryx is loyal to the Spartan lifestyle because of the sins of his father, while Axios has a harder time adjusting. From childhood to adulthood the two are inseparable, best friends and then lovers, finding comfort in each other's arms. In a land where feelings are viewed as weak, the two develop a strong relationship. But as war approaches, fear infiltrates them, for one cannot live without the other
"Know what I see? I see someone who is kind and who stops to see the beauty of the world. Someone who likes to watch the birds fly in the sky, wondering where they go… wondering what it's like to soar amongst the clouds. I see an intelligent mind who ponders what makes the sky blue and where the sun goes at night. But mostly… I see my truest companion." 
I really loved this book, I felt it was exactly the epic romance I needed to break me out of my book funk. Seriously, this is going under one of the best books of 2017! This book reminds me a lot of The Song of Achilles by Madeline Miller, in fact I think super fans of that book may have a hard time with this one because they are so similar. But this was filled with romance, longing, and angst and was just completely perfect for me.
I loved both of the main characters, Axios is a gentle soul thrown into a harsh world. The only thing that gets him through it is Eryx and his desire to be strong for him. Through harsh conditioning Axios becomes harder, but still has the soft and kind soul beneath. Eryx on the outside doesn't show his emotions as much, we really only see them when he's with Axios. But he loves Axios with all his heart and will do anything for him, even when it goes against what he truly believes in.
This book is a historical romance and I think the author did really well. There was never really a moment where I was reading and thought "that would never happen" and I was amazed by this. She stayed true to the story and the setting and backdrop only accentuated the love story and made it that much better.
If you're a fan of epic romance this is the book for you! It flowed across my mind so smoothly and gave me so many feels. I'm going to be dreaming of this couple, I just know it!
PS: sorry to all the friends I'll be badgering to read the book. It's a condition of my friendship 😛
"I will kill any man and turn the whole world to ash for you, my warrior. I fear neither battle nor death, but I fear the day you are not by my side. Never question where my heart lies, because it is forever yours. In this life and the next."