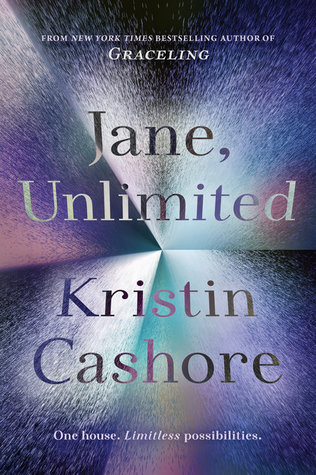 Jane Unlimited by Kristin Cashore
4.5 stars 
"People tell you that what happens to you is a direct result of the choices you make, but that's not fair. Half the time, you don't even realize that the choice you're about to make is significant." 
Jane Unlimited is the story of a college dropout, still grieving the death of her beloved aunt, who accepts an invitation from a family friend to stay at her estate Tu Reviens. Before Jane's aunt died, she made Jane promise that if she ever was invited to Tu Reviens, she must accept. And so Jane embarks on a journey to a new place filled with people she doesn't know.
Once Jane is inside Tu Reviens, she is confronted with a choice, between five different options. From there, we see what happens with each of those choices, and how something so simple can alter the course of one's life.
"I feel all over the place, like my parts are spinning away." 
I read the acknowledgments at the end before I started the book and I am so very glad I did. In them Cashore wrote that this book originally began as a choose your own adventure novel, and I feel that provides a lot of insight into how this book is structured. I can only imagine that this book must have been a beast for Cashore to write, because there are so many intricacies and important facts to remember and she pulled it off so, so well.
First off, I really want to commend the writing in this book, from the very beginning it felt like I had stepped into a classic novel, along the lines of Jane Eyre or Rebecca. And well, it fits the theme of those classics a bit with the orphan coming to the manor. The book did start out a bit slow, but I reminded myself that Graceling did as well, and I knew once I got the hang of things it would flow, and that's exactly what happened. I devoured this book, finding it very hard to put down.
I also fell in love with each and every single one of the side characters, honestly I wish they all could get their own novel, or at least a novella. But this really is Cashore's strong point in her writing, I felt the same way about her Graceling series, every character became precious to me.
I loved the first half of this book, to the point where this was going to be one of my top favorite novels. Then I read the second half of the book and while it wasn't bad in any way, it was extremely…….. odd. To explain the structure a bit, we get our introduction to this world and the characters in it, and then the rest of the book is split into Jane's five choices, but told as five different stories. I loved the first two stories, I felt they were phenomenal. The third, fourth and fifth…. Were a bit beyond me and not was I expected. One of them was downright terrifying, and the other two were bizarre. Not in a bad way, but I really wasn't expecting those aspects in this book. I wouldn't say it took away from my enjoyment of this book, but what was a five star read went down to a four point five if that makes any sense.
"I'm finding that despite everything, I'm glad to live in this universe." 
ARC provided by the publisher. All quotes in this review came from an advance unedited copy and may be subject to change in the final draft.