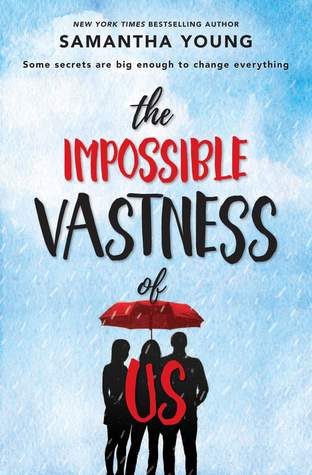 The Impossible Vastness of Us by Samantha Young
5 stars!!! 
How do you begin to gush about a book you loved so so much? Samantha Young is one of my all-time favorite authors, I'll read anything the woman writes. So when she published a YA I was intrigued, and decided to give it a shot. I was completely blown away!!!! Young delivers a heartfelt and beautiful story, filled with angst, friendship, love and family.
India Maxwell is alarmed when her flight attendant mother tells her she's been seeing a man on the other side of the country. Pretty soon her mother is engaged, and she's whisked away to Boston to live with her soon to be step father, Theo, and step sister, Eloise. India and her mother have never been well off, so she's in for a world of shock when she finds her new family insanely rich. And because of trust issues from her past, India has no desire to get close to her new family.
While India is adjusting, Eloise is not cruel but also not kind. Eloise's boyfriend Finn appears to dislike India as well. All India wants is to be on top, and to get enough extracurricular's to get into a good college. But as time goes by, feelings thaw between the two girls and a tentative relationship forms.
This book wasn't anything like I expected in the best possible way. India had such a presence on the page, I absolutely adored her, flaws and all. There's something about a girl trying so hard to be strong that I find endearing, and I felt for her and wished for her to succeed the entire time I was reading.
While this is a young adult romance, my favorite part of the book was the themes of friendship and family. People need more than just romantic love to feel supported in life, and I loved being on India's journey to find her forever friendships and her way to a new family.
I cannot recommend this book enough, it's one of the best books I've read this year. So if you find yourself curious about this book, just do yourself a favor and buy it and read it. You won't regret it.