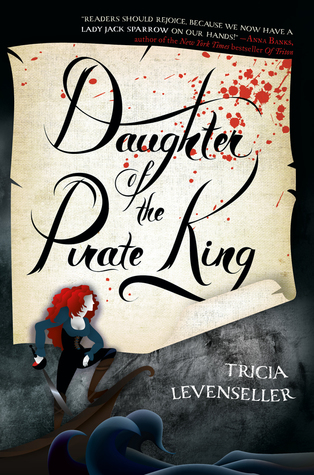 Daughter of the Pirate King by Tricia Levenseller
4 stars! 
"Oh, the ridiculous things one has to do when one is a pirate." 
Alosa is a seventeen year old pirate captain who serves under command of her father, the pirate king. Sent on a secret mission, Alosa is to be captured by her enemies in order for her to search their ship for a fragment of a treasure map.
While aboard, finding the map proves harder than expected, especially since the first mate Riden keeps getting in her way. But Alosa is persistent if anything, cunning as well and she is determined to succeed at her mission.
"Everyone has something dark in their past. I suppose it's our job to overcome it. And if we can't overcome it, then all we can do is make the most of it." 
First off I gotta give Owlcrate a shout out, if not for them I would have never read this book on my own. I got this book via their subscription box a couple months ago and only just now got to it. I love owlcrate, I have discovered many books that I really enjoyed because of them that I wouldn't have picked for myself.
Daughter of the Pirate King was such a cute and fun adventure! I adore this book, it was full of humor, excitement, and was a little bit naughty. I don't think I've ever read a YA pirate book before, that's a huge gap in the young adult genre that Levenseller has filled!
I love Alosa the most, as a main character she was spunky, crafty, and for a pirate had a considerable amount of morals (but not too many). She was also a lot more ruthless than I expected but I kind of liked it. The pacing of this book was on point, such great character development too! This is a fun and fast read that many people will enjoy.
"I am me because I choose to be me. I am what I want. Some people say you have to find yourself. Not I. I believe we create ourselves to be what we want."