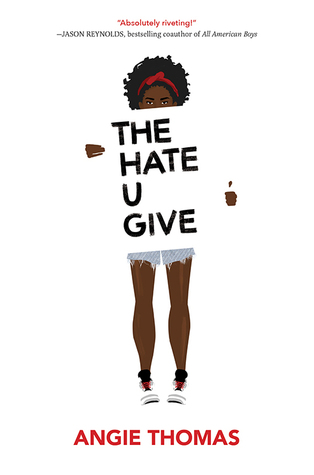 The Hate U Give by Angie Thomas
4.5 stars!
"Sometimes you can do everything right and things will still go wrong. The key is to never stop doing right."
The Hate U Give is about a sixteen year old girl named Starr who lives in a bad neighborhood and commutes to a fancy private school. One evening, Starr and her childhood friend Khalil leave a party and are pulled over by a cop on the way home. The cop shoots and kills Khalil, even though he was unarmed.
Khalil becomes a national headline, and Starr is thrown into turmoil. The neighborhood she grew up in wants justice, as does Starr. But being the sole witness to Khalil's murder comes with danger, from drug lords where she lives, and the police everywhere else. Starr had already felt pulled between two worlds before Khalil's death, and now she doesn't know what choices to make.
"What's the point of having a voice if you're gonna be silent in those moments you shouldn't be?"
This is a book that I really hope becomes a worldwide phenomenon. We've seen similar stories on the news many times, throughout the years, but I feel the youth of the world have not been given this story in a relatable way. There should be more books like this out there.
Starr is what made this book come alive. Her voice, the way she tells her story is extraordinary. Every single moment of this book I felt for this girl: I wanted to stand beside her, I wanted to cheer her on, I wanted to hold her. She was faced with circumstances and choices no one her age should ever have to face. Confronting these events were hard for her, and while she didn't always do what everyone told her to, she stayed true to herself and handled it the best she could.
I felt so many things while reading this book, it really does pull on several different emotions. Being Angie Thomas' debut novel I am floored by her talent, many writers work their entire life to bring this kind of voice to their characters. I can only see better things to come in the future from Thomas. My only criticism of the book was it felt a little bit too long for me, but otherwise I loved it and will be recommending this novel a lot and for a long time.
"Brave doesn't mean you're not scared. It means you go on even though you're scared."