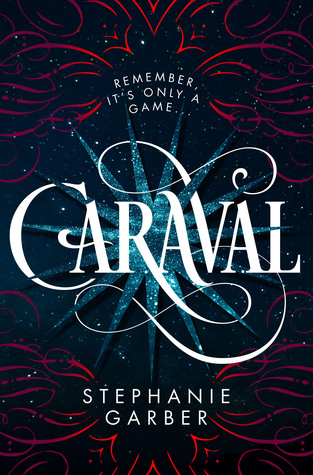 Caraval by Stephanie Garber
4 stars!
"Whatever you've heard about Caraval, it doesn't compare to the reality. It's more than just a game or performance. It's the closest you'll ever find yourself magic in this world."
Scarlett and her sister Tella have dreamed of leaving their tiny island and oppressive father for years. As a child, Scarlett would write letters to Legend, the man who runs Caraval, a once-a-year performance where the audience participates in the show. Finally, when Scarlett is days away from her wedding, a marriage arranged by her father, Legend sends her an invitation to participate in this year's Caraval.
With the help of a sailor, Scarlett and Tella make it to the island where Caraval takes place. But right away, Tella goes missing, and this year's game revolves around finding her. Scarlett must find Tella before the five nights of Caraval are over, or she will lose her sister forever.
"Every person has the power to change their fate if they are brave enough to fight for what they desire more than anything."
I loved getting swept away in this book, it's such a vibrant and fascinating story. Garber is an imaginative author, I fell in love with her words and was eager to see what she would do next. I thought this book was inventive, and very reminiscent of Venice, Italy of the past. The plot and pacing weren't always perfect, but I very much enjoyed this book all the same.
I loved Scarlett's character, she was a girl just trying to save her sister and better their lives. At the very heart of this book is a story of two sisters, their strong bond, and what they are willing to do for the other. Oddly enough, the romance aspect did almost nothing for me, I liked Julian well enough, but I didn't get those strong feels that normally come from a forbidden and unexpected romance.
This book is an imaginative tale, one that many people will love to read. I cannot wait for the next book!
"Hope is a powerful thing. Some say it's a different breed of magic altogether. Elusive, difficult to hold on to. But not much is needed."