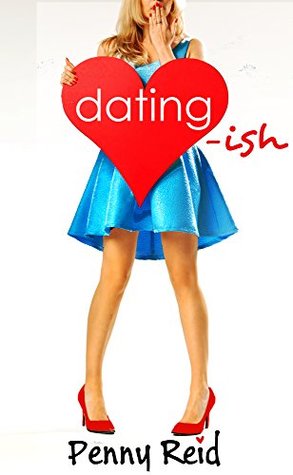 Dating-ish by Penny Reid
5 stars!
"I'd had some terrible first dates since breaking up with David, but this one took the cake. It took all the cakes. In less than twenty minutes, my perfect match had irrevocably propelled himself to the top of my worst dates list."
I want to study Penny Reid's brain. Like not in a murdery creepy way, but a you fascinate me tell me all of your secrets and make me interesting kind of way. Not weird at all, right? Nope. K. Brilliant.
Anyways my first draft of this review looked like this:
I LOVED IT. YOU WILL TOO. ROBOTS, CUDDLING, OMG. PIZZA SHOES.
But I've had a while to think on it now and I may sound a bit more coherent. On Facebook Penny had mentioned she didn't know how readers would respond to this novel, citing it as really weird. To be completely honest, I get really friggin excited when she says things like this, because those are the books by her that I love the most. I always enjoy her books, but those are the ones that feel most free to me, like she had no barriers when writing them.
I should probably talk about the plot. This book opens with Marie going on an internet date, meeting a stranger and it just goes completely wrong in every possible way. Like it is literally her worst date EVER. As a result of this Marie decides to do research for an article on alternatives to men. This leads Marie to an interesting world of professional cuddlers, dry humpers and orgasm meditation.
While researching, her date reappears, and he's not the man she met on that disastrous date. And he may have a solution to her dating problem….
" Where are all the men? And I don't mean man-children. I mean men. You know, the guys whose interests extend beyond playing Halo on their Xbox, and who actually make eye contact, and aren't constantly scanning the room for a better option."
It's hard to say this fellow Reiders, but Dating-ish may have become my favorite book in the Knitting in the City series. It hurts me to say that because I feel like I am betraying/cheating on Sandra and Alex, but this book was SO DANG GOOD. Like I mentioned above, I had a very hard time writing a review after reading it, my mind just needed to wrap itself around all of the awesomeness that was thrown my way. I loved Marie, I loved Matt. I loved them together, I pined, I burned I perished when they were apart. This book had the perfect combination of humor and angst that we only ever get in a Penny Reid novel. I am like a drug addict waiting for my next hit of Reid, even though the woman puts out numerous quality books a year I want MORE. There will never be enough!!! Lol.
Honestly, go into this book without spoilers, don't even look at key plot points. I feel this book is better experienced if you go in almost blind. I went in not even knowing who the hero was and it totally enhanced the reading experience for me.
There's a reason Penny Reid has made a name for herself in a community that is oversaturated with thousands of authors and books. She delivers original and unique concepts, is able to make them relatable, and she makes you fall in love with her odd yet realistic characters. You'll never get the same book twice with her. And that's why she's one of my all time favorite authors EVER. And why I will read any book written by her, even if it's about a person watching paint dry while eating rice crackers.
"You are my person."
ARC kindly provided by the author in exchange for an honest review