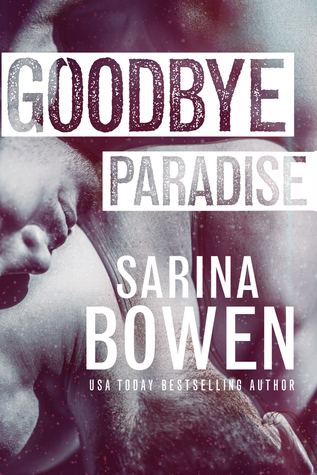 Goodbye Paradise by Sarina Bowen
5 stars!
Okay. Shut the front door. What friggin rock have I been living under that I had never heard of this book before?????
Goodbye Paradise was originally published under the title In Front of God and Everyone. Sarina Bowen is now republishing it with a new cover and title. Josh and Caleb live in a cult, the two are best friends. But Josh feels something more for Caleb, something forbidden. And when Josh gets dumped in the middle of nowhere by the cult, Caleb needs to find him.
"It's a sin."
"No," he whispered, still stroking my face. "Hurting someone is a sin. Did I hurt you?"
"No."
"Does this hurt someone else? Are you going to marry a woman, Josh? Am I keeping you from that?"
"No."
I fell in love with this story. Caleb and Josh are my new book boyfriends, even if they love each other and not me. I'll just be the fly on the wall of their relationship like the perve I am. I thought the cult aspect made the story very interesting, because an environment like that can bring so much hate into a person's life, and it obviously affected these two men very greatly.
This story was only a wee bit angsty, I wish it had been more. But I love my angst. Caleb also used the word baby, and while normally I don't care for that, it felt so genuine and made my heart melt. You could feel his love and protectiveness he felt for Josh. Caleb was kind of like an alpha male, but without all the frustration. Both guys were amazing. Josh was a vulnerable man and I loved seeing him find his bravery and his strength.
This book was seriously hot, emotional at times, and swoon worthy. Make this the next book you pick up!
"My whole life I'd wished for things. But I'd never known how confusing it might be to see my wishes come true."
ARC provided by author in exchange for an honest review