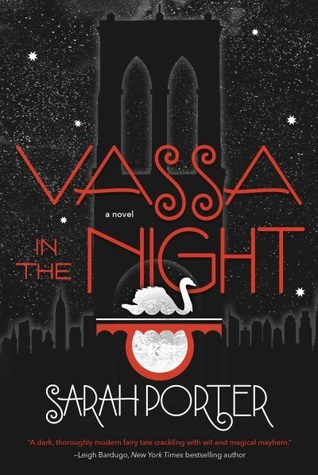 Vassa in the Night by Sarah Porter
3.75 stars
This is quite possibly the most bizarre book I've ever read. But I actually ended up liking it a lot.
Vassa in the Night is a book I would have never picked out for myself, but I got it in one of my Owlcrate's and decided to give it a shot. I've been needing a change of pace with my genre's lately, so I picked up this one.
And my god, this book is weird. BUT the writing style sucked me into the story and I felt like I got lost in the pages of this peculiar story.
"Why did it take me so many years to understand that Night is something you can talk to, something that might even decide to watch over you or kiss you just when you're about to crumple from loneliness?"
The story begins when one of Vassa's stepsisters asks her to go to the local convenience store to get light bulbs for their apartment. But Vassa's Brooklyn isn't like our regular Brooklyn, it's one under the curse of longer nights and sparse days. And the local convenience store isn't convenient at all, it's a place that beheads shoplifters and hooligans, run by Babs Yagg.
Vassa might be able to break the curse Babs Yagg has on the neighborhood, but she also might get herself killed.
"No matter who I couldn't save before, no matter if I'm stuck being a random mess of a girl, I'm still going to save something."
Like I said before, this book is just plain weird. But at the same time it's enchanting. I went into this book expecting not to like it based on numerous negative reviews and a low average rating, so imagine my surprise when I just couldn't put it down.
I have no clue who I would recommend this one to, it's a hit or a miss for a lot of people. The only real negative thing I have to say about this book is the plot wasn't very coherent. While I enjoyed reading this very much, there were lots of times where I thought to myself "what the heck is happening right now?".
Sarah Porter is a brilliant writer, talented at what she does. I would be happy to read more by her in the future and see the world through her unique eyes again.
"You don't have to be human to be a person. I mean you don't have to be human to be somebody. I don't know you that well, but you seem like way more of a somebody than lots of humans I know! Really."