New Releases for the week of 2/21/17!
Black Hearts by Karina Halle: http://amzn.to/2lAz4cP 
Black Hearts is a BRAND NEW STANDALONE DUET – the second book and conclusion, Dirty Souls, releases March 17th.
For Vicente Bernal, truth is all he's known. The son of an infamous drug lord, Vicente was born to help run the family business, which means he's been raised on a throne of sordid pasts and dirty laundry, violence and pride. But when Vicente stumbles across someone he's not supposed to know about – a woman from his father's checkered past – he sets out to California to find her behind his father's back.
What Vicente doesn't expect to find in San Francisco is Violet McQueen, the woman's twenty-year old daughter. Beautiful and edgy with a vulnerability he can't resist, Violet tempts Vicente from afar and though he promised himself he'd stay away from her, curiosity and lust are powerful forces. Besides, Vicente has always gotten everything he wants – why shouldn't he have Violet too?
Soon his wants turn into an obsession, one that sweeps Violet into his games as they fall madly, deeply in love with each other, the type of first love that can drive a person mad.
But it's a love with tragic consequences.
Both the truth – and the lies – not only threaten to tear them apart, but threaten their very lives.
Someone has to pay for the sins of the fathers.
And they'll be paying the price with their souls.
Black Hearts is a BRAND NEW STANDALONE DUET – the second book and conclusion, Dirty Souls, releases March 17th.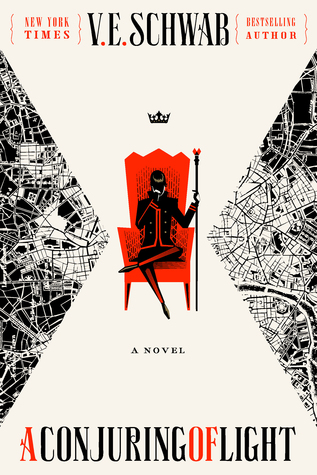 A Conjuring of Light by VE Scwab: http://amzn.to/2kPX7B9
The battle between four magical Londons comes to a head in this stunning finale to the New York Times bestselling Shades of Magic trilogy by rising star V. E. Schwab.
Londons fall and kingdoms rise while darkness sweeps the Maresh Empire—and the fraught balance of magic blossoms into dangerous territory while heroes and foes struggle alike. The direct sequel to A Gathering of Shadows, and the final book in the Shades of Magic epic fantasy series, A Conjuring of Light sees Schwab reach a thrilling culmination concerning the fate of beloved protagonists—and old enemies.
Daily Grind by Anna Zabo: http://amzn.to/2m2jasL
A man discovers that love can show up when you least expect it—and in a much different form—in this piping-hot romance from the author of Due Diligence and Just Business.
Brian Keppler, owner of Ground N'At, the coffee shop beneath SR Anderson Consulting, doesn't have time for a relationship. His most recent girlfriend broke up with him because he'd become married to his shop, which is falling apart without his favorite barista, Justin.
As he struggles to stay afloat, the arrival of handsome British high-tech whiz Robert Ancroft becomes another complication. Rob quickly becomes a fixture at the shop with his sharp wit and easy charm, and Brian soon finds himself looking forward more and more to Rob's visits—to the point where his heart skips a beat when he walks in.
But will Brian be able to come to terms with his previously unexplored sexual identity and find happiness now that he has a chance?
Damage Control by Lisa Renee Jones: http://amzn.to/2kEBSkO
Wall Street meets the Sons of Anarchy in Damage Control, the smoldering, scorching next novel in the explosively sexy Dirty Money series.
The only thing more dangerous than a dark secret is a damaged heart…
Shane Brandon has been pushed to the brink, torn between his corrupt family and his explosive, all-consuming desire for Emily Stevens, who he now knows is not who, and what, she seems. Has he trusted the wrong person? Will she, not his brother Derek, be the ultimate destruction of his family Empire?
Emily tries to run from Shane, but he will stop her, confront her, force her to reveal all — one hot touch and kiss at a time, under every intimate detail of who this woman is, and what she wants, is exposed. But as he tears away the dangers of the unknowns with the woman in his bed, and in his heart, The Martina Cartel has set their sights on his company, his family, and the one piece of leverage they believe he won't gamble with: Emily.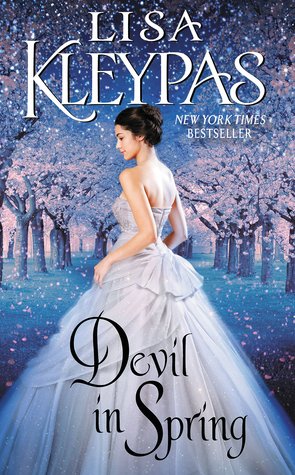 Devil in Spring by Lisa Kleypas: http://amzn.to/2kZ85XG
An eccentric wallflower…
Most debutantes dream of finding a husband. Lady Pandora Ravenel has different plans. The ambitious young beauty would much rather stay at home and plot out her new board game business than take part in the London Season. But one night at a glittering society ball, she's ensnared in a scandal with a wickedly handsome stranger.
A cynical rake…
After years of evading marital traps with ease, Gabriel, Lord St. Vincent, has finally been caught-by a rebellious girl who couldn't be less suitable. In fact, she wants nothing to do with him. But Gabriel finds the high-spirited Pandora irresistible. He'll do whatever it takes to possess her, even if their marriage of convenience turns out to be the devil's own bargain.
A perilous plot…
After succumbing to Gabriel's skilled and sensuous persuasion, Pandora agrees to become his bride. But soon she discovers that her entrepreneurial endeavors have accidentally involved her in a dangerous conspiracy-and only her husband can keep her safe. As Gabriel protects her from their unknown adversaries, they realize their devil's bargain may just turn out to be a match made in heaven…
The Do Gooder by Jessie L Star: http://amzn.to/2kZkVF9
A college girl tries to make up for her bad karma by doing one good deed for anyone willing to ask—a witty, sweet romance perfect for fans of Christina Lauren and Abbi Glines.
Lara Montgomery is no good. Having been scorned by her classmates since high school, she's used to it. From where she's sitting, the one with more notches on the bedpost has more fun anyway. At least, that's what she tells herself.
Really, a small part of her hopes that her massive amounts of bad karma can be neutralized by wearing her Do-Gooder hat—that thing she does where she'll complete one good deed for anyone who asks. And she does an amazing job at it, if she does say so herself. Still, there's one thing she knows she can't make better, no matter how many problems she solves for other people: on the night her brother died, she was off hooking up with his not-so-single best friend, Fletch.
It's been three years since that night, and Fletch just wants her to let it go. To him, her persistence with the good deeds only serves to remind everyone in their small university town about what they did. As it is, they can't help but get into a heated argument every time they run into each other on campus. And yet, neither of them can seem to stop that pesky electricity that runs between them whenever they get too close….
Finding Mr. Wrong by AM Madden and Joanne Scwehm: http://amzn.to/2kwtWa3
Here s a tip: never trust a jackass in preppy clothing.
The phrase trust me should have been my first clue to hightail it out the door, but hindsight is always 20/20.
So there I was, on a stage with two other men, being asked ridiculous questions by a woman I couldn t see, but whose voice made my pants tighten and not around my ankles.
Before I knew what was happening, I'd signed up for six weeks in paradise, isolated on an island for forty-two days with a complete stranger. And when I finally laid eyes on the sexy brunette who belonged to that voice, a part of me thought this wouldn t be so bad.
I ve always been a levelheaded guy. I am a successful, smart, and shrewd business man. But that was when I was listening to the head above my shoulders. Once the blood traveled south, I always ran into trouble.
She called me Mr. Wrong, and that was fine with me.
Lesson learned: lust always trumps logic.
Going Down Hard by Carly Phillips: http://amzn.to/2m1XkVZ
A stand-alone Billionaire Bad Boys novel.
Billionaire Bad Boys: Rich, Powerful and sexy as hell.
Derek West rose from poverty to take the tech world by storm. He's sexy, confident and gets any woman he wants. And who he wants is Cassie Storm, the rich girl he's never been good enough for.
She's desperate to save her family company and there's only one man who can help. But Derek isn't interested in helping. He wants to possess both the company and the woman he's never been able to forget.
His plan? To screw her out of his head. Except once he's had a taste of Cassie, he doesn't want to let her go. Her family remembers where he came from, and they won't allow it. When the truth about their pasts comes to light, though, it may be Cassie who's going down hard.
Hard Play by Sheryl Nantus: http://amzn.to/2kEHgV7
Ex-special forces ranger Dylan McCourt is a stone cold killer who cares only about his military brothers and doing what's right. He's used to giving orders and has zero patience for bullshit. Most people tremble when they look him in the eye, but not his infuriatingly sexy new rescue mission, Jessie Lyon. She just juts her chin and says she's not leaving without clearing her father's name, to hell with his rules. And was that a one finger salute he sees in her eyes or his imagination? Either way, he knows this is one job his training might not have prepared him for.
For fans of Maya Banks' KGI series, prepare to meet the men of the Delta Force Brotherhood, a sexy new contemporary series where kicking ass and living hard is just how they roll.
Havoc by Jamie Shaw: http://amzn.to/2kPXhIL
When Hailey Harper left her family farm to enroll in veterinary school, she had a plan: keep her head down, ace her classes, and most importantly… don't upset the uncle paying her tuition. Translation? Don't piss off his dramatic, self-absorbed daughter, Danica, even if she's a nightmare to live with.
Falling in love with her cousin's rock star ex-boyfriend was definitely not part of the plan.
As the drummer of a now-famous rock band, Mike Madden could have any girl he wants. He's sweet, funny, romantic, talented—and the only guy that's ever made Hailey's heart do cartwheels in her chest. The more she gets to know him, the harder she falls, but Hailey knows they can never be more than friends… because Danica wants him back, and she'll fight dirty to win.
Mike is falling for Hailey too, but Danica's threats and his rock star life—music video shoots, international tours, obsessed fans—could tear them apart before they've even begun. Hailey isn't sure she's the one for him, but Mike's waited years for a girl like her… and he'll do anything to prove it.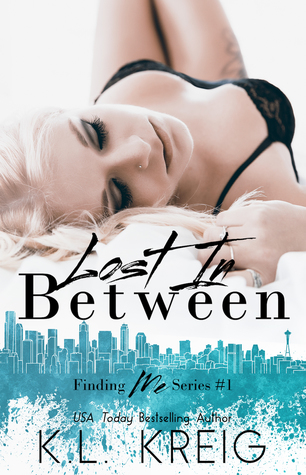 Lost in Between by KL Kreig: http://amzn.to/2mg9g2C
We all have one.
A price.
That magic number that will get us to agree to do anything, be anything.
Don't sit on your gold-plated high horse and say you don't because you do. Everyone does. Each of us has something we covet enough that we'd sell ourselves to have it.
What's my tipping point, you ask? Apparently a cool quarter mil will do the trick.
What does one do for 250 large, you wonder? Anything the infamous, gorgeous playboy of Seattle wants. For the next four months I'll be Shaw Mercer's arm candy, his beck and call girl, his faux girlfriend. I'll be his to command, mold, push and pull in any direction he sees fit.
I'll fight falling into bed with him. I'll fight falling in love with him even harder. I'll fail at both. And when my past and present collide in the most unexpected of ways, I'll learn that while one man's love for me has never died, the only man's love I really want will never be mine.
*If dirty-talking, dominant alphas are not your thing, move along. Mature, 18+ only. Book 1 in a 2-part duet.
Midtown Masters by Cara McKenna: http://amzn.to/2kPZow7
From the author of Downtown Devil and Crosstown Crush comes the final novel in the trilogy that gets you up close and personal with the thrill of ménage à trois.
Nova by Rebecca Yarros: http://amzn.to/2m0zOVk
The only heart he wants is the one he already broke…
He's Landon Rhodes.
The Renegade they call Nova.
Sinfully gorgeous, broody, tatted-up, professional snowboarder.
Four-time X Games medalist—
Full-time heartbreaker.
They say a girl broke him once—
That's why he's so reckless, so driven, so careless with his conquests.
But I'm that girl.
They can call me his curse all they want.
He and I both know the truth—
He's the one who destroyed me,
And I'm not the sucker who will let that happen again.
***NOVA can be read as a standalone***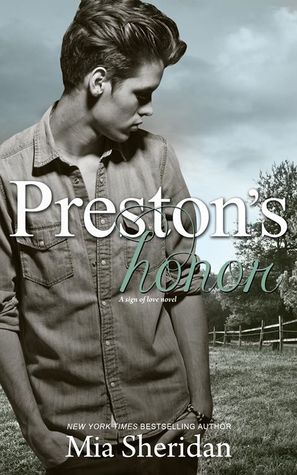 Preston's Honor by Mia Sheridan: http://amzn.to/2m0Ce6D
There were two brothers—identical twins—and though I loved them both, my soul belonged to only one.
Annalia Del Valle has loved Preston Sawyer all her life. The daughter of an impoverished migrant farmworker, she grew up as an outcast in what was no more than a tiny, cooped up shack in California's Central Valley. But her heart found freedom in the land, in the wide-open spaces of Sawyer Farm, and in the boys who were her only friends.
Preston has yearned for Annalia since he was a boy. But a sense of honor kept him from pursuing her until he's unable to hold back any longer and their worlds—and bodies—collide one hot summer night. A night that sets off a chain of events that will alter their lives forever.
Now Annalia is back in town after disappearing without a trace for six long months. Determined to reclaim her heart, her life, and the baby she left behind—the son who was created in a moment of lust and love and pent-up yearning.
Preston has survived grief, a ravaging drought, and the despair of heartache, but he's not sure he can survive Annalia again. And he might be unwilling to try. Will pride and bitterness keep him from the one thing he's always longed for?
How do you heal what is irreparably broken? How do you forgive that which is unforgivable? How do you discover that real honor comes not from circumstance, but from the place deep in our hearts where truth resides? And how do you move beyond the wounds of the past to discover that some loves are as solid as the ground beneath your feet, and as enduring as the earth itself?
THIS IS A STAND-ALONE SIGN OF LOVE NOVEL, INSPIRED BY GEMINI. New Adult Contemporary Romance: Due to strong language and sexual content, this book is not intended for readers under the age of 18.
Pretty Face by Lucy Parker: http://amzn.to/2kEM1hz
Highly acclaimed, award-winning author of Act Like It Lucy Parker returns readers to the London stage with laugh-out-loud wit and plenty of drama 
The play's the fling 
It's not actress Lily Lamprey's fault that she's all curves and has the kind of voice that can fog up a camera lens. She wants to prove where her real talents lie—and that's not on a casting couch, thank you. When she hears esteemed director Luc Savage is renovating a legendary West End theater for a lofty new production, she knows it could be her chance—if only Luc wasn't so dictatorial, so bad-tempered and so incredibly sexy.
Luc Savage has respect, integrity and experience. He also has it bad for Lily. He'd be willing to dismiss it as a midlife crisis, but this exasperating, irresistible woman is actually a very talented actress. Unfortunately, their romance is not only raising questions about Lily's suddenly rising career, it's threatening Luc's professional reputation. The course of true love never did run smooth. But if they're not careful, it could bring down the curtain on both their careers…
Pucked Off by Helena Hunting: http://amzn.to/2kQ3rZc
***A Standalone novel in The Pucked Series***
I'm NHL defenseman Lance Romero, AKA Lance "Romance."
I'm notorious for parties and excess. I have the most penalty minutes in the league. I get into the most fights. I take the most hits. I'm a player on and off the ice. I'm the one women with no inhibitions want.
Not because I like the notoriety, but because I don't know how to be any other way.
I have secrets. Ones I shared with the wrong person, and she used them against me. Sometimes she still does. I should cut ties. But she makes it difficult, because she's the kind of bad I deserve.
At least that's what I believed until someone from my past gets caught up in my present. She's all the good things in this world. She lights up my dark.
I shouldn't want her.
But I do.
I should leave her alone.
But I won't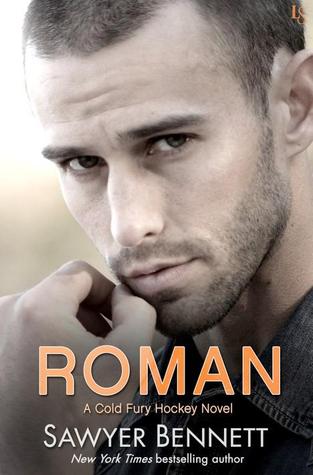 Roman by Sawyer Bennett: http://amzn.to/2kPZOT7
New York Times bestselling author Sawyer Bennett steams up the ice all over again as the Carolina Cold Fury hockey team's hottest bad boy gets his first taste of something good.
In a league full of troublemakers, Cold Fury defenseman Roman Sýkora stands out—at least when it comes to negative publicity. When he's not chilling in the penalty box, the sizzling Czech skate demon is racking up tabloid headlines for his scandalous behavior with the ladies. But now Roman's feeling the burn from management to clean up his act, or else. Luckily he's got an enticing distraction: a fun-loving barista who plays the ukulele and brings out a side of Roman he didn't know he had.
Lexi Robertson came to Raleigh, North Carolina, to finally meet her father, Brian Brannon, and her half sister, Gray, both of whom work in the Cold Fury's front office. That's where she first meets sexy, intimidating Roman—who's really a big softie at heart. As one relationship takes off, another begins: Brian seems to be clicking with Lexi's boss at the coffee shop. But when the friction between Roman and her new family heats up, Lexi wonders whether she's a pawn in their game. Feeling hurt and foolish, Lexi's ready to quit while she's ahead. Trouble is, Roman's not ready to quit on her.
Rough and Tumble by Rhenna Morgan: http://amzn.to/2kEGJ5x
A self-made man with his fingers in a variety of successful businesses, Jace Kennedy lives for the challenge and he always gets what he wants. From the start, he sees Vivienne Moore's hidden wild side and knows she's his perfect match, if only he can break it free. He will have her. One way or another.
Vivienne's determined to ditch the rough lifestyle she grew up in, even if that means hiding her true self behind a bland socialite veneer. Dragging her party-hound sister out of a club was not how she wanted to ring in the New Year, but Viv knows the drill. Get in, get her sister and get back to the safe, stable life she's built for herself as fast as humanly possible. But Viv's plans are derailed when she finds herself crashing into the club's clearly badass and dangerously sexy owner.
Jace is everything Vivienne swore she never wanted, but the more time she spends with him, the more she starts to see that he loves just as fiercely as he fights. He can walk society's walk and talk society's talk, but when he wants something, he finds a way to get it. He's proud of who he is and where he came from, and he'll be damned if he lets Vivienne go before showing her the safest place of all is in the arms of a dangerous man.
Royally Matched by Emma Chase: http://amzn.to/2loPnJV
Some men are born responsible, some men have responsibility thrust upon them. Henry John Edgar Thomas Pembrook, Prince of Wessco, just got the motherlode of all responsibility dumped in his regal lap.
He's not handling it well.
Hoping to help her grandson to rise to the occasion, Queen Lenora agrees to give him "space"—but while the Queen's away, the Prince will play. After a chance meeting with an American television producer, Henry finally makes a decision all on his own:
Welcome to Matched: Royal Edition.
A reality TV dating game show featuring twenty of the world's most beautiful blue bloods gathered in the same castle. Only one will win the diamond tiara, only one will capture the handsome prince's heart.
While Henry revels in the sexy, raunchy antics of the contestants as they fight, literally, for his affection, it's the quiet, bespectacled girl in the corner—with the voice of an angel and a body that would tempt a saint—who catches his eye.
The more Henry gets to know Sarah Mirabelle Zinnia Von Titebottum, the more enamored he becomes of her simple beauty, her strength, her kind spirit… and her naughty sense of humor.
But Rome wasn't built in a day—and irresponsible royals aren't reformed overnight.
As he endeavors to right his wrongs, old words take on whole new meanings for the dashing Prince. Words like, Duty, Honor and most of all—Love.
Saved by Darkness by Katie Reus: http://amzn.to/2l1vSn3
He thought he lost her decades ago.
Half-demon, half-dragon shifter Ian McCabe is hellbent on getting back the only woman he's ever loved. When Fiona O'Riley kicked him out of her life decades ago, he thought she was gone for good. Now that she's back, nothing will stop him from claiming her. But she wants nothing to do with him—or his family.
She'll do anything to save him.
Fiona knows that Ian is the only male for her. The only way to keep him alive is to stay away from him. But when tragedy strikes and they discover a wicked agenda for the mass murder of humans, they must work together to take down the enemies that threaten everyone. But there's so much more on the line. As their undeniable desire intensifies, they're faced with an unbearable choice. If Fiona and Ian succumb to their temptation, mating could be the last thing they ever do.
Sex Says by Max Monroe: http://amzn.to/2lq1hCI
Lola
My name is Lola Sexton, and I'm a sex addict.
Okay…that's a lie.
Truth is, I'm a serial dater turned dating and relationship columnist for The San Francisco Times. My readers call me Sex. Sex Says.
I love my job.
I love my life.
And I hate Reed Luca.
**
Reed
My name is Reed Luca, and I'm a liar.
Ironically, that's the truth.
I'm 31, and my occupation is…well, complicated.
My favorite kind of woman comes in all shapes and sizes, but always has a big brain.
I've never hated anything.
Lola Sexton hates me.
Luckily, it's a thin line between love and hate, and with my help, pretty Lola will only be able to straddle that line for so long.
Silver Edge by Ciara Knight: http://amzn.to/2lq54QM
All I've ever wanted is to fit in.
But no one can ever see past how weird I am. Bright lights? Can't stand them. Loud noises? Definitely sends me over the edge. And touching? Forget about it.
At least, until I met Drake.
From the moment I walked into that nightclub, I finally felt like I belonged somewhere. And when Drake touched me, it didn't send me into a tailspin of sensations that I couldn't stand. It actually felt…nice. Like something I could get used to. And it doesn't hurt that he's probably the hottest guy I've ever seen.
But now someone wants to close the club down. And since I promised Drake that I'd help him keep it open, I'm going to have to find a way to tap into whatever that inner strength thing is that everyone always talks about. And fast. But what happens if I can't?
Sin For Me by Lisa Marie Perry: http://amzn.to/2mg9g2C
Fans of Empire will love Lisa Marie Perry's stylish, addictive novels of passion, drama, and seduction. The high-powered men and women behind Devil's Music have made their fortunes building the hottest label in hip hop, but it's the action behind the scenes that's seriously steamy.
For Dante Bishop, music died the night he found his father's body next to a syringe of lithium. Ditching Atlanta, Dante jumped on his Harley and left the family business to his sister. She became the heart and soul of Devil's Music—until the board, including Dante's ex, masterminded a takeover. Years later, Dante's doing something he never thought he'd do: returning to Georgia to put his songwriting skills to good use. Reuniting with Chelsea Coin only sweetens the deal.
As the perfectionist COO of Devil's Music, Chelsea doesn't dwell on the past. If she did, she'd never forgive herself for betraying the Bishops in a corporate power grab. Now Chelsea needs help to save the company, and Dante's a nonnegotiable part of the arrangement. Still brooding and hot as hell, Dante wastes no time stirring up unfinished business—and carnal memories Chelsea would rather keep buried. She's come too far to risk everything on a man. But for desire this intense, she might just enjoy the sexiest mistake of her life.
Switch by Adriana Locke: http://amzn.to/2lAjldB
Mallory Sims is late for her first day of work.
After spilling her tea, she discovers she has no gas in her car. Add that her arm keeps sticking to her dress from syrup left on the console of her car, flustered feels like an understatement.
Then she sees her new boss.
Graham Landry is the epitome of NSFW in his custom-fit suit, black-rimmed glasses, and a look so stern her libido doesn't stand a chance. Being flustered is just the start of her problems.
Her punctuality is only the start of his. With a pink slip in hand, he's been waiting on his new secretary to show up only to let her go. Then she rushes in with her doe eyes and rambling excuses, smelling like bacon and lavender. The termination paper falls to the side as she falls in his arms.
This is a disaster in the making. Not because of his pinpoint exactness or her free spirit, but because when they're together, the sparks that fly threaten to burn the whole place down.