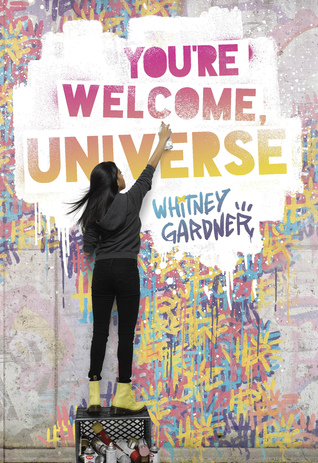 You're Welcome, Universe by Whitney Gardner
3 stars
This book started out strong and then midway through kind of fell off for me. It's about a deaf teenager named Julia who likes spray paint art. When there is a graffiti tag insulting her best friend she covers it up with her own art, and then gets expelled from her school for it. Now she's in a new school with no friends, one that isn't for deaf students so she needs an interpreter. Julia is having a hard time and doesn't fit in, and doesn't want to fit in.
I think Whitney Gardner nailed the portrayal of a perspective from a deaf teen because this book wasn't about that only, the story was more about fitting in at a new school and her struggles with her art and the illegal side of it. I also think Gardner presents interesting ideas and perspectives about graffiti versus tagging, the art side of it and the not so great parts.
Ultimately this book didn't work for me because halfway through I was a bit bored, and near the end I felt a lot was unresolved. I also stopped caring what happened with the characters which is sad because they started out the book pretty strong.
An arc was provided in exchange for an honest review