New Releases for February 28th, 2017!!! So many great ones!
-The Bastard Billionaire by Author Jessica Lemmon: http://amzn.to/2mEMUI8
A BILLIONAIRE BAD BOYS NOVEL
Beauty and the Beastly Billionaire . . .
Eli Crane is one tough bastard. After an explosion left him injured and honorably discharged from the Marines, all he wants is to be left alone. Yet his brothers insist he take a greater role in the family business. They've hired him ten personal assistants-and Eli sent each one packing as fast as possible. But when beautiful number eleven walks through the door, Eli will do anything to make her stay.
Isabella Sawyer's employment agency can't afford to lose Eli Crane's business. Her plan: to personally take on the role of his PA, and secure her reputation with the wealthy elite in Chicago. But this beauty and her hot billionaire bad boy soon find themselves mixing business with pleasure in the most delicious ways. And passionate, stubborn Isabella won't rest until she tames this wicked beast . . .
-Blackbird by Molly McAdams: http://amzn.to/2m4OgPK
From New York Times bestselling author Molly McAdams comes a powerhouse romantic suspense that will have you questioning your morals and second guessing your view on love.
I live in a world few know exist. I've trained for this. I know what to say, what to do, and how to act. I've perfected the lethal calm required for this life.
Now it's time to buy my first girl. But all it takes is one look at the brave girl who starts singing mid-auction for that calm to slip.
Briar Chapman is going to be the death of me, and I don't care. I'll take every day with her until that death comes, and I'll welcome it when it does.
On the outside, Lucas Holt is what nightmares are made of. A man cloaked in darkness, with sin-filled eyes and an enticing grin. A devil so devastatingly beautiful and cruel that his very presence instills fear.
But beneath his terrifying, ever-calm exterior is an affectionate man haunted by a past that refuses to stay buried. And Lucas looks at me as though he's finally found the only person who can make it all go away.
We're a battle of the brightest day and the darkest night—and I want to lie in the wake of our war.
-Butterfly Project by Emma Scott: http://amzn.to/2mnPOFa
"Where you are is home…"
At age fourteen, Zelda Rossi witnessed the unthinkable, and has spent the last ten years hardening her heart against the guilt and grief. She channels her pain into her art: a dystopian graphic novel where vigilantes travel back in time to stop heinous crimes—like child abduction—before they happen. Zelda pitches her graphic novel to several big-time comic book publishers in New York City, only to have her hopes crash and burn. Circumstances leave her stranded in an unfamiliar city, and in an embarrassing moment of weakness, she meets a guarded young man with a past he'd do anything to change…
Beckett Copeland spent two years in prison for armed robbery, and is now struggling to keep his head above water. A bike messenger by day, he speeds around New York City, riding fast and hard but going nowhere, his criminal record holding him back almost as much as the guilt of his crime.
Zelda and Beckett form a grudging alliance of survival, and in between their stubborn clash of wills, they slowly begin to provide each other with the warmth of forgiveness, healing, and maybe even love. But when Zelda and Beckett come face to face with their pasts, they must choose to hold on to the guilt and regret that bind them, or let go and open their hearts for a shot at happiness.
The Butterfly Project is a novel that reveals the power of forgiveness, and how even the smallest decisions of the heart can—like the flutter of a butterfly's wings—create currents that strengthen into gale winds, altering the course of a life forever.
#standalone
-Cole by Tijan's Books: http://amzn.to/2mnQnif
I shouldn't have remembered him.
He was just a guy who walked through a restaurant. I didn't know his name. We never made eye contact. There was no connection between us at all.
But I could feel him.
The tingle down my spine. The command in his presence. The snap of tension in the air around him. That was the first time I saw him, and I was captivated.
The second time was different.
He was in the mysterious back elevator of my apartment building. Our eyes met for a fleeting second before the doors closed, and I was staggered. My breath was robbed. My senses on high alert. My body hummed.
That was just the beginning.
He was the leader of the mafia. I was about to fall in love with him, and his name…
Cole Mauricio
-Dear Agony by Georgia Cates (March 1st release): http://amzn.to/2l6yxjD
Dear Agony,
You've been my shadow, following me through childhood—filling my days and nights with terror and uncertainty. You cleverly disguised yourself as some form of pain or suffering as I grew into a young woman. We were unwavering companions … until I severed our ties.
I traded homelessness on the streets of New Orleans for a luxurious bed covered by the finest linens.
I traded dumpster diving for dinner in the finest restaurants.
I traded myself to a stranger—Bastien Pascal.
I have a good life within my platonic and mutually beneficial companionship with Bash.
He's my friend. My mentor. My roommate.
Until everything changes.
I'm not supposed to get goosebumps when his hand brushes my skin.
I'm not supposed to be eager for his soothing touch following one of my nightmares.
I'm not supposed to think about what might happen if I reached out to him in the darkness.
Falling in love with him? Preposterous . . . unavoidable.
Agony, why are you back with a vengeance to rob me of this life I've come to love so dearly?
I'm finally happy. Don't ruin this for me.
Always yours,
Rose
In this epic love story, Dear Agony forges a connection between an unlikely pair—a beautiful rose entwined in barbed wire and a shipwreck sinking into the darkest depths of the ocean. This agonizing romantic novel poses some gut-wrenching questions: What does a woman do when the man she loves is planning his own demise? And how far will she go to give him something to live for?
-Dirty Wife Games by Clarissa Wild: http://amzn.to/2lPMXSn
* This is a Standalone novel *
A scorned wife on the run, and a stalker who follows her every move… Match made in heaven?
After being forced to marry a tyrant, Hyun Song flees his home in a desperate attempt to save what's left of her dignity … and her life.
Now on her own, she tries her best to move on with her simple life. But she quickly realizes she can't escape her past … and that she's not alone …
He watches her through her window.
Sends her indecent notes.
Stalks her everywhere she goes.
He wants her badly, and when she finally lets him in …
It's time for the wife to play a dirty game.
Author's note: This story contains sensitive content that may be upsetting to some readers.
ALL BOOKS CAN BE READ AS A STANDALONE.
Indecent Games Series:
Wicked Bride Games: Naomi's Story.
Dirty Wife Games: Hyun's Story.
-End of Eden by S.L. Jennings: http://amzn.to/2mEw8sS
I thought I knew what Hell was like.
I thought I had been living it all these years on Earth—abandoned, forgotten, and left with a dangerous secret that not only made me the Se7en's #1 target but also turned me into a deadly weapon, a threat to every human in my path.
I was wrong.
In order to survive Lucifer's plans for me, and his unquenchable thirst for more power, I have to surrender my humanity. I have to lose a part of myself in order to find my way back to him.
Back to the demon who saved me, only to break me.
Back to Legion.
But even supreme evil has its limits, and the real foes never show their devastatingly beautiful faces.
Forget fire and brimstone. They aren't shit compared to what's coming.
Centuries-old bonds will be broken. Unlikely alliances will be forged. And innocent blood will be spilled. Blood that will stain my hands for the rest of my mortal days.
I thought I knew what Hell was like.
I was wrong.
Hell is coming.
Hell is just the beginning.
-For His Eyes Only by Lexi Blake: http://amzn.to/2lPV8Ou
A night he can't forget
Five years ago, Nick Markovic found himself consumed by his quest for vengeance. The one time he managed to find peace was in the arms of Hayley Dalton. Being with her was like bathing in sunlight, and he ached to feel that again, but he couldn't. He gave his oath to Hayley's cousin Desiree, his partner at McKay-Taggart and Knight, that he'd never let his darkness infect Hayley's innocent world.
A spark she can't put out
It was years before that Hayley offered everything she had to Nick. After that one amazing night, all she wanted was to be his forever. Unfortunately, Nick's reaction was to walk away from her and never look back. The warm and caring man she'd discovered was gone, and after Des's death, he'd only grown colder. But when Hayley finds herself in mortal danger, she's forced to seek protection from the man who broke her heart.
A flame that threatens to consume them both
Haunted by the women he failed, Nick can't allow himself to grow close to Hayley again. Running to stay ahead of the powerful forces that endanger their lives, they travel from the lush Garden in London to the glittering lights of Rio. As the threat against her becomes clearer, he realizes that to keep her safe he must confront the demons from his past, even if it costs him a future with the woman he loves.
-The Hot One by Lauren Blakely: http://amzn.to/2m57q89
A sexy new standalone romance from #1 New York Times Bestselling Author Lauren Blakely…
Ever notice that sometimes a guy will do something really stupid, like let the love of his life slip through his fingers?
Yeah. I'm that guy. But the moment I run into the woman I once loved madly, I've got one goal and one goal only—a second chance. The plan? Go big or go home.
Fine, at first glance, stripping naked at my ex-girlfriend's place of work might not seem like the brightest way to win her heart again. But trust me on this count—she always liked me best without any clothes on. And you've got to play to your strengths when you're fighting an uphill battle. As a lawyer, I know how to fight, and I'm prepared to fight hard for her. Because sometimes you need a second chance at first love.
He's the one who got away . . .
The nerve of Tyler Nichols to reappear like that at my job, showing off his rock-hard body that drove me wild far too many nights. That man with his knowing grin and mischievous eyes is nothing but a cocky jerk to saunter back into my life. Except, what if he's not . . .? I've tried like hell to forget him, but maybe I'm cursed to remember the guy I fell madly in love with eight years ago. Lord knows I'm not over him, so what's the harm in giving him a week to prove he's changed in the ways that matter?
After all, how do you resist the hot one…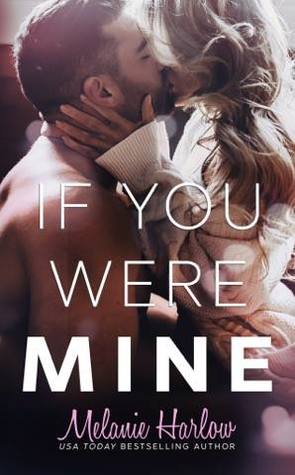 -If You Were Mine by Melanie Harlow Author: http://amzn.to/2mEPRZ8
Theo MacLeod wasn't supposed to be the one.
Tall, dark and handsome suits me just fine, but the cocky grin, know-it-all attitude, and mammoth ego? No thanks. I only hired him so I wouldn't have to sit at the singles table again. It was just pretend.
He wasn't supposed to kiss me.
My heart wasn't supposed to pound.
We weren't supposed to spend the night together—the hottest night of my life.
One night turns into a snowed-in weekend away, and even the blizzard of the century can't cool the fire between us. I can't get enough—of his smile, of his body, of the way he makes me feel.
We're nothing alike. He's a daredevil, and I'm a nervous Nellie. He's a drifter, and I want to put down roots. He's an opportunist with a checkered past, and I'm a Girl Scout volunteer.
But none of it matters when I'm in his arms.
I know he's made mistakes. I know his wounds are deep, and he doesn't trust easily. I know he doesn't believe he could ever be enough to make me happy, but he could.
All he has to do is stay.
-Into the Fire by Jeaniene Frost: http://amzn.to/2my88rW
In the explosive finale to New York Times bestselling author Jeaniene Frost's Night Prince series, Vlad is in danger of losing his bride to an enemy whose powers might prove greater than the Prince of Vampire's….
In the wrong hands, love can be a deadly weapon.
For nearly six hundred years, Vlad Tepesh cared for nothing, so he had nothing to lose. His brutal reputation ensured that all but the most foolhardy stayed away. Now falling in love with Leila has put him at the mercy of his passions. And one adversary has found a devastating way to use Vlad's new bride against him.
A powerful spell links Leila to the necromancer Mircea. If he suffers or dies, so does she. Magic is forbidden to vampires, so Vlad and Leila enlist an unlikely guide as they search for a way to break the spell. But an ancient enemy lies in wait, capable of turning Vlad and Leila's closest friends against them…and finally tearing the lovers apart forever.
-Jordan Reclaimed by Scarlett Cole: http://amzn.to/2my4sGV
He's a rocker, she's a ballerina, they're worlds apart yet just what the other needs. From Scarlett Cole comes Jordan Reclaimed, the first emotional standalone romance that takes readers into the the band Preload.
Jordan Steele's life began when he was ten. When he was taken from his parents and a house that was never a home. When he met his brothers, the other lost and abandoned boys in his group home. When he learned what friendship and family and love looked like.
Now he's made good, touring the world with the band he and his brothers formed in that crowded group home. No one but his found family really knows the man under the fame and fortune, the scars he hides behind the rockstar lifestyle. Until he sees her through the windows of the National Ballet, dancing, and suddenly the world doesn't seem so dark.
Aleksandra Artemov ticks all the ballet boxes. Father a legendary Kirov dancer. Check. Prepping since birth for classical ballet. Check. Compulsive control over the food she eats. Check. Principal dancer at The National Ballet of Canada. Check. But what she craves is freedom.
She craves Jordan.
Everything about him should terrify her. His size, his tattoos, his edge. But he doesn't. He stirs her very soul. Jordan has nothing but himself to offer her, and he's never been good enough for anyone. Can he figure out how to face his own demons before he loses his light for good?
-Life by Audrey Carlan, Author: http://amzn.to/2l6swTU
Maria De La Torre is a survivor. Her life has not been paved with streets of gold…but with blood and sacrifice. She may have been there for her soul sister in the Trinity Trilogy but this story is about her life. The life she chooses. The same life someone from her past is trying to take away.
Elijah is the last man in the entire world Maria should be with. He's a dark, gritty, lawless bounty hunter—the exact opposite of the man she loved and lost, the man who gave up everything for her. Only Elijah is not the type of guy to back down. He's used to getting what he wants and he's set his sights on the raven-haired seductress.
Time is not on Maria and Elijah's side. There's a new threat to the soul sister, one Maria never thought she'd have to face again. And this time, the stakes are life and death.
Maria quickly learns that the things she wants most in this lifetime may just be the things that have the power to destroy her.
-A Million Little Things by Susan Mallery: http://amzn.to/2mnQj20
From the bestselling author of The Girls of Mischief Bay and The Friends We Keep comes a twisty tale of family dynamics that explores what can go terribly, hysterically wrong when the line between friendship and family blurs… 
Zoe Saldivar is more than just single—she's ALONE. She recently broke up with her longtime boyfriend, she works from home and her best friend Jen is so obsessed with her baby that she has practically abandoned their friendship. The day Zoe accidentally traps herself in her attic with her hungry-looking cat, she realizes that it's up to her to stop living in isolation.
Her seemingly empty life takes a sudden turn for the complicated—her first new friend is Jen's widowed mom, Pam. The only guy to give her butterflies in a very long time is Jen's brother. And meanwhile, Pam is being very deliberately seduced by Zoe's own smooth-as-tequila father. Pam's flustered, Jen's annoyed and Zoe is beginning to think "alone" doesn't sound so bad, after all.
Friendship isn't just one thing—it's a million little things, and no one writes them with more heart and humor than book club sensation Susan Mallery!
-Meant to Be by Melody Grace: http://amzn.to/2l6HoSn
Poppy Somerville believes in happily-ever-after. It's the reason her romance novels have won devoted readers all over the world – and why she's broken off her engagement just weeks before the wedding instead of settling for less than true love. Escaping to her aunt's beach cottage in Sweetbriar Cove, Poppy is looking for inspiration to end her writer's block and finish her new book. She just wasn't counting on the handsome, gruff contractor making such a racket next door…
Cooper Nicholson doesn't believe in soul-mates. He thought he'd found his forever once, and the world proved him wrong, so when the cute brunette comes storming over and demands he keep the noise down, romance is the last thing on his mind. But his new neighbor is full of surprises, and soon, their chemistry is too hot to ignore.
As they grow closer, they discover fiction has nothing on the plot twists life has in store. But will Cooper find a way to let go of the past and risk his heart again? And can Poppy find her happy ending – on and off the page?
-Mister Wrong by Nicole Williams: http://amzn.to/2mEuOWE
Cora Matthews grew up with the Adams' boys, twin brothers and best friends who wouldn't let anything come between them—except for her. One of them became her best friend; the other, her fiancé.
She always knew she'd wind up marrying one of them, and Jacob Adams is the epitome of Mister Right. At least until he fails to show up for their wedding.
As Jacob's best man, and identical twin, Matt makes a split-second decision that will affect the three of their lives forever—he steps in to take his brother's place. In front of the altar, exchanging vows with the woman he's secretly been in love with for years.
But Cora finds out about the groom swap. The morning after the wedding. As if realizing she just slept with her fiancé's brother isn't disturbing enough, she's forced to confront the feelings for Matt Adams she thought she'd buried years ago.
Through the course of her real honeymoon with her fake husband, she uncovers truths both Adams brothers were hoping to keep hidden, for opposite reasons. One to protect himself, the other to protect her.
She married the wrong brother, but what if he's been the right one all along?
-Passion Restored by Carrie Ann Ryan: http://amzn.to/2mEAy2S
Owen Gallagher likes everything in its place and is organized to a fault. While his brothers have each dealt with their own personal tragedies and stresses, Owen figures he's had it pretty easy. That is until his perfectly ordered world is rocked at its foundation and he's forced to rely on others. Now, he must heal his body and his soul while trying to ignore his delectable and utterly off-limits neighbor.
Liz McKinley is stressed out, exhausted, and not in the mood for a bearded and growly man in her ER. When she patches him up to the best of his ability, she's prepared to push him firmly from her thoughts. Of course, that would be easier if she and her best friend hadn't bought the house next to his. Now their paths seem to cross daily, and she is finding it harder and harder to say no to the injured and angry man next door. But she's been scarred one too many times in her life, and even though this Gallagher looks good enough to eat, she knows that sometimes, sating that craving is the worst thing she can do.
-Shadow's Seduction by Kresley Cole: http://amzn.to/2mEPqOQ
In this scorching Immortals After Dark/Dacian novella, #1 New York Times bestselling author Kresley Cole brings together a wicked vampire prince used to getting everything he desires and a demon warrior who always felt like an outcast.
A night of debauchery . . .
Prince Mirceo Daciano and his new friend, Caspion the Tracker, comb the streets of Dacia, drunkenly seeking out pleasures of the flesh. In what should have been a typical night, they coax a bevy of nymphs to bed. To impress their females, the demon and the vampire kiss on a dare.
Changes them forever . . .
Once they finally break away from their soul-searing kiss, they find themselves alone–and shaken. Had they imagined their explosive chemistry? Obstacles–ranging from a death sentence to exile in a war-torn dimension–threaten to destroy their lives . . . and the vulnerable promise in that one kiss.
How long can they resist the fire that blazes between them?
Even if Mirceo accepts Caspion as his fated mate, the seductive vampire still must convince the stubborn demon that their bond is forever. And any royal Dacian union must receive the blessing of King Lothaire, an unpredictable and savage killer. . . .
-Something in the Way by Jessica Hawkins: http://amzn.to/2my2OFa
It was a hot summer day when I met him on the construction site next to my parents' house. Under the sweat and dirt, Manning Sutter was as handsome as the sun was bright. He was older, darker, experienced. I wore a smiley-face t-shirt and had never even been kissed. Yet we saw something in each other that would link us in ways that couldn't be broken…no matter how hard we tried.
I loved Manning before I knew the meaning of the word. I was too young, he said. I would wait. Through all the carefully-chosen words hiding what we knew to be true, through his struggle to keep me innocent, and through infinitely-starry nights—I would wait. But I'd learn that life isn't always fair. That no matter how much you achieve, none of it matters if you suffer the heartbreak that comes with falling for someone you can never have. Because even though I saw Manning first, that didn't matter. My older sister saw him next.
Book one in an epic, three-book saga of forbidden love. Book two releases May 2017.
-Sweet Rivalry by K. Bromberg: http://amzn.to/2m4Z2pt
Ryder Rodgers had a plan.
He was going to stride into the conference room, do the required song and dance over the next five days, and win the biggest contract of his career. But when he walked in and heard the voice of one of his competitors, all his plans were shot to hell.
Harper Denton. She was always on top. In college. First in their class. Always using every advantage to edge him out to win the coveted positions. The only one who could beat him. His academic rival. More like a constant thorn in his side. And his ego's.
When he heard her voice, he was brought back to years before. To the bitter taste of being second best. But the woman who meets his gaze is nothing like the drab wallflower he used to know. Hell no. She was all woman now: curves, confidence, and staggering sex appeal. And no doubt, still brilliant.
The fact that she's gorgeous and bright won't distract him. This time, Ryder's determined to be the one on top. But not if Harper can help it.
-Sweet Victory by Gina L. Maxwell, Author: http://amzn.to/2mEIMrD
Sophie Caldwell might not like asking for help, but help is what she needs if she's going to save her family business from her uncle. Her grandma left one rule for Sophie if she wants to gain sole ownership before she's thirty–get married. Yeah, fat chance of that happening since she hasn't had a boyfriend in years, and now she can't get her uncle off her ass.
British-born MMA fighter Xander James has never lost a fight, and he's not about to start now. He's on the brink of a comeback that could make him a UFC champion, but his landlord wants to take away his last chance by shutting down his gym. Hell, no. Fortunately, his landlord's niece has a problem of her own. Time for a proposal she can't refuse.
-Throne of Truth by Pepper Winters: http://amzn.to/2my9VgW
The thrilling conclusion to Crown of Lies from New York Times Bestseller, Pepper Winters
TWO YEARS
Since my life changed for the second time and not necessarily for the better. Two years since I traded prison bars for streets and hunted a runaway who I'd met in an alley.
TWO DAYS
Since I forgot how to lie, woke to fists, and chased after the girl who'd been stolen from me.
TWO HOURS
To save her, rescue her, keep my lies intact. She looks at me full of hate. I look at her full of confession.
TWO MINUTES
For our relationship to switch from mutual dislike to floundering with unknowns. I've hurt her. Now, she's hurt me. I guess we're even.
TWO SECONDS
For her to listen, to see, to finally know who I am. The answer comes with hardship. The answer isn't what she wants to hear.
TWO BREATHS
For me to walk out the door.
TWO HEARTBEATS
For it all to be over.
-Till Death by Jennifer L. Armentrout: http://amzn.to/2lPY3GS
In New York Times bestselling author Jennifer L. Armentrout's gripping new novel, a young woman comes home to reclaim her life—even as a murderer plots to end it. . .
It's been ten years since Sasha Keaton left her West Virginia hometown . . . since she escaped the twisted serial killer known as the Groom. Returning to help run her family inn means being whole again, except for one missing piece. The piece that falls into place when Sasha's threatened—and FBI agent Cole Landis vows to protect her the way he couldn't a decade ago.
First one woman disappears; then another, and all the while, disturbing calling cards are left for the sole survivor of the Groom's reign of terror. Cole's never forgiven himself for not being there when Sasha was taken, but he intends to make up for it now . . . because under the quirky sexiness Cole first fell for is a steely strength that only makes him love Sasha more.
But someone is watching. Waiting. And Sasha's first mistake could be her last.
-Too Wilde to Tame by Tonya Burrows – Author: http://amzn.to/2li9pSf
For three years, ballet teacher Natalie Taggart has lived across the hall from grumpy, reclusive, sexy Greer Wilde. Save for a handful of hellos and the occasional heated glance, they never spoke to each other.
Until the morning Greer lands on her doorstep, bleeding, beaten, and bullet-riddled.
Greer doesn't need or want her help. He has only one goal: revenge. And nobody—not his brothers, and certainly not his too-hot-for-his-sanity next-door neighbor—is going to get in his way.
-Undeclared by Julianna Keyes: http://amzn.to/2m58PvC
Kellan McVey is Burnham College's most prolific athlete, partier, and ladies' man—and that's just how he likes it. Returning to reign for his third year, he wants nothing to change. Then Andrea Walsh shows up. It wasn't too long ago that Andi and Kellan were lifelong friends, mortal enemies, and, for one hot summer, more. Then Kellan left and Andi stayed behind. Kellan thought he'd moved past that last summer's heartbreak, but with Andi sitting next to him in class, befriending his friends, and battling for the same once-in-a-lifetime job opportunity, he's starting to remember why he hated her…and why he loved her. Kellan has a long list of reasons that falling for Andi again is a terrible idea, though every new moment together challenges that theory. But Andi's all too familiar with Kellan's love 'em and leave 'em approach—and she's found someone else to get serious about. Burnham's campus king has never had to fight for a girl, but if he wants Andi to give him another chance, he'll have to do the one thing he's never had the nerve to do: admit it.
-Wait For It by Molly O'Keefe: http://amzn.to/2m55BIr
In a blistering novel of raw emotion and desire, a tormented woman teaches an alpha male that money can't fix everything . . . but love can.
Tiffany: After fighting for a new life, I don't want to play the victim anymore. However, with three kids to raise, I'm getting desperate enough to make a deal with the devil. My estranged brother-in-law, Blake, says he just wants to help, but he's been trouble since I met him. I don't know if I can believe this kinder, gentler Blake, and there's a friction between us that has turned into the sweetest chemistry. He could be my salvation . . . or my downfall.
Blake: I haven't always had Tiffany's best interests at heart but I'm ready to make up for my sins. Besides, I can't help admiring her: The girl's a genuine survivor, tough and lean, with eyes of steel. But the more I get to know Tiffany, the more I want her. Every inch of her. Which means I'm about to make a bad situation a hell of a lot worse.
-The Wright Brother by K.A. Linde: http://amzn.to/2lO0gEp
A new contemporary romance stand alone from USA Today bestselling author K.A. Linde…
I'd dated his brother.
He didn't remember and I wish I could forget.
I may have sworn off the Wright family a long time ago. But when I returned home, Jensen Wright crashed into my life with the confidence of a billionaire CEO and the sex appeal of a god. Even I couldn't resist our charged chemistry, or the way he fit into my life like a missing puzzle piece.
Too bad he'd forgotten the one thing that could destroy us.
Because Jensen Wright doesn't share. Not with anyone. And if his brother finds out, this could all go down in flames.
When it all was said and done, was he the Wright brother?