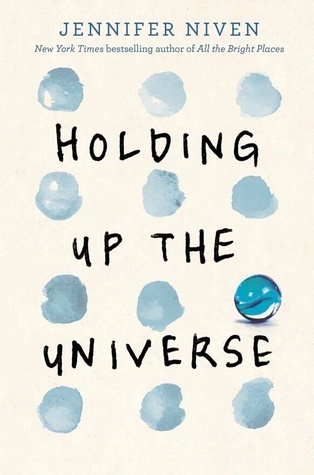 Holding Up The Universe by Jennifer Niven
4 stars!
"Dear friend, You are not a freak. You are wanted. You are necessary. You are the only you there is. Don't be afraid to leave the castle. It's a great big world out there. Love, a fellow reader"
This book shocked me with how much I enjoyed it! Holding Up the Universe is about Libby and Jack. A couple years back Libby had gained so much weight that she needed to be rescued from her house to be saved. Jack has a secret, he cannot recognize faces, not even his own.
The two become connected after Jack does something he regrets, and a friendship begins. Through friendship becomes an attraction, but both have personal barriers they need to get past.
"We're all weird and damaged in our own way. You're not the only one."
I really enjoyed this book, way more than I thought I would. I am not a fan of All the Bright Places, it was one of those books where everyone loved it except me. But I was intrigued by this book and I liked Niven's writing style so I wanted to give it a shot. I myself am overweight, and while I am nowhere near Libby's size I could easily relate to a lot of what she was going through, even though I am an adult. High school is hard enough without adding in the fat shaming factor and I really admired her strength and tenacity when dealing with the hateful comments of others.
Jack's story was very interesting, I knew little to nothing about face blindness before reading this book. I think Niven did a great job of describing what day to day life would be like living with this condition. Jack himself was one thing I didn't love about this book. He had a lot of growth by the end, but ultimately I still feel Libby deserves a better guy than him.
Beautifully written, Niven has sold me on anything else YA she writes in the future. I always love when an author has a book I didn't connect with has the ability to write something different, it shows variety in her writing style.
"It's my experience that the people who are most afraid are the ones who hide behind mean and threatening words."