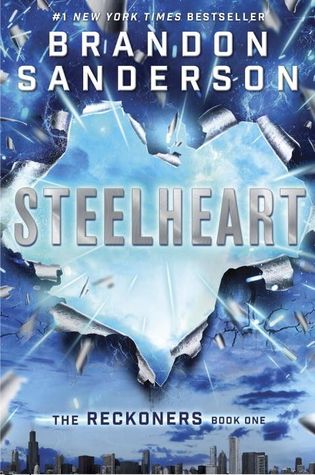 Steelheart by Brandon Sanderson
4 stars!
Steelheart is about a boy named David who watched his father murdered by the Epic named Steelheart. Epics are advanced beings that came to earth and took over, like super villains instead of superheroes. Now ten years later Steelheart rules Newcago and the city remains in a constant state of darkness. David has thought of nothing but revenge for the last decade and needs the help of a group named the Reckoners to carry out his plan.
David is tentatively accepted by the Reckoners, but he must convince them that he is useful to their group.
"Sometimes, son," my father said, prying my fingers free, "you have to help the heroes along."
I really enjoyed this book, the prologue was just phenomenal and mind blowing. Reading that I knew this would be a good book. To me this book had a very Watchmen feel to it, but instead of the Epics being the center storyline it's the humans fighting super villains. I definitely want to know more about how the Epics came to be and see more shades of gray in that area.
The only reason I didn't love this book and simply really enjoyed it, was there were some information overload moments that went a bot beyond my comprehension. I know it all had meaning to the plot and I was definitely wowed by the end with how some things came together. But those parts I kind of set down the book and walked away for a bit.
Anyways, the end of this book just left me wanting more, so I am off to start the next one!!! Yay!
"I know, better than anyone else, that there are no heroes coming to save us. There are no good Epics. None of them protect us. Power corrupts, and absolute power corrupts absolutely."