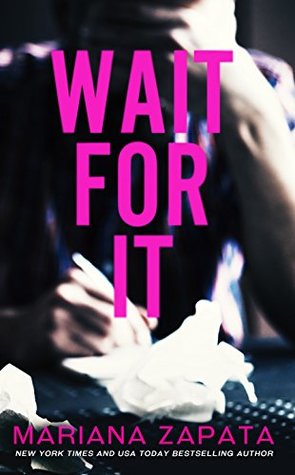 Wait For It by Mariana Zapata
4 stars!
"You can't always wait for someone else to do the right thing when you can do it yourself."
Mariana Zapata is the queen of the slow burn!
Wait For It is the story of Diana, a young aunt who is raising her two nephews after the death of her brother and his wife. Moving into a new neighborhood, Diana meets her neighbor when she rescues his brother from being beaten up. From this point, their lives mix between family and friends and little league games.
Dallas is a grumpy guy across the street, and while he warms up to her nephews, he doesn't seem to like Diana very much. Over time the two reach a friendly agreement, and then become friends. But Dallas is married, pursuing a divorce, and Diana may want more, but she won't go after it.
"Only thing cover model about Dallas was his resting bitch face that was too aggressive to be on the cover of anything other than a survival guide magazine."
The moment I saw this puppy was live early, I one-clicked it so fast! I love this author, her slow burn romances are exactly what I needed in a world of instalove and women accidentally falling on men on page 2. I loved how much this book was about daily family life and Diana raising the kids more then it was about romance.
The slow burn, it's more glacial than slow in this book but I honestly didn't mind. But for those who you who want stuff to happen, we don't even really get to know the hero until after 39% into the book. BUT like I said, I really enjoyed the daily life of Diana with the boys. I'm not a parent but I was laughing so hard at moments like Diana's dread at hosting a sleepover and stress eating pop tarts. This book actually made me crave pop tarts and I don't even eat them!
Dallas was a great hero, he was supportive and understanding and once he got to know Diana and her intentions he was good to her and her boys. This book made me like the strong and silent type.
"Because no one else was as kind or selfless, as giving or as patient, as loving in all the little and the big ways, as he was. I'd never really known what I wanted most of my life, but this—him—was it."