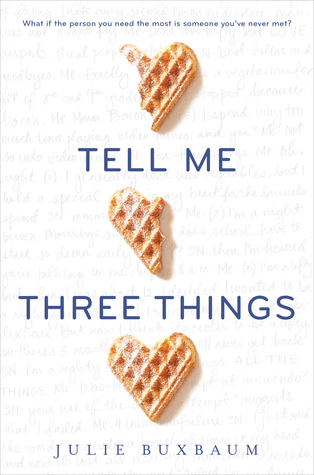 Tell Me Three Things by Julie Buxbaum
3.75 stars!
"Just because you're strong doesn't mean you shouldn't ask for help sometimes. Remember that."
This book is the straight version of Simon Vs. the Homo-sapiens Agenda, and while they are very similar, it actually didn't bother me that much. I enjoyed each book for different reasons.
Tell Me Three Things is about a girl named Jessie whose mother died a couple years ago and now her father has found new love. This means selling her childhood home and moving to LA to live with her new stepmother and stepbrother and leaving everything she knows behind. A few days into her new school and Jessie gets an anonymous message, reaching out to her to help her, but never divulging their identity.
Jessie begins to rely more and more on SN, and as time goes by adjusting to her new school gets easier.
"Perfect days are for people with small, realizable dreams. Or maybe for all of us, they just happen in retrospect; they're only now perfect because they contain something irrevocably and irretrievably lost."
I think this is a book a lot of teens (and adults) can relate to because it's all about coping in new environments and feeling like you're alone. Jessie is a very relatable character, trying to navigate a new school and a whole new family when she feels no one is on her side.
I will say I guessed who SN was fairly easily, I won't tell you how because spoilers. But even pretty much knowing who it was I enjoyed the book. I wish more had been developed in this book, like Jessie's relationship with her dad and her new family, I felt a lot of that was brushed over or quickly wrapped up. It was a huge part of her life and it seemed second to her issues in high school (which were just as bad, but still).
A quick read if you want to read something cute with a good ending.
"Other people can't make you feel stupid. Only you can."