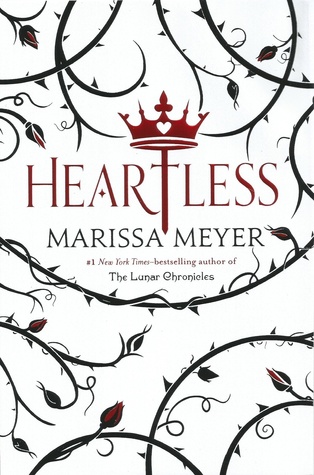 Heartless by Marissa Meyer
2 stars
"The easiest way to steal something, is for it to be given willingly."
Being a giant fan of Marissa Meyer and her Cinder series, it's incredibly disheartening that I didn't like this book. BUT a bit to my fault, I found out after starting this book that the style has been compared to Gregory Maguire, the author herself said that was the inspiration.
I friggin hate Gregory Maguire's books. So I think this book was doomed for me from the start.
I love the idea and concept of Heartless, the prequel to Alice in Wonderland. The story of the famous villain the Queen of Hearts.
If you watched the movie growing up, you are familiar with her heart full of venom and hate. This book gave us the story of how she came to be that way (meaning obviously it's not the happiest of tales).
Heartless is the story of a girl named Catherine who wants to open a bakery with her friend. Her mother has higher hopes for her and wants her to marry the King. While at one of the palace balls, Cath meets the new Joker, Jest and is enchanted by him.
Over time it becomes more and more clear to Cath that she wants a life with Jest and not the King, but she's tangled in a web with the King and her family and feels hopeless in controlling her own life.
"Sometimes your heart is the only thing worth listening to."
As you can tell, I didn't love this book. I felt it was drawn out and near the end I was speed reading to just get it over with already. The beginning of the book was so slow and then everything was rushed together at the end of the book, I wish the pacing had been better. I also didn't connect to a single character in the book, nor did I feel sympathetic for them (and I think as readers we were intended to).
The thing I liked most about it was the concept and I think Meyer did a fantastic job of making the characters her own. But a lot of things felt obvious and unoriginal, and I didn't actually feel the love between Cath and Jest. Which is sad because I think Meyer delivered brilliant romances in the Cinder series.
I think fans of Gregory Maguire will enjoy this book, but it was not to my tastes or liking at all. It's as simple as that.
"But hoping," he said, "is how the impossible can be possible after all."