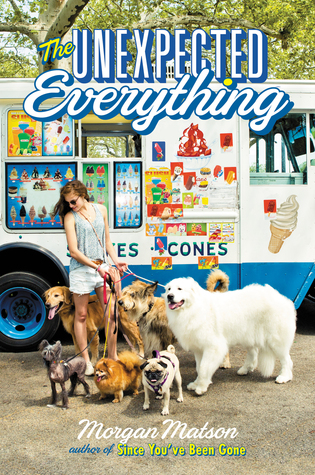 The Unexpected Everything by Morgan Matson
4 stars!
"You have to try. You have to take your chances. Go and attempt and see what happens. And even if you fail – especially if you fail – come back with your experience and your hard-won knowledge and a story you can tell. And then later you can say, without regret or hesitation… 'Once, I dared to dare greatly"
Morgan Matson has proven once again she is the queen of contemporary young adult novels for girls. This book is the story of Andie, responsible daughter of a politician recently under fire from the press. When her scheduled summer plans fall through, she's left without a plan for what to do with her life for the summer. Every one of her friends already have plans, and Andie finds a job as a dog walker. What lies ahead is a summer of learning new things, romance and the test of friendship.
"I could do this. If whole galaxies could change, so could I."
I really enjoyed this book, I think like Matson's other books it gives teen readers a hint that life isn't all you plan it to be and to sometimes let things go and see what happens. The beginning was pretty slow, I really had to push to get to a point where the book really flowed. My favorite parts of the book were when Andie and her father spent time together and learning more about the character of Clark. I like that the author brought in a quirky, nerdy hero instead of some kind of life guard stud or something. Yay for the nerd boys!
I was very much enthralled by the book, but once I put it down I noticed some things didn't match up entirely. There were subplots that seemed to go nowhere, friendship drama that seemed unnecessary except for the sake of drama, and this book was way too long. I had a few moments where I wondered if long paragraphs were important to the plot (spoiler alert, they weren't). But this is a fantastic teen contemporary read, great for the summer time. Once I got in the flow of things I found it hard to put this book down!
"The idea that you could rethink the thing you'd always thought you wanted and change your plan – it was almost a revolutionary concept. That you could choose what would make you happy, not successful."