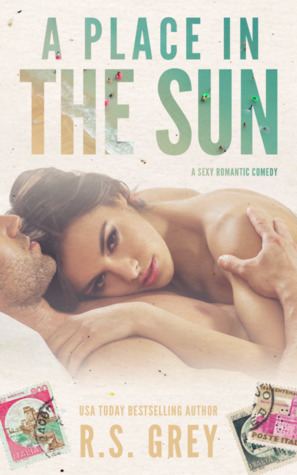 A Place in the Sun by RS Grey
4 stars!!!
I really enjoyed this book, it was my first from this author and I think it was a great one to start with. Plus, I have come to find I enjoy Italian men a lot more in books than I do in real life!
A Place in the Sun is the story of Georgie, a British girl who spur of the moment travels to Italy to escape her well meaning but smothering mother. There she travels to the seaside town of Vernazza, a cliffside beach town. Georgie makes an eventful entrance to the small down, and soon becomes friends with the locals. But she is entranced by Gianluca, a widower with so many walls around him no one can break through.
Over time Georgie worms her way into a friendship and work relationship with Luca. The two get along well, and there may be something more. But Luca still loves his wife, and there isn't room for anyone else.
I have to say near the beginning of this book I was thinking it might now have been for me. Georgie is very much the character that went after Luca, and with my romance I prefer when the guy pursues the girl instead of the other way around. But I think RS Grey did a good job with this because Georgie wasn't being insensitive, she knew just how far to push Luca before backing off. And then they became friends so it was no longer a chase.
Second half of the book was way more my style, with steamy parts and angsty parts. We finally got to the meat of the story with the second half, delving into Luca's issues and Georgie's insecurities. I like that Georgie was confident, yet she didn't want to make a fool of herself. She was a good heroine because she showed vulnerability to the reader and it made her human to me.
This book can easily be read as a summer romance, or any other time of year! I found myself longing for a beach of my own now in the colder months of fall. This book will make you crave gelato, wine and Italian men! I cannot wait to try more books by this author, she did a splendid job with this book and left me wanting more.