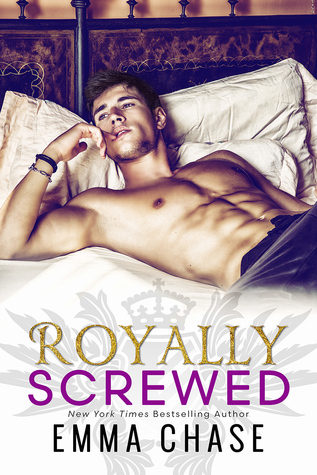 Royally Screwed by Emma Chase
4.5 stars!
"If you were told that the world as you knew it-life as you knew it-would end in five months, what would you do?"
Royally Screwed is the enchanting new story of a young modern day prince who falls in love with a waitress from New York. While visiting the states, Prince Nicholas drunkenly wanders into a pie shop where he meets Olivia, a beauty who doesn't recognize him and spurs his advances. Armed with wit and a sharped tongue, Olivia is at first appalled by the handsome foreigner. But when he keeps coming by, she can see that there is more to him than she initially thought.
The two embark on a whirlwind romance, but Nicholas has royal obligations and Olivia needs to help keep her family together. But both of them have fallen for each other, and must decide whether or not to hang onto what they have, or let it go forever.
This book was SO. MUCH. FUN! I'm not normally one for sweet and fairy tale like romances, but this one swept me off my feet and kept me entertained until the very end! I loved reading about Nicholas and Olivia and their beautiful love story. Not once did it feel like instalove for me, and I found myself laughing out loud while reading this book and at other times wiping away rogue tears.
If you are already an Emma Chase fan, you will love this book. If you haven't read one of her books until now, you will be charmed by this one and will beg for more.
"When he shines on you the whole world is shining."
ARC provided by author in exchange for an honest review
ROYALLY SCREWED
By Emma Chase
Release Day: October 18, 2016
Emma Chase, New York Times bestselling author of the Tangled Series & Legal Briefs Series, returns with the first of three sizzling standalone books about a family of racy, irresistible Royals.
Nicholas Arthur Frederick Edward Pembrook, Crowned Prince of Wessco, aka "His Royal Hotness", is wickedly charming, devastatingly handsome, and unabashedly arrogant—hard not to be when people are constantly bowing down to you.
Then, one snowy night in Manhattan, the prince meets a dark haired beauty who doesn't bow down. Instead, she throws a pie in his face.
Nicholas wants to find out if she tastes as good as her pie, and this heir apparent is used to getting what he wants.
***
Dating a prince isn't what waitress Olivia Hammond ever imagined it would be.
There's a disapproving queen, a wildly inappropriate spare heir, relentless paparazzi, and brutal public scrutiny. While they've traded in horse drawn carriages for Rolls Royces and haven't chopped anyone's head off lately—the royals are far from accepting of this commoner.
But to Olivia—Nicholas is worth it.
***
Nicholas grew up with the whole world watching, and now Marriage Watch is in full force. In the end, Nicholas has to decide who he is, but more importantly, who he wants to be: a King… or the man who gets to love Olivia forever.
iBooks: https://itunes.apple.com/us/book/royally-screwed/id1112403244?mt=11
Amazon: http://amzn.to/2dc6ZRG
Audible: http://amzn.to/2dq8Tl1
B&N: http://www.barnesandnoble.com/w/royally-screwed…/1124196859…
IndieBound: http://www.indiebound.org/book/9781682307755
BAM!: http://www.booksamillion.com/p/Royally-Scr…/…/9781682307755…
Powell's: http://www.powells.com/…/royally-screwed-97816823077…/68-198
ABOUT EMMA CHASE:
Emma Chase is the New York Times and USA Today bestselling author of the hot and hilarious Tangled series and The Legal Briefs series. Emma lives in New Jersey with her husband, two children and two naughty (but really cute) dogs. She has a long-standing love/hate relationship with caffeine.
EXCERPT
She's even lovelier than I remembered, than I dreamed. Delicate midnight tendrils frame a face that belongs in a museum—with stunning dark sapphire eyes that should be commemorated in vibrant oils and soft watercolors. If Helen launched a thousand ships, this girl could raise a thousand hard-ons.
She's prettily made, the top of her head coming only to my chin, but fantastically curvy. Great full tits that strain the buttons of a wrinkled white blouse, shapely hips in a black skirt tapering to a tiny waist I could wrap my hands around and toned legs encased in sheer black tights finish off the whole package very nicely.
An unfamiliar anxiousness fizzes like soda in my gut.
"The door was open," I explain.
"It's broken."
Logan flicks at the lock. Security is his life, so a broken lock would annoy him like a puzzle with the final piece missing.
"What do you want?"
She has no idea who I am. It's in the defensive way she holds herself and the accusatory note in her voice. Some women try to pretend they don't recognize me, but I can always tell. Her ignorance is rather…thrilling. There are no expectations, no hidden agendas, no reasons to pretend—what she sees is what she gets. And all she sees is me.
My throat is suddenly a barren wasteland. I swallow, but it's difficult.
"Well, he's desperate for some pie." I hook my thumb at Simon. "And I…wanted to apologize for the other evening. I don't normally act that way. I was on a bit of bender…"
"In my experience, people don't do things when they're drunk that they wouldn't do normally."
"No, you're right. I would've thought all those things, but I never would've said them out loud." I move closer, slowly. "And if I'd been sober…my opening bid would've been much higher."
"She crosses her arms. "Are you trying to be cute?"
"No. I don't have to try…it just sort of happens."