New Releases 9/27/16!
Exploited by A. Meredith Walters: http://amzn.to/2dv0wVW
In this pulse-pounding novel from the bestselling author of Butterfly Dreams, a vigilante hacker plays a seductive game with the agent who's chasing her online—and sharing her bed in real life.
At first glance, I'm nothing out of the ordinary. I am a daughter. A sister. A friend. When you look at me you won't see anything that warrants suspicion. I don't look like a criminal.
My name is Hannah Whalen, but most people know me as freed0mov3rdr1v3, or "Freedom Overdrive"—one of the world's most prolific and notorious hacktivists. My goal—my purpose—is to shed light on the evil that lurks behind the corporate and government lies we have been force-fed for too long.
My story begins with the best possible intention. Devoting my life to exposing the corrupt. The dishonest. The unethical. For that, they label me a cyber-terrorist. Wanted by the FBI, I've always been one step ahead.
Until I fell in love.
Because I'm sleeping with the man who's hunting me. And he has no idea that I am his prey. Now I have to decide what's more important: my freedom or my heart.
Crooked Kingdom by Leigh Bardugo: http://amzn.to/2dl4rRW
Kaz Brekker and his crew have just pulled off a heist so daring even they didn't think they'd survive. But instead of divvying up a fat reward, they're right back to fighting for their lives. Double-crossed and left crippled by the kidnapping of a valuable team member, the crew is low on resources, allies, and hope. As powerful forces from around the world descend on Ketterdam to root out the secrets of the dangerous drug known as jurda parem, old rivals and new enemies emerge to challenge Kaz's cunning and test the team's fragile loyalties. A war will be waged on the city's dark and twisting streets―a battle for revenge and redemption that will decide the fate of magic in the Grisha world.
The Goal by Elle Kennedy: http://amzn.to/2dl6j1x
She's good at achieving her goals…
College senior Sabrina James has her whole future planned out: graduate from college, kick butt in law school, and land a high-paying job at a cutthroat firm. Her path to escaping her shameful past certainly doesn't include a gorgeous hockey player who believes in love at first sight. One night of sizzling heat and surprising tenderness is all she's willing to give John Tucker, but sometimes, one night is all it takes for your entire life to change.
But the game just got a whole lot more complicated
Tucker believes being a team player is as important as being the star. On the ice, he's fine staying out of the spotlight, but when it comes to becoming a daddy at the age of twenty-two, he refuses to be a bench warmer. It doesn't hurt that the soon-to-be mother of his child is beautiful, whip-smart, and keeps him on his toes. The problem is, Sabrina's heart is locked up tight, and the fiery brunette is too stubborn to accept his help. If he wants a life with the woman of his dreams, he'll have to convince her that some goals can only be made with an assist.
Loving Amber by Roya Carmen – Author: http://amzn.to/2dbIKmg
Torn by tragedy. Reunited by love.
Two years ago, I lost my husband and my brother to the same tragedy. To this day, I hold only one person responsible—Aiden Rogers, the beautiful boy I've known forever, the misfit I've both loved and hated, the one who always got to me. As far as I'm concerned, he's the only one to blame.
Now he wants to be part of my life again—when I can finally see a future for my son and myself. I've found the perfect man in David, someone I can start over with, a man who will be the perfect father figure for Trevor. I have a plan. At last, I see the light, and I know I can make this work.
I will not let Aiden Rogers drag me back into the darkness.
Author's note: contains sexual scenes and some coarse language.
This is the first book of the Riverstone Estate Series and can be enjoyed as a standalone read.
***
The Riverstone Series: A beautiful estate. Three unforgettable love stories.
Following the sudden passing of their father, Amber, Ruby, and Flynn Riverstone inherit the family estate and find themselves facing new challenges, growing closer, and discovering love along the way
Neighbors by Stylo Fantôme: http://amzn.to/2dl3SaK
Things a good neighbor can do for you:
1. Give you a cup of sugar
2. Let you borrow his lawnmower
3. Water your plants while you're on vacation
4. Make your eyes roll back in your head with his tongue
Katya Tocci has never paid much attention to who lives next door – her career always kept her too busy. She's a good girl, working her way to becoming the most sought after cake designer in all of San Francisco.
But even a good girl's gotta cut loose once in a while, right? So one fake dating profile later, and she's ready to tarnish her squeaky clean image. Little does she know, her fun time is closer to home than she ever imagined.
Throw in a neighbor who wants to corrupt her, and another who just wants to own her, and her entire world is flipped upside down.
Who knew neighbors could be so helpful?
This story contains scenes of a graphic sexual nature, multiple uses of coarse language, and one scene of violent cake destruction. Reader discretion is advised
Outsider by Olivia Cunning: http://amzn.to/2diZU6J
Reagan Elliot should be living her dream…
She's touring with Exodus End as their new rhythm guitarist and gaining more notoriety and fame than she ever imagined possible.
She's earned the devoted love of not only one, but two spectacular men. Her committed threesome with sexy guitarist Trey Mills and her hunky bodyguard Ethan Conner is stable, loving, deep, and satisfying for all involved.
But sometimes the world sees things differently and is determined to destroy what it doesn't understand.
Can Reagan's relationship with Trey and Ethan survive the cruel backlash of the media, her family, and a bigoted public? Or will the talented musician lose everything she holds dear in the face of her own burgeoning doubts?
Outsider is the second book in the Exodus End World Tour series. It's also the sequel to Double Time, the fifth book in the Sinners on Tour series.
Possession by Helen Hardt Author: http://amzn.to/2dl4bT9
Jade Roberts' love for Talon Steel is the real deal, and she is more determined than ever to help him come to grips with whatever is haunting him. To that end, she continues her investigation of the Steels and unknowingly attracts some dangerous foes from their shrouded history.
Talon loves Jade deeply and longs to possess her forever, so he faces his worst fears and exposes his rawest wounds in an attempt to heal. The road is icy and treacherous, but if he perseveres and comes out whole on the other side, he'll finally be worthy of Jade's love.
The untamed passion between the two still blazes, but as the horrors of Talon's past resurface, Jade and Talon aren't safe.
Pretty Stolen Dolls by Ker Dukey: http://amzn.to/2dbHZtL
This is a Dark title with adult themes
From Bestselling Authors Ker Dukey & K Webster comes,
Pretty Stolen Dolls.
Benny loves his pretty little dolls.
As long as they do exactly as they're told.
He keeps them perfect by brushing their hair
and gives them pretty dresses to wear.
He likes to toy with them late at night.
One so timid but the other likes to fight.
When his favorite doll runs away…
despite the other doll promising to stay,
his heart becomes broken and he can't help but cry.
He wants her back home or his pretty little doll must die.
Have you ever had to make a decision that haunts you every single day for the rest of your life…the life you stole back?
I have.
I ran for my survival, rocks and twigs cutting into the soles of my feet, my lungs burning and screaming for rest, every muscle tensed and fighting along with me for existence.
I left her.
I ran, ran, ran—from Benny and his lone, pretty little doll—until I couldn't remember where to find them again.
I'm sorry.
Sparking the Fire by Kate Meader: http://amzn.to/2cxe03t
Kate Meader's blazing Hot in Chicago firefighter series has "everything you want in a romance" (RT Book Reviews, Top Pick)! The flames of desire burn out of control in this sexy third novel when ex-lovers unexpectedly reunite for a sizzling affair that will have the director yelling, "Quiet on the set!"
Actor Molly Cade, America's fallen sweetheart, finally has her shot at a Hollywood comeback with a dramatic new role as a tough-as-nails firefighter that promises to propel her back to the big time and restore her self-respect.
Wyatt Fox, resident daredevil at Engine Co. 6, needs a low-key job to keep him busy while he recovers from his latest rescue stunt. Consulting on a local movie shoot should add just enough spark to his day. Especially when in struts Molly Cade: the woman who worked his heart over good, and then left him in the Windy City dust.
Their story is straight out of a script: irrepressible, spunky heroine meets taciturn, smoldering hero. But these two refuse to be typecast, and when the embers of an old love are stoked, someone is bound to get burned…
Transfer by Aly Martinez: http://amzn.to/2cZ09EB
One story. Two couples.
I fell in love with a man who didn't exist.
What started out as romance ended in hell.
His words turned to razor blades.
His kisses converted to fists.
His embrace became my cage.
His body transformed into a weapon, stealing parts of me until ultimately….
I broke.
I hated him.
My sole job in life became to protect our daughter.
I wasn't sure I'd ever escape the prison he'd skillfully crafted from my fears.
Until the day our savior arrived.
This is the story of how I escaped the man who thought he owned me.
The transfer of my life and my family.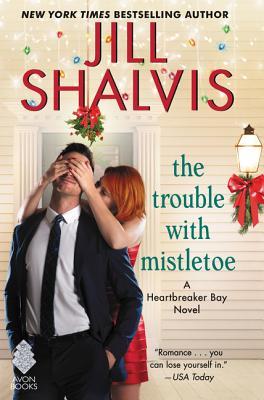 The Trouble with Mistletoe by Jill Shalvis: http://amzn.to/2dbI7cq
If she has her way …
Willa Davis is wrangling puppies when Keane Winters stalks into her pet shop with frustration in his chocolate-brown eyes and a pink bedazzled cat carrier in his hand. He needs a kitty sitter, stat. But the last thing Willa needs is to rescue a guy who doesn't even remember her …
He'll get nothing but coal in his stocking.
Saddled with his great-aunt's Feline from Hell, Keane is desperate to leave her in someone else's capable hands. But in spite of the fact that he's sure he's never seen the drop-dead-gorgeous pet shop owner before, she seems to be mad at him …
Unless he tempers "naughty" with a special kind of nice …
Willa can't deny that Keane's changed since high school: he's less arrogant, for one thing—but can she trust him not to break her heart again? It's time to throw a coin in the fountain, make a Christmas wish—and let the mistletoe do its work …