New Releases September 20th, 2016!
Romance
Billionaire on the Loose by Jessica Clare: http://amzn.to/2cVKvYI
The New York Times bestselling author of the Billionaire Boys Club novels is back with a sexy, sweet romance that proves opposites definitely attract…
Taylor is a genius when it comes to computers, but understanding the opposite sex is beyond her. Because she always fumbles her flirtations, she needs help in finding her Prince Charming. So when her friend, Gretchen, sets her up as a tour guide for a new guy in town, she says yes despite her misgivings.
She just doesn't expect Mr. Charming to actually be royalty…
A faction in his country wants him to be king, but Loch has no intention of taking the crown. To keep from being named as the next successor, he hatches a scheme to marry a totally unacceptable American woman. Quirky Taylor seems like the perfect person for the job, until Loch realizes he likes more about her than her ability to keep him off the throne.
When Loch's secret schemes come out, his chance of happiness with Taylor are blown—unless he can find a way to get the nerdy object of his affection to believe she's truly the queen of his heart…
Chandler by Laurelin Paige: http://amzn.to/2cnmnvB
I'm good in a boardroom, but I'm better in the bedroom. Much better. I can charm the skirt off any woman in one encounter. I'll even give her an orgasm before I put her in a cab. Or three. No more or she'll start making plans for the future and I'm not into that.
Or I wasn't until Genevive Fasbender. She's the first woman in five years that I want to spend the whole night with. And she's the first woman who's told me I'm not what she wants in a lover, even after multiple O's. She's brash and bold and stubborn as hell, and she doesn't believe it's possible to satisfy her.
But I'm up for the challenge.
And after an incident in my brother's office closet―a downright dirty incident―I think I'm just the guy to deliver.
Genevive Fasbender will never know what's coming.
Chandler is a full-length standalone novel.
Due to strong language and sexual content, this book is not intended for readers under the age of 18.
The Claiming by Tara Sue Me: http://amzn.to/2cbvosw
The New York Times bestselling author of the Submissive series returns to the story started in The Master with a tantalizing new novella about passion, play, and possession…
 
Submitting is just the beginning…
 
Sasha Blake never thought her emotional wounds would heal—that they were a part of her just like her physical scars. But that was before Cole Johnson's boundless love and overwhelmingly sexy control set her free, unleashing a confident side that she never knew she had. He's more than just her Master; he's her world. And she'll do anything he asks…
Cole's days of restless wandering are done—he's found everything he needs in Sasha. Now, it's time to make it official. When his childhood home in England goes up for sale, he realizes the old estate is the perfect place to claim Sasha as his own, and the ideal opportunity to show her just how much she means to him.
As Sasha, Cole, and their closest friends from their Partners in Play community descend on the British countryside for a titillating adult vacation, the submissives and Dominants alike will test their boundaries—and have an adventure none of them will ever forget…
Includes a sneak peek of the next Submissive novel, The Exposure!
Crushing on Love by Melissa Foster: http://amzn.to/2cnlKlw
The Bradens are a series of stand-alone romances that may also be enjoyed as part of the larger Love in Bloom series.
.
In CRUSHING ON LOVE…
Steve Johnson is living his life's passion watching over the Colorado Mountains as a ranger and wildlife consultant. But his peaceful life is upended when overzealous and insanely beautiful Shannon Braden flits back into his life after returning from a brief trip home to Maryland. He thought his attraction to her was under control–after all, she's only in Colorado temporarily, and he doesn't do casual affairs.
Shannon's return to Colorado has as much to do with the game of cat and mouse she and Steve have been playing as it does the data she's been hired to collect. But despite her efforts to explore the undeniable heat simmering between them, Steve's intent on keeping his distance.
When a ranch abutting the national park goes up for sale, Steve will do whatever it takes to keep it from falling into the wrong hands. And when all his attempts fail, he's left with no alternative but to follow Shannon's guidance into the online world he abhors in order to raise the funds. The more time they spend together, the deeper their attraction becomes, and a game of cat and mouse turns into an unstoppable connection. But when Shannon's assignment comes to an end, will it mean an end to them, too?
***
Drawn Deeper by Author Brenda Rothert: http://amzn.to/2chzAtV
I've come undone. For years I thought the world looked at my family and saw perfection. I was a busy surgeon and my wife was devoted to our two boys. But her devotion crumbled as her alcoholism took over. The outside world saw all too well what I wanted to deny.
Ten months ago she filed for divorce, packed up and moved away. To where – I don't know. Nor do I care. But my boys do. And they're left with me, a man who never learned how to be the dad they deserve.
Just when I'm starting to pick up the pieces, my world is rocked again by the last woman I'd expect. Given her past with my family, she's a bad idea. But I'm drawn like a moth to a flame. I can't stay away, even though I know this, too, will eventually crumble around me.
Embrace Me by Ann Marie Walker and Amy K. Rogers:http://amzn.to/2chzRgg
Hudson Chase and Alessandra Sinclair's heartracing romance continues in this hot, new novella in the Chasing Fire series.
Return to the dangerous and seductive romance that got pulses racing in the Chasing Fire trilogy…
It took ten years for Hudson Chase and Alessandra Sinclair to find their happily ever after, and they're not about to let anything get in their way… 
Nothing could stop the passion between Allie and Hudson—not time or distance. Not even tragedy, betrayal, and blackmail. But now they're facing a new challenge: wedding planning. And while Allie's social status demands she put on the event of the century, her well-intentioned family and friends have her doubting her walk down the aisle…
Hudson knows tensions are pushing Allie to the brink, but he's not letting her throw everything away over some flowers and cake. He has plans for his new bride, and unlike their last adventure, he's determined that this time there will be no unwelcome surprises. But for all his determination and control, there's one element Hudson Chase has never been able to predict—and she has some adventurous ideas of her own…
Epic Love by Trudy Stiles: http://amzn.to/2cVLQPy
HEATH STRICKLAND, the son of a prominent district attorney, lived his life surrounded by violence and crime. He was an unwilling witness to the corrupt lives his father swore to prosecute and keep behind bars. His escape was his music, which eventually led him to replace the iconic singer of the world famous band, Epic Fail.
NOELLE DURAND lived in luxury, growing up on a sprawling estate, with everything she could ever want or need. Her life, to everyone else, seemed perfect. Perfect house. Perfect things. Perfect family. But nothing at all was perfect. She lived in hell. A hell that nobody on the outside could see.
As a neighbor and childhood friend, Heath would have done anything for Noelle. He would have given up the world to protect her and keep her safe. Their friendship grew into something that neither of them expected. But then she suddenly disappeared, vanishing from his life as if she never existed. He never stopped hoping that one day she would resurface, alive and well. But as time went by, and her family gave up hope, he surrendered his heart to his lost love.
Twelve years later, one phone call changes everything.
EPIC LOVE is the third book in the EPIC FAIL series and can be read as a STANDALONE novel.
This series is a spinoff from the FOREVER FAMILY series.
Get in the Car, Jupiter by Fisher Amelie Fan Page: http://amzn.to/2c7kPbB
WANTED FOR ARSON. CATFISHED AT SANTA'S. ROBBED AT THE FALLS. SHAKESPEARE OR DIE. DRIVER PICKS TUNES.
I'm weird. This isn't news to me or anything. I have lived in a UFO my entire life. This wasn't a coincidence. My parents believe in extraterrestrial life. You know, phone home and all that crap, and they dragged my sister Mercury
and I into their mess when they named us what they named us. So it wasn't a
surprise, when after getting accepted to UW and expressing my desire to
actually attend, they lamented that college is "just another ploy for the
government to keep tabs on you, man." In other words, we won't be helping you out, Jupiter. That's fine, though, because my best friend Frankie and I can be pretty clever chicks when we want to be. We found a way up there and it was in the form of a longtime crush, his equally cute cousin, and a kickin' set of wheels. Buckle up, Buttercup, it's going to be a bumpy ride.
Her Halloween Treat by Tiffany Reisz: http://amzn.to/2cTuWy2
Trick…or wicked treat!
It was a devastating dirty trick—Joey Silvia just found out her boyfriend of two years is married. What. A. Dick. Joey knows her best chance to get over one guy is to get under another. Of course, heading home to her family's remote cabin in Oregon poses some challenges in the "available men" department…until she discovers this cabin comes with its own hot handyman!
Holy crap, Chris Steffensen. When did her brother's best friend turn into a hard-bodied pile of blond-bearded hotness? He's the perfect Halloween treat—and a surprisingly dirty rebound guy. For a couple of weeks, anyway. Except that Chris has other ideas…like proving to Joey that this blast from the past is a whole lot more than a naughty Halloween hookup.
The Kept Woman by Karin Slaughter: http://amzn.to/2cs56Qh
Husbands and wives. Mothers and daughters. The past and the future.
Secrets bind them. And secrets can destroy them.
The author of Pretty Girls returns with an electrifying, emotionally complex thriller that plunges its fascinating protagonist into the darkest depths of a mystery that just might destroy him.
With the discovery of a murder at an abandoned construction site, Will Trent of the Georgia Bureau of Investigation is brought in on a case that becomes much more dangerous when the dead man is identified as an ex-cop.
Studying the body, Sara Linton—the GBI's newest medical examiner and Will's lover—realizes that the extensive blood loss didn't belong to the corpse. Sure enough, bloody footprints leading away from the scene indicate there is another victim—a woman—who has vanished . . . and who will die soon if she isn't found.
Will is already compromised, because the site belongs to the city's most popular citizen: a wealthy, powerful, and politically connected athlete protected by the world's most expensive lawyers—a man who's already gotten away with rape, despite Will's exhaustive efforts to put him away.
But the worst is yet to come. Evidence soon links Will's troubled past to the case . . . and the consequences will tear through his life with the force of a tornado, wreaking havoc for Will and everyone around him, including his colleagues, family, friends—and even the suspects he pursues.
Relentlessly suspenseful and furiously paced, peopled with conflicted, fallible characters who leap from the page, The Kept Woman is a seamless blend of twisty police procedural and ingenious psychological thriller — a searing, unforgettable novel of love, loss, and redemption.
My Lucky Days by SD Hendrickson Writer: http://amzn.to/2cbtIiX
He was an up-and-coming country singer.
She was the last girl you'd ever see in a bar.
But one night, under those neon lights,
Lucky and Katie found each other.
Beginnings are always exciting.
Always fun. Always hopeful.
Katie was in her last year of college.
Lucky was still playing local stages.
She fell for his voice. She fell for his words.
They fell in love.
It was beautiful.
But time changed their world.
She was alone. He was on the road.
Life happened.
And that love was torn apart.
Endings are always painful.
Always heart wrenching.
But not always final.
One day, Lucky came back to Katie.
And this is their story.
A Player for a Princess by Tia Louise: http://amzn.to/2cFgJVW
From the Mediterranean to the Caribbean, the game continues…
Zelda Wilder is on the run, this time from the ruthless assassins who've decided she knows too much to live.
"Playboy Prince" MacCallum Lockwood Tate isn't about to let the beautiful player who stole his heart get away—if only he could decide whether he wanted to save her or strangle her for her dangerous choices.
After tracking her down to a casino in St. Croix, Cal follows Zee back to Tortola where he intends to keep her safe. One problem: Zelda's criminal liaisons are one step ahead of her.
Lives are threatened, and all of the players' skills are tested in this plot to capture a killer and save a princess.
Cinderella meets Ocean's Eleven in this CONTEMPORARY ROMANCE DUET featuring secrets, lies, royal high jinks, scams and double-crosses; breathless, swooning lust, cocky princes, dominant alpha future-kings, and crafty courtiers, who are not always what they seem.
Secret Sins by CD Reiss: http://amzn.to/2cTu3Wj
Her name is Cinnamon. Cin for short. Band mates Strat and Indy don't know anything about her except she's smart as hell and sexy as heaven. They can't agree who gets her, so they do the only thing two best friends could do. They declare her off limits to both of them.
Margie, AKA Cinnamon-you-can-call-me-Cin, has a thing or two to tell these guys.
Nobody "gets" her. She'll let them know which one she wants when she can decide between them. Until then, their little pledges and promises aren't her problem.
Her family is her problem. Her friends. And the world-famous blues rocker who has her cornered. He's her problem too.
This may be one problem she can't fix without some help.
Visibly Broken by Chelsea Camaron Author and MJ Fields Books:http://amzn.to/2cTuLCM
In a powerful, smoldering novel from the bestselling authors of the Caldwell Brothers series ("Bad boy heroes to die for!"—Tracy Wolff), two tortured souls team up to overcome the past, finding the courage to heal . . . and to love.
Jason "Cobra" Stanley was born to fight. With a father like his, he had to toughen up just to survive. Now Cobra tries to take out all of his frustration, all of his anger, and all of his pain in the MMA cage. But after he receives one too many hits to the head during a match with Jagger Caldwell, the cycle of violence comes to a screeching halt. Cobra wakes up in the hospital, under the care of a nurse whose blond hair shines like a halo—and whose pure heart touches him on the deepest level.
Lorraine Bosch is a fighter too. Having escaped from her own controlling father, she prides herself on remaining professional, despite the chaos of the ER. But Cobra is the ultimate distraction. Lorraine knows she should run away screaming from his rippling muscles and shattered psyche. And yet how can she deny this broken man a second chance—especially since she knows exactly what he's been through? Lorraine's used to playing guardian angel. Now it's her turn to find heaven in Cobra's arms.
Wilder by Rebecca Yarros – Author: http://amzn.to/2cbuNHl
He's Paxton Wilder.
Twenty-two-year-old, tattooed, smoking-hot leader of the Renegades.
Five time X Games medalist.
The world is his playground—especially this year—and for the next nine months I'm stuck as his tutor on the Study at Sea program.
He's too busy staging worldwide stunts for his documentary to get to class.
But if I can't get him to take academics seriously, I'll lose my scholarship…if I don't lose my heart first.
Six unlikely friends on a nine-month cruise with the Study at Sea program will learn that chemistry is more than a subject and the best lessons aren't taught in the classroom…but in the heart.
Young Adult
Confessions: The Murder of an Angel by James Patterson:http://amzn.to/2cTx2Oc
In the dramatic conclusion of the bestselling Confessions series, Tandy Angel's next murder case could be her own!
Tandy Angel is losing her mind—or so she thinks. Even as she's forced to fight for the family company, she's imagining new dangers in every shadow. And as her detective prowess is called into question and her paranoia builds, she has to face the very real possibility that the stalker she's convinced will take her life could be all in her head—or the very real danger that finally brings her down.
The Dark Army by Joseph Delaney: http://amzn.to/2cTv6W8
Newly risen from the dead, Thomas Ward has been tasked with leading an army into battle against the dark, alongside his apprentice, Jenny, and the witch assassin Grimalkin. But their battle goes terribly wrong, and Tom's situation seems hopeless until Alice—a powerful witch turned to the dark—appears. The second book in the new trilogy about Tom Ward continues the struggle against encroaching enemies and sweeps longtime fans back into familiar settings, such as the Spook's bleak winter home, and brings back old friends—and old enemies.
The Dark Army is the second book in a three-book series that will introduce new readers to Joseph Delaney's deliciously scary imagination and delight his longtime fans. Perfect for every reader who loves thrills, chills, action, and adventure—no prior knowledge of the Last Apprentice series necessary!
The Female of the Species by Mindy McGinnis: http://amzn.to/2chB47y
Alex Craft knows how to kill someone. And she doesn't feel bad about it. When her older sister, Anna, was murdered three years ago and the killer walked free, Alex uncaged the language she knows best. The language of violence.
While her crime goes unpunished, Alex knows she can't be trusted among other people, even in her small hometown. She relegates herself to the shadows, a girl who goes unseen in plain sight, unremarkable in the high school hallways.
But Jack Fisher sees her. He's the guy all other guys want to be: the star athlete gunning for valedictorian with the prom queen on his arm. Guilt over the role he played the night Anna's body was discovered hasn't let him forget Alex over the years, and now her green eyes amid a constellation of freckles have his attention. He doesn't want to only see Alex Craft; he wants to know her.
So does Peekay, the preacher's kid, a girl whose identity is entangled with her dad's job, though that does not stop her from knowing the taste of beer or missing the touch of her ex-boyfriend. When Peekay and Alex start working together at the animal shelter, a friendship forms and Alex's protective nature extends to more than just the dogs and cats they care for.
Circumstances bring Alex, Jack, and Peekay together as their senior year unfolds. While partying one night, Alex's darker nature breaks out, setting the teens on a collision course that will change their lives forever.
Frost Like Night by Sara Raasch: http://amzn.to/2cbvpg7
Angra is alive, his Decay is spreading—and no one is safe.
Meira will do anything to save her world. With Angra trying to break through her mental defenses, she desperately needs to learn to control her own magic—so when the leader of a mysterious Order from Paisly offers to teach her, she jumps at the chance. But the true solution to stopping the Decay lies in a labyrinth deep beneath the Season Kingdoms. To defeat Angra, Meira will have to enter the labyrinth, destroy the very magic she's learning to control—and make the biggest sacrifice of all.
Mather will do anything to save his queen. He needs to rally the Children of the Thaw, find Meira—and finally tell her how he really feels. But with a plan of attack that leaves no kingdom unscathed and a major betrayal within their ranks, winning the war—and protecting Meira—slips farther and farther out of reach.
Ceridwen will do anything to save her people. Angra had her brother killed, stole her kingdom, and made her a prisoner. But when she's freed by an unexpected ally who reveals a shocking truth behind Summer's slave trade, Ceridwen must take action to save her true love and her kingdom, even if it costs her what little she has left.
As Angra unleashes the Decay on the world, Meira, Mather, and Ceridwen must bring the kingdoms of Primoria together…or lose everything.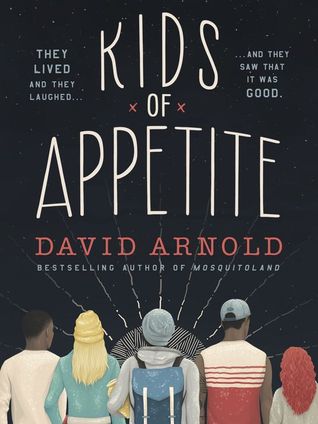 Kids of Appetite by David Arnold: http://amzn.to/2cTvZOh
The bestselling author of Mosquitoland brings us another batch of unforgettable characters in this tragicomedy about first love and devastating loss.
Victor Benucci and Madeline Falco have a story to tell.
It begins with the death of Vic's father.
It ends with the murder of Mad's uncle.
The Hackensack Police Department would very much like to hear it.
But in order to tell their story, Vic and Mad must focus on all the chapters in between.
This is a story about:
1. A coded mission to scatter ashes across New Jersey.
2. The momentous nature of the Palisades in winter.
3. One dormant submarine.
4. Two songs about flowers.
5. Being cool in the traditional sense.
6. Sunsets & ice cream & orchards & graveyards.
7. Simultaneous extreme opposites.
8. A narrow escape from a war-torn country.
9. A story collector.
10. How to listen to someone who does not talk.
11. Falling in love with a painting.
12. Falling in love with a song.
13. Falling in love.
Metaltown by Kristen Simmons: http://amzn.to/2ckm2Zl
Metaltown, where factories rule, food is scarce, and hope is in short supply.
The rules of Metaltown are simple: Work hard, keep your head down, and watch your back. You look out for number one, and no one knows that better than Ty. She's been surviving on the factory line as long as she can remember. But now Ty has Colin. She's no longer alone; it's the two of them against the world. That's something even a town this brutal can't take away from her. Until it does.
Lena's future depends on her family's factory, a beast that demands a ruthless master, and Lena is prepared to be as ruthless as it takes if it means finally proving herself to her father. But when a chance encounter with Colin, a dreamer despite his circumstances, exposes Lena to the consequences of her actions, she'll risk everything to do what's right.
In Lena, Ty sees an heiress with a chip on her shoulder. Colin sees something more. In a world of disease and war, tragedy and betrayal, allies and enemies, all three of them must learn that challenging what they thought was true can change all the rules.
An enthralling story of friendship and rebellion, Metaltown will have you believing in the power of hope.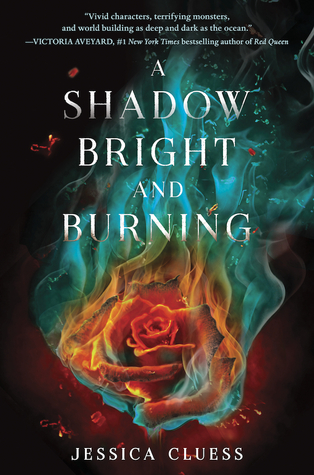 A Shadow Bright and Burning by Jessica Cluess: http://amzn.to/2cnoFuP
I am Henrietta Howel. The first female sorcerer. The prophesied one. Or am I?
Henrietta Howel can burst into flames. When she is brought to London to train with Her Majesty's sorcerers, she meets her fellow sorcerer trainees, young men eager to test her powers and her heart. One will challenge her. One will fight for her. One will betray her. As Henrietta discovers the secrets hiding behind the glamour of sorcerer life, she begins to doubt that she's the true prophesied one. With battle looming, how much will she risk to save the city–and the one she loves?
The Swan Riders by Erin Bow Books: http://amzn.to/2cTwzfi
Greta Stuart had always known her future: die young. She was her country's crown princess, and also its hostage, destined to be the first casualty in an inevitable war. But when the war came it broke all the rules, and Greta forged a different path.
She is no longer princess. No longer hostage. No longer human. Greta Stuart has become an AI.
If she can survive the transition, Greta will earn a place alongside Talis, the AI who rules the world. Talis is a big believer in peace through superior firepower. But some problems are too personal to obliterate from orbit, and for those there are the Swan Riders: a small band of humans who serve the AIs as part army, part cult.
Now two of the Swan Riders are escorting Talis and Greta across post-apocalyptic Saskatchewan. But Greta's fate has stirred her nation into open rebellion, and the dry grassland may hide insurgents who want to rescue her – or see her killed. Including Elian, the boy she saved—the boy who wants to change the world, with a knife if necessary. Even the infinitely loyal Swan Riders may not be everything they seem.
Greta's fate—and the fate of her world—are balanced on the edge of a knife in this smart, sly, electrifying adventure.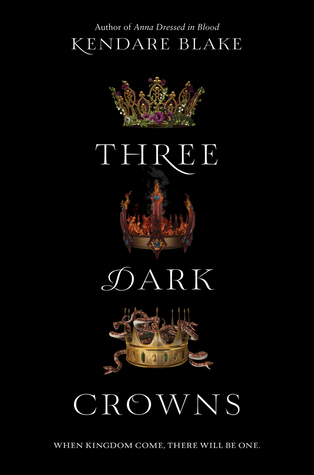 Three Dark Crowns by Kendare Blake: http://amzn.to/2ckmaYO
Every generation on the island of Fennbirn, a set of triplets is born: three queens, all equal heirs to the crown and each possessor of a coveted magic. Mirabella is a fierce elemental, able to spark hungry flames or vicious storms at the snap of her fingers. Katharine is a poisoner, one who can ingest the deadliest poisons without so much as a stomachache. Arsinoe, a naturalist, is said to have the ability to bloom the reddest rose and control the fiercest of lions.
But becoming the Queen Crowned isn't solely a matter of royal birth. Each sister has to fight for it. And it's not just a game of win or lose…it's life or death. The night the sisters turn sixteen, the battle begins. The last queen standing gets the crown.
If only it was that simple. Katharine is unable to tolerate the weakest poison, and Arsinoe, no matter how hard she tries, can't make even a weed grow. The two queens have been shamefully faking their powers, taking care to keep each other, the island, and their powerful sister Mirabella none the wiser. But with alliances being formed, betrayals taking shape, and ruthless revenge haunting the queens' every move, one thing is certain: the last queen standing might not be the strongest…but she may be the darkest.
Witch's Pyre by Josephine Angelini: http://amzn.to/2cnnQ4P
Lily Proctor has come a long way from the weak, sickly girl she used to be. She has gained power as a witch and a leader, found her way home, chosen to face battle again, and (after losing her first love and being betrayed by her new love) she has learned more about loss and grief than she ever wanted to know.
Thrust once again into a society different from anything they have ever seen, Lily and her coven are determined to find answers―to find a new path to victory, a way to defeat the monstrous Woven without resorting to nuclear weapons or becoming a tyrannical mass murderer like her alternate self, Lillian. But sometimes winning requires sacrifices . . . and when the only clear path to victory lies at Lillian's side, what price will Lily be willing to pay?
Internationally bestselling author Josephine Angelini takes us on another emotionally wrenching thrill ride in the stunning conclusion to her Worldwalker Trilogy.