New Releases 9/13/16
Behind Closed Doors by J.L. Berg: http://amzn.to/2cBP4p3
My name is Roman Cavenaugh and I'm kind of an asshole.
Running a company isn't easy, especially when everyone expects you to fail, so being a jerk? It comes with the territory.
I don't have time to mess around, and I sure as hell didn't see her coming.
Cara Hamilton—she was supposed to be off limits…a temporary employee brought in during my assistant's maternity leave.
But, in the blink of an eye, she became so much more.
An obsession I couldn't shake.
So yeah, I may be an asshole, but now, I finally had a purpose, and soon, she would be mine.
All's fair in love and war…
Dirty Kisses by Addison Moore: http://amzn.to/2cBOvf2
*Can be a standalone*
Jet Madden is notoriously good in bed. It's not a fact I can confirm through experience, but, according to the lust-driven grapevine at Whitney Briggs University, he's a sexual force to be reckoned with—many, many times in a single savory night.
The day my world crashes around me, I'm shuttled off to live with the ratted, tatted, roided-up hulk. Regardless of the fact, I'll do anything to keep my distance from that egotistical, giant ball of muscles. The last thing I want is to become another notch on that totem pole of seduction he keeps tucked in his pants. The very last thing I want is to befriend or, God forbid, fall for Hollow Brook's resident wick dipper.
But that sheet rock chest, those steel cut abs—a girl can only hold up her resistance for so long before she slowly goes insane. I'm trying to resist him, really I am, but I have to see if those rumors are true.
Each night I dream of falling asleep in Jet Madden's arms, and each day I pretend as if I loathe his existence. It's all a lie. We're a lie. Staying away from Jet Madden is proving impossible. My body demands to collide with his, even if all it will ever amount to is our dirty little secret.
Dirty Kisses
He's afraid to get too attached.
She's afraid of losing control.
Dirty Player by Stacey Lynn Author: http://amzn.to/2c47vVK
Shannon Hale knows what she wants in life. Or so she thought.
But one cheating fiancé and shredded wedding dress later, she skips town desperately needing a do-over. So she moves in with her brother, the new quarterback for the Raleigh Rough Riders, starts her own business, and vows to live by her own rules and no one else's.
Oliver Powell is a man who always gets what he wants. As the sexy as sin MVP Tight End, he's arrogant. He's loaded. He's also got a sizeable package below the belt that drives the women crazy.
And he's focused. The prize—a Super Bowl ring on his finger.
His concentration on getting that ring is unwavering—until Shannon Hale shows up. Now the only game he wants to win involves her ending up in his bed.
The problem? Shannon wants nothing to do with NFL's resident playboy.
The solution? Play dirty.
The Edge of Dominance by Shayla Black: http://amzn.to/2cnrmLh
Now that Macen "Hammer" Hammerman shares the bond he's long craved with Raine Kendall and his best friend, Liam O'Neill, he should be looking forward to a bright future. But recent trauma has exhumed the demons Hammer thought long buried. He must confront them while Raine fights to forget her past and Liam struggles to keep their new family intact.
When a shadowy figure emerges, determined to right old wrongs, he sets in motion a plot that threatens to tear the trio apart forever. With emotions running high and forces mounting against them, can they battle their foes and bury their ghosts so they can live happily ever after?
Entrapment by Aleatha Romig: http://amzn.to/2ccB6h1
"The snare is set—leaving, friendships, lives, and futures dangling in the balance"
ENTRAPMENT continues the epic new romantic suspense series INFIDELITY, featuring Lennox "Nox" Demetri, Alexandria "Charli" Collins, the Montagues, and the Demetris.
The thrills, heat, and suspense continue to add up…
One chance meeting
plus…
One sexy, possessive alpha and one spunky, determined heroine
plus…
One week of uncontainable, unbridled passion
plus…
One impulsive decision
times…
Two declarations of love
divided by…
The sum of intertwining pasts, lies, and broken rules
equals…
ENTRAPMENT
"Infidelity – it isn't what you think"
Don't miss this latest novel in the Infidelity series from New York Times and USA Today bestselling author Aleatha Romig. The classic twists, turns, deceptions, and devotions will have readers on the edge of their seats, discovering answers that continue to pose questions. Be ready to swoon one minute and scream the next.
Have you been Aleatha'd?
ENTRAPMENT is the fourth of five full-length novels in the INFIDELITY series: Betrayal, Cunning, Deception, Entrapment, and Fidelity.
*This series does not advocate nor does it condone cheating.
For the Love of English by A.M. Hargrove, Author: http://amzn.to/2cRwpHV
Single dad, Beckley Bridges, is sexy as hell.
No, really, he's the hottest thing since the sun was created.
Honest to God, crack an egg on him and the thing will sizzle.
So what's the problem?
He's also a gigantic jerk.
I hate the bastard.
I try to avoid him at all costs.
But for some reason, everywhere I go he seems to show up.
Only the real issue is his daughter, English.
She's an adorable quirky first-grader who's the sweetest thing since iced tea.
And she's one of my students but also the love of his life.
So I have to deal with him on a professional level.
It's not easy.
On a scale of easy to hard, dealing with Beckley Bridges is like nails screeching across a blackboard.
But when English's mother tries to gain custody after abandoning her on Beckley's doorstep as an infant, he'll do anything possible to keep English under his roof.
That's how he ends up propositioning me.
And crazy as it sounds?
I find myself considering it.
This is a full-length novel that includes mature content not suitable younger readers.
The 48-Hour Hook-Up by Sarah Ballance | author: http://amzn.to/2c47GjG
Who knew a sweaty photo would be good for business?
Now unwanted booty calls are coming in as fast as work orders, and Liam Chase needs to get away. Cue a job upstate. His new client is hot as hell, but he left NYC to escape attention, not to hook up with the city's "Runaway Bride".
With three disastrous relationships under her belt, it's clear Claire Stevens's judgment sucks. And what's she's feeling for America's newest sex god? Obviously another hormone-fueled mistake.
But when she accidentally fells a tree on his truck, leaving them stranded in a winter storm with a chocolate-snatching raccoon, there's something to be said for body heat.
Too bad neither can trust their explosive chemistry…
Each book in the Chase Brothers series is a standalone, full-length story that can be enjoyed out of order.
Series Order:
Book #1 Five Things I Love About You
Book #2 For Seven Nights Only
Book #3 The Three Week Arrangement
Book #4 The 48 Hour Hook Up
Hard to Hold by Katie Rose: http://amzn.to/2ccCgsu
New Jersey Hurricanes striker Logan Hart lives for the grind of training, the adrenaline of competition, and all the perks of the road—until his ex hands him a baby and tells Logan to raise her on his own. He's eager to pass this bundle of joy into more capable hands and get back to his hard-playing, hard-partying ways. But when a beautiful, blond drill sergeant of a nanny turns Logan's life upside down, he sets a new goal: winning her heart.
Isabella Bennett takes pride in teaching the rich and famous how to become loving families. Her no-nonsense style is just what Logan and his crying, copper-haired cutie need. So why can't she get the image of Logan's tanned, muscular body out of her head? Isabella's here to whip a new father into shape, not fall for a sexy ladies' man. But their chemistry is too tantalizing to ignore, much like the temptation to trust someone with her deepest secrets—and embrace a loving family all her own.
I, Porn Star by Zara Cox Writer: http://amzn.to/2cRxxew
My name is Quinn Blackwood:
By day, I'm a billionaire CEO. Rich. Entitled.By night, I'm the exclusive porn star only known as Q.Why? Because I love women. If I believed in an almighty being, I'd thank him for creating them. They're by far his most perfect creation… especially when I'm fucking one of them.
Oh, did I mention I'm an asshole? Fuck yeah. According to my shrink, I'm one twisted motherfucker. And that's just the way I like it. Until she walks into my life…
My name is Elyse Gilbert, nicknamed 'Lucky' because according to my dad, I'm the unluckiest person alive, and I'll die the same way I came into the world: naked, screaming, and dirt poor.
Yeah, my life is a twisted, seething mess. But that life changed the day I met HIM.He made me forget the cameras.He made me forget I was doing this for the money.He made me forget my shame.He made me forget everything. I was consumed by him. Only him.
But now my past has caught up with me.
Junkie by Heather C. Leigh: http://amzn.to/2ciGb3a
I'm a heroin addict. A junkie. A whore. I'll do anything to get my next fix.
Anything.
Including walking right onto the property of Austin's most ruthless and feared drug lord to beg for some H. I don't know his name, only that people call him Boss. Oh, and that he won't think twice to put a bullet in my head.
But like I said, I'll do anything to get my next fix. Even if it costs me my life.
Or changes it forever.
Just Friends by Monica Murphy: http://amzn.to/2cBPE62
It's the end of summer. Just before I start senior year with my two best friends in the whole world. Dustin and Emily are everything to me. We've been inseparable since middle school, and when we're together, nothing can go wrong.
But things aren't always what they seem. Em's turned into a drunken mess who parties too much. Dustin and I have hooked up a few times—and now he's ready to take our relationship to the next level. Yet I'm not sure I want things to change. I'm scared if I take it any further with Dustin, our friendship will be ruined forever. Then there's Ryan. The new guy. He's hot. He flirts way too much. And Em has totally set her sights on him.
So when my best friend betrays me in the worst possible way, guess who's there to help me pick up the pieces of my broken heart? Ryan. But he's so confusing. Annoying. Sweet. Sexy. I want to trust him, yet he makes it so hard. What I really want is for everything to go back to the way it was before.
Before I found out that best friends make the worst kind of enemies.
Landing the Air Marshal by Jennifer Blackwood: http://amzn.to/2cRyDqC
It was meant to be a one-night stand. One wicked night with an irresistibly sexy passenger. That's all Air Marshal Gage Michaels can afford–his career comes before everything else. Too bad the snowpocalpyse of the century has different plans for him and Abby Winters. Before the night's over, they find themselves snowed in at the most luxurious hotel in the city.
Abby's scouting job of a NYC penthouse should be quick, simple, and definitely shouldn't include a sexy-as-hell man messing up the 3000 count sheets that will be featured in her company's next blockbuster hit. Not when she's up for a promotion that could skyrocket her entire career in the film industry. Still, she can't refuse what the weather gods so obviously want her to have. She'll give in, just this once.
Leaving is tougher than either of them could have imagined. But they're two people who have nothing in common, living on opposite coasts. There's no way they can ever be together. Right?
Love Restored by Carrie Ann Ryan: http://amzn.to/2cnr6M2
In the first of a Montgomery Ink spin-off series from NYT Bestselling Author Carrie Ann Ryan, a broken man uncovers the truth of what it means to take a second chance with the most unexpected woman…
Graham Gallagher has seen it all. And when tragedy struck, lost it all. He's been the backbone of his brothers, the one they all rely on in their lives and business. And when it comes to falling in love and creating a life, he knows what it's like to have it all and watch it crumble. He's done with looking for another person to warm his bed, but apparently he didn't learn his lesson because the new piercer at Montgomery Ink tempts him like no other.
Blake Brennen may have been born a trust fund baby, but she's created a whole new life for herself in the world of ink, piercings, and freedom. Only the ties she'd thought she'd cut long ago aren't as severed as she'd believed. When she finds Graham constantly in her path, she knows from first glance that he's the wrong kind of guy for her. Except that Blake excels at making the wrong choice and Graham might be the ultimate temptation for the bad girl she'd thought long buried.
On the Prowl by Cynthia Eden: http://amzn.to/2cOPoAf
Time to embrace your inner evil.
Rose Kinley never intended to be one of the most feared creatures to walk the earth. Once upon a time, she was a human—one who fell in love with a mysterious stranger. But when she got caught in a paranormal war, she lost her humanity and died…only to wake later as a vampire.
Now Rose has a choice. She can continue to try and be the good girl she once was or she can let her darkness out to play. Maybe it's finally time for her to step into the dark.
He's the reason she's undead.
Panther shifter Julian Craig has a mission—protect Rose at all costs. It's his fault that she lost her human life, and he literally made a deal with the devil so that she would have a second chance as a vampire. And as part of that deal, he's supposed to keep his hands off Rose. An impossible task considering the dangerous lust he feels for her.
When Rose is targeted by a paranormal collector, Julian knows that he will have to let his own beast out if he is to protect the only woman who ever touched his battered soul. Rose may be afraid of the darkness she carries, but Julian is more than ready to show the world just what kind of a monster he truly is. Julian isn't afraid of the dark…but the monsters that wait in the shadows? They will bow to him.
He'll show her just how good it can feel…to be bad.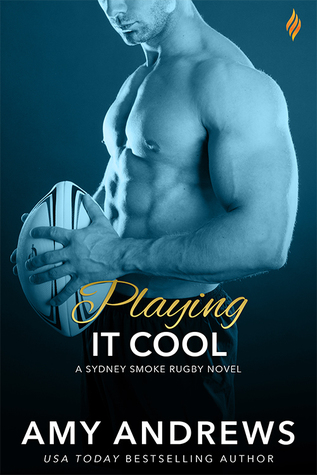 Playing It Cool by Amy Andrews: http://amzn.to/2c48O6S
Harper Nugent might have a little extra junk in her trunk, but her stepbrother calling her out on it is the last straw… When rugby hottie, Dexter Blake, witnesses the insult, he surprises Harper by asking her out. In front of her dumbass brother. Score! Of course, she knows it's not for reals, but Dex won't take no for an answer.
Dexter Blake's life revolves around rugby with one hard and fast rule: no women. Sure, his left hand is getting a workout, but he's focused on his career for now. Then he overhears an asshat reporter belittle the curvy chick he'd been secretly ogling. What's a guy to do but ask her out? It's just a little revenge against a poser, and then he'll get his head back in the game.
But the date is better than either expected. So is the next one. And the next. And the heat between them…sizzles their clothes right off.
Suddenly, this fake relationship is feeling all too real…
The Playbook by Kelly Elliott Author: http://amzn.to/2ciG5Za
My life revolved around two things. Football and my cock. And not necessarily in that order.
Being the head football coach for a top university in Texas had its ups and its downs.
The ups? Endless women to f*ck.
The downs? The politics that came with the job.
From the moment Aubrey Cain walked into my office, she turned my world upside down. Being forced to have her follow me around for a month was going to be a pain in the ass. Especially since I couldn't keep my eyes off of her.
The best I'd hoped to come out of this was a few nights with her in my bed. I never imagined she'd be the game changer.
Brett Owens was my assignment.
Head football coach for a top college, bad boy reputation, short temper, and handsome good looks should have scared me off. But I was tougher than that.
From the first words out of his obnoxious, dirty-talking mouth, I knew it was going to be a long month. It wasn't five minutes after meeting him, he hit on me. If only I had known his blue eyes would haunt my dreams and awaken a desire inside of me I never knew existed.
This was business. There was no way I would be tempted by him no matter how good looking he was or how many things he whispered in my ear.
He was only supposed to be my assignment. Not the man who threatened to destroy both my heart and my career. I would follow along with his playbook for now. But who would end up winning was anyone's guess.
The Playbook is a stand-alone novel.
Retrieval by Aly Martinez: http://amzn.to/2cBPmfr
One story. Two couples.
I proposed on our first date.
She laughed and told me I was insane. Less than a day later, she said yes.
It was a whirlwind, but we were happy…
Until we got greedy and wanted a family.
It was a life I couldn't give her, not for lack of trying. Fertility just wasn't on our side. We sought out doctors and treatments. Spent money we didn't have. Lied to our families. Smiled for our friends. Put on a brave face for a world that didn't understand.
Finally, we were successful…
Until we were forced to bury our son.
We were left broken, battered, and destroyed.
They say love is in the details, but it was the details that ruined us.
This is the story of how I took back what had always been mine.
The retrieval of my wife and our family
Roman Crazy by Nina Bocci and Alice Clayton: http://amzn.to/2ciFFlI
Avery Bardot steps off the plane in Rome, looking for a fresh start. She's left behind a soon-to-be ex-husband in Boston and plans to spend the summer with her best friend Daisy, licking her wounds—and perhaps a gelato or two. But when her American-expat friend throws her a welcome party on her first night, Avery's thrown for a loop when she sees a man she never thought she'd see again: Italian architect Marcello Bianchi.
Marcello was the man—the one who got away. And now her past is colliding with her present, a present where she should be mourning the loss of her marriage and—hey, that fettuccine is delicious! And so is Marcello…
Slipping easily into the good life of summertime in Rome, Avery spends her days exploring a city that makes art historians swoon, and her nights swooning over her unexpected what was old is new again romance. It's heady, it's fevered, it's wanton, and it's crazy. But could this really be her new life? Or is it just a temporary reprieve before returning to the land of twin-set cardigans and crustless sandwiches?
A celebration of great friendship, passionate romance, and wonderful food, Roman Crazy is a lighthearted story of second chances and living life to the fullest.
Well Hung by Lauren Blakely:http://amzn.to/2cnsqic
From the NYT Bestselling author of MISTER O, comes a hot and hilarious new standalone…
Here's what you need to know about me — I'm well-off, well-hung and quick with a joke. Women like a guy who makes them laugh—and I don't mean at the size of his d*ck. No, they want their funny with a side of huge… not to mention loyal. I've got all that plus a big bank account, thanks to my booming construction business. Yup. I know how to use all my tools.
Enter Natalie. Hot, sexy, smart, and my new assistant. Which makes her totally off limits… 

Hey, I'm a good guy. Really. I do my best to stay far away from the kind of temptation she brings to work.
Until one night in Vegas… 

Yeah, you've heard this one before. Bad news on the business front, drowning our sorrows in a few too many Harvey Wallbangers, and then I'm banging her. In my hotel room. In her hotel room. Behind the Titanic slot machine at the Flamingo (don't ask). And before I can make her say "Oh God right there YES!" one more time, we're both saying yes—the big yes—at a roadside chapel in front of a guy in press-on sideburns and a shiny gold leisure suit.
But it turns out what happened in Vegas didn't stay in Vegas. And now, my dick doesn't stay in my pants when she's around. I try to resist. Honest. But the more we try to keep our hands to ourselves, the more we end up naked again, and the more time I want to spend with her fully clothed, too.
The question now is…do I take this woman to be my ex-wife?
Wicked Bond by Sawyer Bennett: http://amzn.to/2cBRyDG
Bridger Payne is an enigma that no one can figure out. Wise beyond his years, eerily intuitive and sexy as hell, every woman in The Silo wants him.
None can have him.
Not the real man, anyway.
He might wield the lash for you if you ask prettily, but he'll get no gratification from it. He'll definitely make you scream, but he won't think twice about you when he walks away.
Bridger carries the darkest of secrets. He's filled with too much pain.
He's utterly untouchable.
Until she came along.
**Warning: this book has sex in it. Lots of sex. Dirty sex. The Wicked Horse Series is a bit different than what Sawyer Bennett normally writes. While you'll still enjoy fabulous characters, a suspenseful story, some witty banter and an epic romance, there's just… a lot of sex. You've been warned.