New releases for September 5th and 6th in order by title: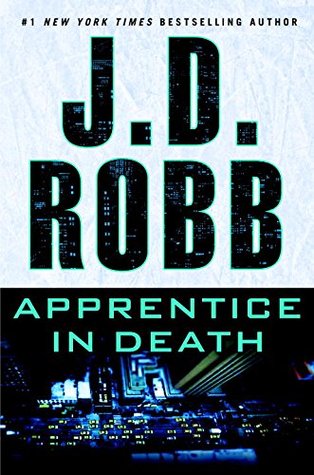 Apprentice in Death by J. D. Robb: http://amzn.to/2bZmg9i
Synopsis:
Nature versus nurture…
 
The shots came quickly, silently, and with deadly accuracy. Within seconds, three people were dead at Central Park's ice skating rink. The victims: a talented young skater, a doctor, and a teacher. As random as random can be.
Eve Dallas has seen a lot of killers during her time with the NYPSD, but never one like this. After reviewing security videos, it becomes clear that the victims were killed by a sniper firing a tactical laser rifle, who could have been miles away when the trigger was pulled. And though the locations where the shooter could have set up seem endless, the list of people with that particular skill set is finite: police, military, professional killer.
Eve's husband, Roarke, has unlimited resources—and genius—at his disposal. And when his computer program leads Eve to the location of the sniper, she learns a shocking fact: There were two—one older, one younger. Someone is being trained by an expert in the science of killing, and they have an agenda. Central Park was just a warm-up. And as another sniper attack shakes the city to its core, Eve realizes that though we're all shaped by the people around us, there are those who are just born evil…
Banking Her by Author Max Monroe: http://amzn.to/2c7JefW
Synopsis:
A secret duo of romance authors team up under the pseudonym Max Monroe to bring you more from their sexy, laugh-out-loud new series. Can you ever get enough Billionaire Bad Boys?
When one Rulebook closes…
Thatch and Cassie have finally found their perfect balance of good and sweet, crazy and playful, and most importantly, hot and insatiable.
But what happens when they're faced with a surprise neither of them plotted or schemed?
While Cassie seems to be taking everything in stride, Thatch can't stop himself from worrying about every little thing revolving around the woman he loves.
How does a man handle that kind of anxiety?
Doing the only thing he can to ease his mind without pushing away the woman he loves, Thatch proves that once again, when it comes to him and Cass, you'll never see what's coming.
Another Playbook begins…
Wes Lancaster has always followed one guideline for play. He never gets involved with anyone working for his professional football team, the New York Mavericks.
It hasn't been a hard rule to live by.
Until Winnie Winslow, the new take-no-sh*t team physician.
She's beautiful, intelligent—and has no problem taking control of every situation.
She pisses him off. She turns him on.
As tension builds and desire heightens, Wes finds himself wondering how much longer he'll be able to follow his gameplan.
Because I'm Watching by Christina Dodd: http://amzn.to/2ciAoea
Synopsis
Veteran Jacob Denisov lives alone in his small, darkened home, sleepless, starving, blaming himself for the horrors of the past and waiting for the moment when he gathers enough courage to kill himself. When neighbor Madeline Hewitson drives her car through the front wall of his house, she breaks his house—and Jacob's life—wide open. She isn't called "Mad Maddie" for nothing. The survivor of a college dorm massacre, a woman accused of her lover's murder, she is haunted by ghosts and tormented by a killer only she can see. Dealing with construction and forced to see the world outside his home, Jacob watches Maddie, recognizes a kindred spirit and wonders—is this truly madness, or has someone caught her in a twisted labyrinth of revenge and compassion, guilt and redemption, murder and madness?
Breaking Him by Sherilee Gray: http://amzn.to/2c0Xfc9
Synopsis:
Folks in town call him a monster—say he's dangerous. But I know him simply as Elijah Hays, the quiet, gentle giant who works with the horses on my ranch. I can feel him watching me, that steady intense gaze making me crave things I don't quite understand, burn in a way that frightens me. He's always kept his distance…until that night.
I remember him coming to my rescue, me following him into the barn, giving him his first taste of a woman, and his inexperienced yet barely reined touch turning me to ash.
Now all I can think about is exposing the dark desire I see deep inside him—having him turn those dark desires on me. That low, gritty voice rasping orders in my ear. Those huge, rough hands holding me down when a storm blows in.
I want his surrender. His control. I want to break him…and have him break me…
Change of Heart by Nicole Jacquelyn: http://amzn.to/2cuGuI1
Synopsis:
They've spent their lives pushing each other away, but what will happen when they need each other most?
Anita Martin doesn't expect much from life. Growing up on the street, bouncing from one foster home to another, she learned to rely only on herself. Even after she finally found a loving family to take her in, she was still an outsider-something Abraham, one of the family's older sons, never let her forget.
Abraham Evans doesn't know how Ani always manages to get under his skin, only that's she's been doing it since they were teens. She is-and always has been-undeniably gorgeous. But he's never met anyone as pissed off at the world as Ani.
For fifteen years, Ani and Bram have agreed on exactly one thing: they can't stand each other-until one night when their anger gives way to passion. Yet even as Ani and Bram begin to secretly seek comfort in one another's arms, they remain emotionally worlds apart. When Ani's life takes a dramatic turn and she realizes she needs more than Bram can give, their fragile, no-strings relationship unravels. One way or another, Ani is determined to survive. But when Bram finally admits his true feelings, he may discover Ani has moved on without him . .
Empire of Storms by Sarah J. Maas (YA): http://amzn.to/2cizkar
Synopsis:
The long path to the throne has only just begun for Aelin Galathynius. Loyalties have been broken and bought, friends have been lost and gained, and those who possess magic find themselves at odds with those don't.
As the kingdoms of Erilea fracture around her, enemies must become allies if Aelin is to keep those she loves from falling to the dark forces poised to claim her world. With war looming on all horizons, the only chance for salvation lies in a desperate quest that may mark the end of everything Aelin holds dear.
Aelin's journey from assassin to queen has entranced millions across the globe, and this fifth installment will leave fans breathless. Will Aelin succeed in keeping her world from splintering, or will it all come crashing down?
Even the Score by Author Beth Ehemann: http://amzn.to/2curFYs
Synopsis:
Single dad Andy Shaw loves his job as a sports agent, with one exception: it doesn't leave him much time for his kids. No parent likes being sidelined, so Andy decides to hire someone to share the workload. But when one of the hottest agents in the industry applies, Andy knows that this deal is definitely trouble.
Danicka Douglas works her butt off, but being an attractive woman in a testosterone-heavy industry isn't exactly a cakewalk. She guards her professional reputation fiercely, which means no crushing on her gorgeous boss. But the more they ignore that sexy little spark, the more it sizzles…
Just when it looks like romance might be in the game plan, Dani is threatened by a stalker with dark intentions. To keep her safe, Andy must cross the line between professional and very personal…because this time, he's playing for keeps.
Fighting to Be Free by Kirsty Moseley: http://amzn.to/2ciAgeU
Synopsis:
Jamie Cole has just been released from juvenile detention. Determined to go straight, he tried to cut ties with crime boss Brett Reye–but Brett has no intention of letting him go. Jamie's life is already more complicated than it needs to be, yet when he meets a beautiful stranger at a bar, Jamie knows he's in over his head.
Ellie Pearce has just gotten out of a terrible relationship and isn't looking for anything serious…until she meets Jamie. Their attraction is overwhelming and intense-she can't seem to shake her growing feelings for him, even though she's trying to keep it casual.
But when fate goes horribly wrong and Jamie's family is faced with ruin, he's forced to strike a deal with Brett. Despite his struggles, he wants nothing more than a future with Ellie. That's until Ellie finds out that he's been hiding more from her than she could ever imagine…
Flawed by Tracy Wolff: http://amzn.to/2curIUe
Synopsis:
When Tori Reed loses everything, he sets her free.
I told myself I'd never trust Miles Girard, no matter how brilliant or sexy he may be. His sister, Chloe—Ethan Frost's wife—is my best friend, but I know just how low Miles will stoop to get what he wants. Now he's the last thing I want: my boss.
Growing up, I had it all—except for the sense that I belonged. And when a mistake from my past surfaces in the press, my parents don't hesitate to cut me off.
But surprisingly, Miles offers me a helping hand.
Before I know it, our relationship turns unprofessional in the hottest ways. Of course, he still drives me crazy. But when I'm dealt the ultimate blow, Miles is there for me. And maybe he's the one I've been looking for all along.
Full Exposure by Author Cathryn Fox: http://amzn.to/2bP9mgI
Synopsis:
Desperate to leave a traumatic past behind, photographer Serena Macafee prefers sex with no strings attached—no commitment, just pure pleasure. Her new subject, sculptor Kevin Riley, seems like the perfect man to fulfill her hottest fantasies. And where better than the torrid wetlands of Baton Rouge, where Kevin works—and plays? But as their sessions heat up, so do Serena's feelings for Kevin.
As she opens herself up to emotions she never wanted, Serena leaves herself vulnerable to everything she thought she'd escaped. As her guard breaks down, her fears are aroused. Something has followed her to the sweltering southern bayou, exposing her to the twisted fantasies of someone in the shadows—and to dangers beyond her wildest dreams.
Guardian's Mate by Jennifer Ashley: http://amzn.to/2c7K64f
Synopsis:
She wasn't ready to lead…
Chosen as the Guardian of her Montana Shiftertown, wolf Shifter Rae Lyall is facing opposition—for no woman has ever been selected for this powerful position. Still adjusting to the new authority thrust upon her, Rae travels to train with Zander Moncrieff, a Shifter healer, tasked with teaching her about her new role and its responsibilities.
He wasn't ready to love…
A polar bear Shifter, Zander wears no Collar and follows no rules but his own. Rae finds him arrogant and demanding, yet compelling and intriguing. Zander has no wish to mate but the sassy Guardian is drawing him out of his shell, stirring feelings long suppressed. And when a new threat looms over Rae's home, she and Zander must race to the rescue, forced closer to danger…and to each other.
Loving You Easy by Roni Loren: http://amzn.to/2bShf6w
Synopsis:
Three lovers really click in the latest from the New York Timesbestselling author of Call on Me—
 
Cora has an amazing sex life. She's beautiful, daring, and the most popular submissive in Hayven. Too bad none of it's real…
 
IT specialist Cora Benning has figured out the key to her formerly disastrous love life—make it virtual. In the online world of Hayven, she's free of her geek girl image and can indulge her most private fantasies with a sexy, mysterious master without anyone in her life discovering her secrets. Until her information is hacked and she finds herself working to fix the breach under two very powerful men—one who seems all too familiar…
Best friends and business partners Ren Muroya and Hayes Fox were once revered dominants. Then Hayes was wrongfully sent to prison and everything changed. Ren wants to get back to who they were. Hayes can't risk it. But when they discover the new IT specialist is their online fascination, and that she's never felt a dominant's touch, the temptation to turn virtual into reality becomes all too great…
Now That It's You by Tawna Fenske: http://amzn.to/2cuHtYu
Synopsis:
Talented chef Meg Delaney hasn't spoken to her cheating ex-fiancé, Matt Midland, for two years. Ditching him at the altar after blurting out "I can't" instead of "I do" would sour any relationship. But now, just as Meg is finally ready to bury the hatchet, she learns closure is permanently off the menu. And the kicker? Matt's brother, Kyle, is back in her life, stirring up feelings that are equal parts guilt and lust.
Meg was the best thing that never happened to Kyle. He couldn't make a move on his brother's girlfriend—even if Matt didn't value her nearly enough. The situation is even more complicated now that Meg's bestselling aphrodisiac cookbook has spawned a legal battle with the Midlands. Maybe he should stay away. But love, like family, plays by its own rules. And the one woman he shouldn't want might be the only one who's perfect for him.
The One Real Thing by Samantha Young: http://amzn.to/2bShfU8
Synopsis:
Welcome to Hartwell, a quiet seaside escape where uncovering old secrets could lead one woman to discover the meaning of a love that lasts…
While Doctor Jessica Huntington engages with the inmates at the women's correctional facility where she works, she's always careful to avoid emotional attachments in her personal life. Loss and betrayal taught her that lesson long ago. But when she comes across a set of old love letters in the prison's library and visits the picturesque town of Hartwell to deliver them to their intended recipient, she finds herself unable to resist the town's charm—and her attraction to the sexy owner of a local bar proves equally hard to deny.
Since his divorce from his unfaithful ex-wife, Cooper Lawson has focused on what really matters: his family and the boardwalk pub they've owned for generations. But the first time Jessica steps into his bar, Cooper is beyond tempted to risk his heart on her. Yet as their attraction grows hotter and Jessica remains stubbornly closed off, he begins to realize it will take more than just passion to convince her there's only one real thing in life worth fighting for….
The Protector by Jodi Ellen Malpas: http://amzn.to/2cus3Xh
Synopsis:
THE NEW NOVEL FROM THE #1 BESTSELLING AUTHOR OF THETHIS MAN TRILOGY AND ONE NIGHT TRILOGY!
People think they have Camille Logan nailed: daddy's girl; beautiful, spoiled young woman with her father's bank balance to fund her lifestyle. But Camille is determined to have a life free from his strings. Out on her own, she's made mistakes, including one that found her clawing her way back after a stint in rehab and plenty of bad press. Now, after fighting so hard to be independent and happy, she finds her life threatened as a result of her father's ruthless business dealings. Caught between resentment and fear, Camille prepares herself for the measures her father will take to protect her. But nothing could prepare her for the ex-SAS sniper who crashes into her life.
Jake Sharp resides in his own personal hell. He was distracted from duty once before, and the consequences were devastating–both personally and professionally. He vowed never to let that happen again. Accepting the job of bodyguard to Camille Logan isn't the kind of distraction from his demons he should take. Women and Jake don't mix well, yet protecting the heiress seems the lesser of two evils. But Jake soon discovers that she isn't the woman she's perceived to be. She's warm, compassionate, her presence settling, and his duty to protect her soon goes deeper than a well-paid job, no matter how hard he fights it. He needs absolution. He comes to need Camille. But he knows he can't have both.
Rescued by Felice Stevens Author (MM): http://amzn.to/2ciBt61
Synopsis:
Ryder Daniels is all too familiar with rejection. His parents cut off contact because he's gay and his boyfriend left him, choosing drugs over love. Aside from his rescued pit bull, his only joy is hanging out with his younger brother. Then his mother does the unthinkable and forbids them to see each other, leaving Ryder devastated and alone. His friends urge him to date, but Ryder would rather throw himself into working at the dog rescue and figuring out a way to see his brother again.
When Jason Mallory's girlfriend gives him an ultimatum to get married, he shocks everyone by breaking up with her instead. He believes he's too busy for a relationship now that the construction company he started with his brother is taking off. When he discovers a group of abandoned pit bulls and calls the local dog rescue group to pick them up, an uncomfortable encounter with Ryder causes Jason to question feelings he's hidden deep inside for years.
Jason and Ryder build a friendship, until an unexpected kiss sparks the attraction they've been fighting. Jason gives Ryder unconditional love and helps him reconnect with his brother while Ryder shows Jason the passion he's always missed in relationships. Together they must battle through their family differences and ugly prejudices. Only then can they prove that once you find the right person to love, there's no turning back.
This has been re-edited and revised from the original release of 2014
Roadside Assistance by Marie Harte: http://amzn.to/2c0Yx7d
Synopsis:
Underneath the axle grease and tats
He's a gentleman
Foley Sanders figured he'll always be content with a life of cars and casual hookups. Until a run-in with Cyn, a statuesque firecracker with a hate-on for men, leaves him bewitched and intrigued-much to her annoyance.
Maybe Cynthia Nichols was a little hard on Foley, that muscular, tattooed, super-hot mechanic next door. But she's tired of feeling defensive about her size and has sworn off men. She's got a new job, new life, perfect plan. Foley has trouble written all over him-no way is she going to fall for his charms.
Foley might look like a bad idea, but underneath, he's all gentleman. Too bad Cyn's not buying it. What's a bad boy to do when the goddess of his dreams won't give him the time of day?
Rookie Move by Sarina Bowen: http://amzn.to/2bSgPNk
Synopsis:
The first novel in a sexy new series featuring the hockey players of the Brooklyn Bruisers and the women who win their hearts—from the USA Today bestselling author of the Ivy Years series.
In high school they were the perfect couple—until the day Georgia left Leo in the cold…
Hockey player Leo Trevi has spent the last six years trying to do two things: get over the girl who broke his heart, and succeed in the NHL. But on the first day he's called up to the newly franchised Brooklyn Bruisers, Leo gets checked on both sides, first by the team's coach—who has a long simmering grudge, and then by the Bruisers' sexy, icy publicist—his former girlfriend Georgia Worthington.
Saying goodbye to Leo was one of the hardest things Georgia ever had to do—and saying hello again isn't much easier. Georgia is determined to keep their relationship strictly professional, but when a press conference microphone catches Leo declaring his feelings for her, things get really personal, really fast….
Sacking the Quarterback by Samantha Towle: http://amzn.to/2c7LnZe
Synopsis:
The golden boy of football just went bad.
Quarterback Grayson Knight has a squeaky-clean reputation in the football world. So when he's arrested for drug possession, lawyer Melissa St. James knows that something doesn't add up. It's clear he's hiding something, though he denies it. But there's one thing he can't deny–he wants Melissa.
Steady Stroke by A.M. Arthur (MM): http://amzn.to/2c0Z2y4
Synopsis:
After a tragic accident, Lincoln West's dreams of making it big as a guitarist fell apart. Unable to play music, he's battling a hopeless downward spiral, and takes his friend's offer to stay at their beach house for the summer. While at an open mike night at local bar Off Beat, he locks eyes with a busboy who doesn't make Linc feel so broken anymore.
Emmett Westmore lives for the anonymity of busing tables in his aunt's quirky bar where no one pities him for the fire that killed everyone he loved. He blames himself for the fire, and he doesn't want anyone to see him—except for Linc. Emmett's walls drop when he's around the gorgeous blue-eyed guitarist, but he has a secret that could destroy his budding relationship with Linc.
Both Linc and Emmett are looking for a way to live again…will they let their fears control them or take a chance on something real?
Thin Lives by Bethany-Kris: http://amzn.to/2ciBV4e
Synopsis:
Emma Donati
Some days, it felt like Emma had just imagined it all.
Like maybe everything she had been with Calisto was just a dream.
Emma knew it was crazy—it was impossible to forget what she had shared with Calisto Donati. All their love, the stolen moments, their foulness together, and the beauty underneath it all were real.
They were real.
But he didn't know.
He didn't know any of it.
And little by little, with every day that passed her by, Emma found she was losing those pieces that reminded her they had existed once.
Just like the rosary.
All too soon, Emma knew … there would be nothing left.
Calisto Donati
Emma hadn't given him a choice.
Her, not him.
Yeah, that's what Calisto was going to keep telling himself. He refused to feed into the strange curiosity he had about Emma Donati. It had been building from the moment he'd first seen her face after he'd awakened. He wouldn't admit that for longer than he cared to admit, he thought there was more behind her false smile, polite words, and the distance she put between her and him—that there might be more to them.
He couldn't.
Except … he was feeding into it.
Calisto just wasn't sure what it was.
But tonight he was going to find out.
Whether she wanted to tell him or not.
Throne of Glass coloring book: http://amzn.to/2c7KSyn
Synopsis:
Enter the world of Throne of Glass
Experience the vivid imagery of Sarah J. Maas's expansive world in her breathtaking New York Times bestselling Throne of Glass saga. Celaena on the rooftops of Rifthold, Chaol in the gardens of the glass castle, Manon riding her wyvern through the Crossing, and many other favorite moments, characters, and objects from the vibrantly detailed realm of Throne of Glass come to life. With stunning original black-and-white drawings,The Throne of Glass Coloring Book is a must-have companion for any reader looking to be swept up in the adventure of a lifetime.
Too Wild to Tame by Tessa Bailey: http://amzn.to/2cuIK1J
Synopsis:
Sometimes you just can't resist playing with fire . . .
By day, Aaron Clarkson suits up, shakes hands, and acts the perfect gentleman. But at night, behind bedroom doors, the tie comes off and the real Aaron comes out to play. Mixing business with pleasure got him fired, so Aaron knows that if he wants to work for the country's most powerful senator, he'll have to keep his eye on the prize. That's easier said than done when he meets the senator's daughter, who's wild, gorgeous, and 100 percent trouble.
Grace Pendleton is the black sheep of her conservative family. Yet while Aaron's presence reminds her of a past she'd rather forget, something in his eyes keeps drawing her in. Maybe it's the way his voice turns her molten. Or maybe it's because deep down inside, the ultra-smooth, polished Aaron Clarkson might be more than even Grace can handle . . .