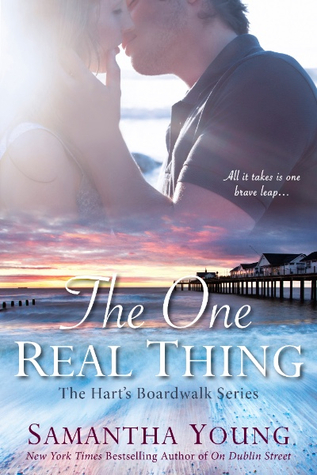 The One Real Thing by Samantha Young
4 stars!
A great start to a promising new series!
Samantha Young is one of my all time favorite authors, it's rare when she delivers a book I don't enjoy. While this book is definitely a change of pace compared to her past books, I enjoyed it all the same.
Jessica Huntington is a doctor for a woman's correctional facility where she finds a few letters that are forty years old who never reached their intended recipient. Her vacation time is coming up soon, so she decides to spend it at Hart's Boardwalk so she can return the letters in person. Upon arriving she meets bar owner Cooper Lawson, and there is an immediate attraction between them. Both have pasts that make them hesitant to begin a new relationship, but they both feel a strong pull. It's just a matter of both of them overcoming their pasts to make this work.
I think this book shows what a wonderful writer Samantha Young is, everything was very refined and worded beautifully, and her attention to detail was amazing. Yes, the beginning is slow like other reviewers have mentioned, but to me that's only if you are expecting romance right away. This is a slow burn novel but you don't have to wait until the very end for results. I also feel that much of this novel was set up for the entire series, and Young needed to set the stage for her readers.
Cooper and Jessica were very sweet together, but I found myself more interested in the side characters at certain parts and found there was a little bit too much drama between the two of them. Yes they both had past issues, but I kind of expected them to work them out a bit smoother since they were in their thirties and not their twenties. I really want to know more about Bailey, Tremaine, Emery and Cat! All fantastic side characters with a lot of depth to them.
Overall I think we can come to expect great things from this series, I know I am very excited for the next book because I am already half in love with those characters.
ARC was kindly provided by the author in exchange for an honest review