New releases as of 8/23/16!!
➜Anti Stepbrother by Tijan's Books: http://amzn.to/2bv5U95
Synopsis:
He told me to 'settle, girl.'
He asked if 'something was wrong with me?'
He said I was an 'easy target.'
That was within minutes when I first met Caden Banks.
I labeled him an *sshole, but he was more than that. Arrogant. Smug. Alpha.
He was also to-die-for gorgeous, and my stepbrother's fraternity brother.
Okay, yes I was a little naive, a tad bit socially awkward, and the smallest amount of stalker-ish, but if Caden Banks thought he could tell me what to do, he had another thing coming.
I came to college with daydreams about being with my stepbrother, but what if I fell for the anti-stepbrother instead?
➜Bad Judgement by Meghan March: http://amzn.to/2bvZAjR
Synopsis:
He's so arrogant.
She's so self-righteous.
I can't stand him.
I want her.
He's a distraction I don't need.
She'll say yes eventually because I'm not giving up.
Justine Porter is stuck between a rock and a stripper pole. She lost her law school scholarship, which means she has two choices to keep her life on track: strip for her tuition or tutor the most distractingly sexy guy in her class—the one she's been turning down for two years straight. It should be an easy choice, but tutoring Ryker Grant could derail her plans to graduate with honors faster than two-for-one night at the Déjà Vu. Then again, topless has never really been her color.
She could take the easy road, just this once . . . but the deal has enough loopholes to trip anyone up.
Who knew they taught bad judgment in law school?
➜First Star I See Tonight by Susan Elizabeth Phillips:http://amzn.to/2bFHqbq
Synopsis:
A star quarterback and a feisty detective play for keeps in this sporty, sexy, sassy novel—a long-awaited new entry in the beloved, award-winning, New York Times bestselling author's fan-favorite Chicago Stars football series.
Piper Dove is a woman with a dream—to become the best detective in the city of Chicago. First job? Trail former Chicago Stars quarterback, Cooper Graham. Problem? Graham's spotted her, and he's not happy.
Which is why a good detective needs to think on her feet. "The fact is…I'm your stalker. Not full-out barmy. Just…mildly unhinged."
Piper soon finds herself working for Graham himself, although not as the bodyguard he refuses to admit he so desperately needs. Instead, he's hired her to keep an eye on the employees at his exclusive new nightclub. But Coop's life might be in danger, and Piper's determined to protect him, whether he wants it or not. (Hint: Not!) If only she weren't also dealing with a bevy of Middle Eastern princesses, a Pakistani servant girl yearning for freedom, a teenager who just wants to fit in, and an elderly neighbor demanding Piper find her very dead husband.
And then there's Cooper Graham himself, a legendary sports hero who always gets what he wants—even if what he wants is a feisty detective hell bent on proving she's as tough as he is.
From the bustling streets of Chicago to a windswept lighthouse on Lake Superior to the glistening waters of Biscayne Bay, two people who can't stand to lose will test themselves and each other to discover what matters most.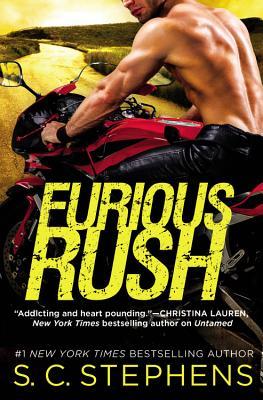 ➜Furious Rush by S.C. Stephens: http://amzn.to/2bzgmgK
Synopsis:
Too fast, too furious-and way too hot to handle . . .
Mackenzie Cox has a lot to prove. Daughter of a racing legend, she is eager to show the world that she has inherited her father's talent in the male-dominated sport of professional motorcycle racing. The last thing Kenzie needs is to be antagonized by her rival team's newest rider, Hayden Hayes. Plucked from the world of illegal street racing, Hayden immediately gets under Kenzie's skin. His insinuations that Kenzie is a spoiled princess who was handed her career fuels her desire to win, and much to her surprise, Kenzie soon learns she performs better when she's racing against Hayden.
As Kenzie and Hayden push each other on the track, the electric energy between them off the track shifts into an intense–and strictly forbidden–attraction. The only rule between their two ultra-competitive teams is zero contact. Kenzie always does her best to play by the rules, but when her team slips into a financial crisis, she has no choice but to turn to Hayden for help. The tension simmers during their secret, late-night rendezvous, but Kenzie has too much to lose to give in to her desires. Especially when she begins to doubt that Hayden has completely left his street life behind…
➜Under the Lights by Abbi Glines: http://amzn.to/2bFHc4h
Synopsis:
In the follow-up to Abbi Glines's #1 New York Times bestseller Until Friday Night—which bestselling author Kami Garcia called "tender, honest, and achingly real"—three teens from a small southern town are stuck in a dramatic love triangle.
Willa can't erase the bad decisions of her past that led her down the path she's on now. But she can fight for forgiveness from her family. And she can protect herself by refusing to let anyone else get close to her.
High school quarterback and town golden boy Brady used to be the best of friends with Willa—she even had a crush on him when they were kids. But that's all changed now: her life choices have made her a different person from the girl he used to know.
Gunner used to be friends with Willa and Brady, too. He too is larger than life and a high school football star—not to mention that his family basically owns the town of Lawton. He loves his life, and doesn't care about anyone except himself. But Willa is the exception—and he understands the girl she's become in a way no one else can.
As secrets come to light and hearts are broken, these former childhood friends must face the truth about growing up and falling in love…even if it means losing each other forever.
➜Unexpected Circumstances The Devastation by Shay Savage:http://amzn.to/2baQWoZ
Synopsis:
Although Branford is broken and desperate, he finds himself with no choice: He must declare war against Hadebrand, or Edgar's evil darkness will envelop the commonwealth. Silverhelm's army is grossly outnumbered, but Branford underestimates the people's love for their commoner queen. The people rise up in support of their beloved regent, and Branford sees a glimmer of hope for his wife. He becomes more determined than ever to make up for his previous failures and secure the future of his kingdom.
With their murderous intentions, the treacherous King Edgar and Princess Whitney must pay for what they have done. They must not be allowed to destroy everything the people hold dear.
With but faint hope in his heart, Branford gathers his people and marches toward the castle in Hadebrand, gathering allies along the way. With the support of other noble families, Branford will have to find the strength to fight for the very survival of his own.
He sees only one path: the annihilation of his enemy.
➜Wait by Al Jackson: http://amzn.to/2baQC9z
Synopsis:
She is his strength and he is her weakness. And this time he won't let her go.
Edie Evans is gorgeous.
Sexy.
Kind.
She's also the definition of off-limits.
But that didn't stop me from sneaking into her room to comfort her at night.
But guys like me? We destroy everything, so it should have been no surprise when I destroyed us, too.
The night I sent her running, I thought I'd never see her again.
Until I saw her standing like a vision in the crowd.
Austin Stone is dangerous.
Alluring.
Tempting.
He broke my heart and I refused to give him the chance to do it again.
It's been years since I've seen him, and now I can't do anything but stare at the gorgeous, tattooed man playing onstage. I should run. I know I should. But like a fool, I run straight back to him.
Our desire is overpowering.
Our need unrelenting.
She is my hope.
He is my weakness.
We should have known a passion this intense would burn us right into the ground
➜Wild Embrace by Nalini Singh: http://amzn.to/2bFHwjs
Synopsis:
Echo of Silence
In a deep-sea station, Tazia Nerif has found her life's work as an engineer, keeping things running smoothly. But she wants nothing more than to break down the barrier of silence between her and her telekinetic Psy station commander…
Dorian
A changeling who can never shift lives a life of quiet frustration—until he learns how to let his leopard come out and play…
Partners in Persuasion
Still raw from being burned by a dominant female, wolf changeling Felix will never again risk being a plaything. But for dominant leopard Dezi, he's the most fascinating man she's ever met. She just has to convince this gun-shy wolf that he can trust the dangerous cat who wants to take a slow, sexy bite out of him…
Flirtation of Fate
Seven years ago, Kenji broke Garnet's heart. Now the wolf packmates have to investigate the shocking murder of one of their own. And the more Kenji sees of the woman Garnet has become, the deeper he begins to fall once more. But even his primal instincts are no match for the dark secret he carries…
➜With Every Breath by Maya Banks: http://amzn.to/2bagowo
Synopsis:
Eliza Cummings fought free of a monster who terrorized her when she was an innocent teenager and helped put him away for good. She took a job with Devereaux Security Services and devoted every hour to taking down the very thing she'd nearly become. No one, not even those closest to her, know her darkest, shameful secrets. But now the killer has been set free on a legal loophole and it's only a matter of time before he comes for her. Eliza's only choice is to run and lead the monster away from the people she loves.
Wade Sterling has always lived by his own rules, a law unto himself who answers to no one. He's never professed to be a good man, and he's definitely not hero material. Wade never allows anyone close enough to see the man behind the impenetrable mask—but one woman threatens his carefully leashed control. He took a bullet for her and the result was more than a piece of metal entrenched in his skin. She was under his skin and nothing he did rid himself of the woman with the courage of a warrior and who thinks nothing of putting her life before others.
But when Wade sees a panicked and haunted Eliza he knows something is very wrong, because the fool woman has never had been afraid of anything. And when she tries to run, the primal beast barely lurking beneath his deceptively polished façade erupts in a rage. She may not know it, but she belongs to him. This time, Eliza isn't going to play the protector. She was damn well going to be the protected. And as long as Wade breathes, no one will ever hurt what is his.
➜Wrong Question Right Answer by Elle Casey, Novelist:http://amzn.to/2bND0mm
Synopsis:
As a member of the Bourbon Street Boys private security firm, Antoinette "Toni" Delacourte is one strong woman, but despite her reputation for being tough as nails, she is haunted by her past mistakes. Now they're catching up to her, and throwing her for a loop.
Ten years ago, Toni kissed Lucky, her brother's best friend. Worried it would break apart the group she'd come to see as family, she walked away—straight into the arms of Charlie, and an abusive relationship.
For the past decade she's tried to keep her feelings for Lucky platonic—he's her friend, her colleague, and he's got his own past to deal with. Free of Charlie but unable to shake his memory, Toni finds herself feeling vulnerable and unable to deny her attraction to Lucky any longer.
She's always thought that kiss was her first mistake, but now she's wondering whether the real mistake was running away.
(Not pictured)
➜Two Can Play by Victoria Ashley-Author and Hilary Storm, Author:http://amzn.to/2bFIImP
➜Nailed by Opal Carew, Erotic Romance Author: http://amzn.to/2bajd0y
➜Body Shot by Kelly Jamieson: http://amzn.to/2bFHXdE