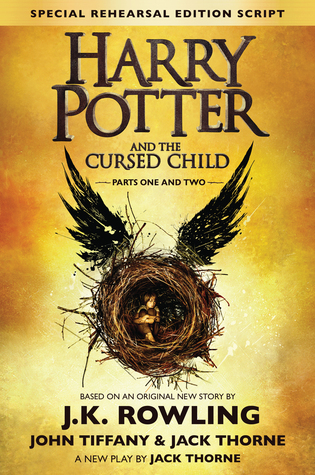 Harry Potter and the Cursed Child by J.K. Rowling, John Tiffany, and Jack Thorne
3.5 stars
So I am a huge Harry Potter fan, I grew up with the series, became an adult when the characters did. This is a series that affected my life. I wasn't eager to read this book as some HP fans were because it wasn't really written by Rowling, so I honestly didn't get the big deal. Yes, she was involved and it's based on her story but it's not another Harry Potter novel, at least not to me.
I enjoyed the plot, seeing where all of our favorites ended up and the introduction of new characters. Scorpious was probably the best part of the book. I can't say much without spoilers, but I liked the idea of how the past can affect the present and how little moments can change the course of the future.
But overall, I wasn't in love with this book. I'd like to see a production, but I wish it hadn't been published as a play and instead as a story JK Rowling wrote herself. There were several awkward moments written in the play's instructions that I had long pauses at. And mostly I wish Ron hadn't been turned into a bumbling idiot. That and I felt it dragged on a little bit too much. Near the end there was a plot twist that came out of left field and the explanation even more bizarre.
Overall like I said I enjoyed it (but I can't talk about what I enjoyed because SPOILERS). But ultimately this book just made me want to reread the originals.