New releases for the week of 8/30/16 in alphabetical order by title
Synopsis:
He's the middle of the three Carson brothers and is as stubborn as they come—and he won't thank a beautiful stranger for getting in his way!
Drake Carson is the quintessential cowboy. In charge of the family ranch, he knows the realities of this life, its pleasures and heartbreaks. Lately, managing the wild stallions on his property is wearing him down. When an interfering so-called expert arrives and starts offering her opinion, Drake is wary, but he can't deny the longing—and the challenge—she stirs in him.
Luce Hale is researching how wild horses interact with ranch animals—and with ranchers. The Carson matriarch invites her to stay with the family, which guarantees frequent encounters with Drake, her ruggedly handsome and decidedly unwelcoming son. Luce and Drake are at odds from the very beginning, especially when it comes to the rogue stallion who's stealing the ranch mares. But when Drake believes Luce is in danger, that changes everything—for both of them.
Author Anonymous by Author E.K. Blair:http://amzn.to/2c60Jvl
Synopsis
A TRUE STORY told through the voice of New York Times Bestselling author E.K. Blair.
She's an author.
She's a mother.
She's a wife.
She's a fraud.
A woman marked and bound by her own deceit, this is the astounding tale of how one choice knocked her world from its axis forcing her to battle through a year of scandal and betrayal, blurring the lines between reality and fantasy.
This is an intoxicatingly risqué stand-alone true story tangled in lust, heartbreak, and contrition.
The Darkest Link by Scarlett Cole: http://amzn.to/2bwlZc9
Synopsis
When her car breaks down off the side of a lonely highway far from her sunny Miami home, tattoo artist Lia never expected her very own white knight to ride up on the back of a barely street-legal motorcycle…and she never expected to fall for her dark savior. After a string of failed relationships and a bruised heart, Lia is not looking for forever, and the hot mechanic, with his sexy scruff and shaggy hair, is simply impossible to resist and the perfect candidate for mind-blowingly-perfect, no-strings-attached one night stand.
Reid left his life in Chicago far behind him and hasn't been back, but he's never been able to escape the guilt he feels about his own painful role in inviting a monster into his baby sister's life. A monster who almost destroyed her. Being with Lia is an unexpected gift, one he doesn't feel he deserves, and their one night together has him wanting more than he should. Especially since she doesn't know the truth about his past. However, when he finds Lia's bracelet in his bed, he has the perfect excuse to drive down and surprise her at her tattoo studio, Second Circle Tattoos, in Miami. He's in for an even bigger shock – and a fist to the face – when his past and present collide in the humid Miami weather when he runs into the last person he'd ever expect to see in a tattoo studio: Harper, the sister he betrayed, and the last link to his former life.
Dirty Little Lies by Lora Leigh: http://amzn.to/2bwmnqU
Synopsis
THE HEART HAS ITS SECRETS.
Zack Richards knows he's asking for trouble. Trying to protect a member of the notorious Maddox family could get a man killed—even a battle-scarred, muscle-ripped alpha like Zack. But the woman who has captured his wildest fantasies is nothing like the rest of her power-hungry clan. She's innocent, beautiful, and has quickly become the one shining light in his dark, desperate world. The only woman worth fighting for…and dying for…
BUT PASSION NEVER LIES.
Her name is Grace Maddox—and everybody knows that she is a marked woman. Targeted for her family's sins and hunted like a wild animal, Grace has no choice but to accept Zack's protection. In his arms, she finally feels safe. In his eyes, she sees an insatiable desire that mirrors her own. But the truth is dangerous—and could end up tearing them apart. Will surrendering to Zack end up being the biggest mistake of Grace's life?
Disclaim by Pam Godwin Author: http://amzn.to/2bvMhPZ
Synopsis
Camila was seventeen when Van Quiso kidnapped her. Ten years after her escape, the shackles refuse to release her. Not while there are still slave traders preying on her city.
She will stop at nothing to end them.
Even if that means becoming a slave again.
Returning to chains is her worst fear—and only option. They won't know who she is or what she intends to do. She's prepared for every complication.
Except him.
The one who decimated her sixteen-year-old heart.
Matias is charming, gorgeous, and dangerously seductive. He's also untrustworthy and enshrouded in secrets. After years of no contact, he finds her—on her knees, wrists bound, in the clutches of her enemy.
Will he sabotage her mission by needlessly saving her?
Or will he keep her in chains and never let her go?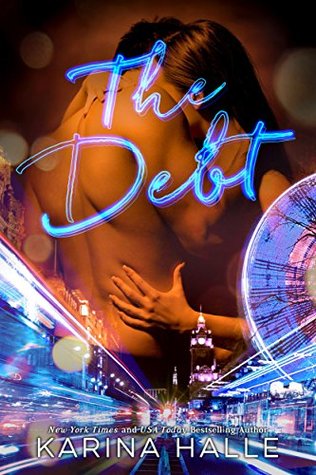 The Debt by Karina Halle: http://amzn.to/2c2egUK
Synopsis
Her life changed in an instant.
And he's the only one who could have prevented it.
From the New York Times bestselling author of The Pact and The Lie comes a new standalone contemporary romance about those McGregor men.
Jessica Charles shouldn't have even been in London when the unthinkable happened.
She should have been back at home in Edinburgh, perhaps hanging with her boyfriend, having drinks with her sister or doing yoga with her group of friends. She should have been going on in her normal, dependable life as always.
But on that fateful day in August, when a mentally-ill ex-soldier opened fire in public, Jessica's world changed forever.
Now single and crippled from the gunshot wounds, Jessica finds herself scared and alone, losing faith in herself and humanity with each agonizing moment that passes.
That is until a stranger enters her life. A stranger who makes her live again.
Keir McGregor has always been the strong, silent type. Throw in tall, dark, and handsome and you've got pretty much the perfect Scotsman.
Except Keir is anything but perfect. He's got a past he's running away from and a guilty conscience he can't seem to shed. But the more time he spends with Jessica, the more he falls in love with her.
And the more his secret threatens to tear them apart.
He may have been a stranger to her.
But she's never been a stranger to him.
Fire Brand by Diana Palmer: http://amzn.to/2bwmIda
Synopsis
He'll risk his whole heart to save her from the past 
Gaby Cane was always a bit afraid of her attraction to Bowie McCayde. Even when she was fifteen and Bowie's family took her in, she had sensed his simmering resentment. Now ten years later, she's an aspiring journalist who can hold her own with any man professionally, the dark shadows of years gone by far behind her. Then Bowie strides back into her life—only this time, he needs her, and the pull of loyalty to his family is too strong to ignore.
When Bowie asked Gaby to help save his family's Arizona ranch, he never expected the girl he once knew to return transformed into a stunning, successful woman. As they work together, Bowie is shocked to find that her innocence and beauty stir a hunger he can't deny. But the rogue rancher can sense something holding her back, and he's determined to uncover the terrible secret Gaby is fighting to keep hidden…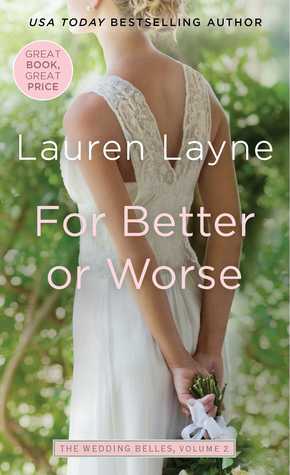 For Better for Worse by Lauren Layne: http://amzn.to/2bvLNK1
Synopsis
Will a budding wedding planner and her bad boy neighbor stop banging heads and start hearing wedding bells in the sexy second novel in USA TODAY bestselling author Lauren Layne's irresistible new series that marries Sex and the City with The Wedding Planner?
When small-town girl Heather Fowler finally gets promoted from assistant to actual wedding planner, she's determined to make it as one of Manhattan's elite Wedding Belles. Unfortunately, her first client demands an opulent black-tie affair at the Plaza…in five months' time. Heather's days quickly become a flurry of cake tastings, dress-fittings, RSVP cards, and bridal tantrums. But what she's really losing sleep over is the live music blaring from her playboy neighbor's apartment all night.
Five years ago, Josh Tanner was an up-and-comer on Wall Street, complete with the penthouse and the migraines. But a grim cancer diagnosis made him realize there is more to life than the corner office. If only he could convince his pretty, workaholic neighbor to let loose, too. As Heather lets down her guard, Josh is surprised when he starts falling for the sweet, vulnerable woman hiding beneath those power suits. Soon, it's Heather's turn to convince Josh to take the biggest risk of all: love.
Her Darkest Nightmare by Author Brenda Novak: http://amzn.to/2bwnmHy
Synopsis
THE HUNT FOR A SERIAL KILLER
Evelyn Talbot knows that a psychopath can look perfectly normal. She was only sixteen when her own boyfriend Jasper imprisoned and tortured her—and left her for dead. Now an eminent psychiatrist who specializes in the criminal mind, Evelyn is the force behind Hanover House, a maximum-security facility located in a small Alaskan town. Her job puts her at odds with Sergeant Amarok, who is convinced that Hanover is a threat to his community…even as his attraction to beautiful Evelyn threatens to tear his world apart.
BEGINS WITH AN ESCAPE FROM HER PAST
Then, just as the bitter Alaskan winter cuts both town and prison off from the outside world, the mutilated body of a local woman turns up. For Amarok, this is the final proof he needs: Hanover has to go. Evelyn, though, has reason to fear that the crime is a personal message to her—the first sign that the killer who haunts her dreams has found her again. . .and that the life she has so carefully rebuilt will never be the same…
Rules of a Rebel and a Shy Girl by Jessica Sorensen:http://amzn.to/2c2fqPK
Synopsis
Willow
It started with a kiss and ended with a list. The middle is a bit more complicated.
The list of rules is supposed to protect mine and Beck's friendship and stop us from accidentally kissing again. But most of all, it's supposed to protect my heart from getting crushed and keep me from ending up broken like my mom.
I've always been great at following rules. But the more time I spend with Beck, the more I can't stop thinking about that kiss and how amazing his lips felt against mine. For the first time in my life, I wish I was a rule breaker. But I can never cross that line. Not with Beck. Not with anyone.
Besides, if Beck knew the truth about my life, then the list wouldn't have to exist because he wouldn't have kissed me to begin with.
Beck
It started with the most amazing kiss ever and led to Willow handing me a list.
That stupid list. When she gave it to me, I wanted to shred it to pieces, pull her against me, and kiss her until she realized a piece of paper wasn't going to stop me. Willow's been my best friend since forever and she should know by now that I'm not a follow-the-rules kind of guy.
She may think that kiss was a mistake, but she's wrong. Kisses like that can't be a mistake. Willow and I belong together, have since the day I promised to always protect her from the bad stuff in her life. And somehow I'm going to prove it to her. Just like I'll always protect her no matter what.
A standalone contemporary romance.
Suggested reading age 18+
Stealing Taffy by Susan Donovan: http://amzn.to/2bvLleM
Synopsis
Ten weeks in a swanky Arizona rehab center has done wonders for Tanyalee Newberry. She's turning over a new leaf – no more manipulating men, shoplifting, or forgery for her! But when her flight home gets rerouted in bad weather, she ends up sharing a hotel room (and seven hours of mind-numbing sex) with her airplane seatmate, a complicated Northerner who is clearly not who he says he is. Tanyalee sneaks off while he sleeps, leaving a bracelet as a memento of their encounter.
DEA Special Agent Dante Cabrera wakes up alone in a Washington, DC hotel room, bested at his own "love-'em-and-leave-'em" game by a sexy Southern belle. A pink and silver charm bracelet engraved with the word "Taffy" is all that's left of the wildest night he's had in years. And because his transfer request was denied, it's back to the hills of Western North Carolina Dante must go. Weeks pass, but Dante can't forget the taste of sweet Taffy.
When an ongoing investigation leads Dante to a little girl Tanyalee mentors in a community service program, their anonymous hotel hookup gets dragged into the bright light of real life. Is there more to Tanyalee and Dante than a one-night stand? Has Tanyalee unwittingly put herself and the child in danger? Can Dante save them both?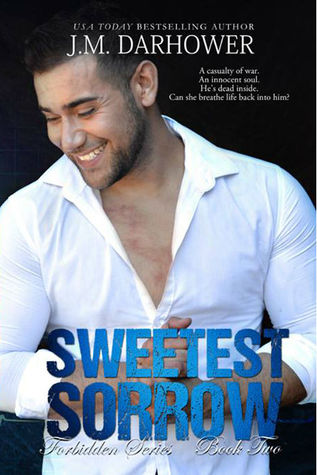 Sweetest Sorrow by JM Darhower: http://amzn.to/2bNlQl0
Synopsis
Dante Galante has evaded death a few times in his life, but held captive in a sweltering basement, he's certain that death has finally caught up to him. Bloody and barely breathing, he tries to stay strong, but there's only so much a man can endure before darkness takes over.
As a critical care nurse, Gabriella Russo witnesses suffering often. Thick-skinned, forever cautious, she doesn't take her work home with her… until Dante Galante lands himself in her hospital. Recklessly grieving the sister he believes he'll never see again, Dante needs a friend. Just a friend. That's all it's supposed to be.
But life has other plans for them, just as it had for Matteo Barsanti and Genevieve Galante. Away from the chaos, building a life of their own, there's only one thing that could ever bring them back to New York: Dante.
Rules get broken and boundaries are crossed as the fight between rival families continues on, drawing them all deeper into a war they want far away from… for good reason.
This Isn't Over Baby by K Webster: http://amzn.to/2bKVanY
Synopsis
***THIS IS BOOK THREE IN THE WAR & PEACE SERIES. THIS IS THE VILLAIN'S STORY. PREPARE YOURSELF…GABE IS COMING AUGUST 30TH, 2016!!!!***
They'd won the battle and I held up the white flag of defeat…
But the war wasn't OVER.
I suffered the aching loss of what they had stolen from me.
OVER and OVER again, my heart broke.
The white Queen and the black King had taken OVER the game
and ruled for what seemed like eternity.
Until one day, eternity was finally OVER.
I was the dark knight who would rise again and conquer.
I was the man who would win OVER the most important piece on the board.
A slayer. A protector. A father.
A new king with the blackest of hearts.
And head OVER heels in love with…
The little princess who owned my twisted soul.
Sometimes the villains don't just want their happy ending…
They demand it.
This isn't OVER, baby.
This will never be OVER.
Warning:
This Isn't Over, Baby is a dark romance. Strong sexual themes and violence which could trigger emotional distress are found in this story. This story is NOT for everyone.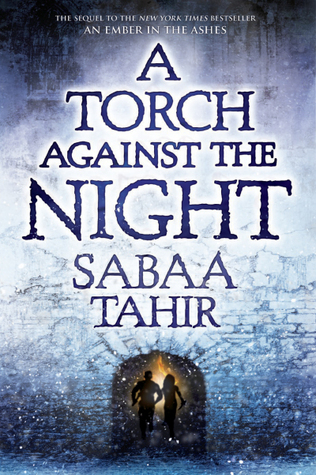 A Torch Against the Night (YA) by Sabaa Tahir: http://amzn.to/2c88tQo
Synopsis
Elias and Laia are running for their lives.
After the events of the Fourth Trial, Martial soldiers hunt the two fugitives as they flee the city of Serra and undertake a perilous journey through the heart of the Empire.
Laia is determined to break into Kauf – the Empire's most secure and dangerous prison – to save her brother, who is the key to the Scholars' survival. And Elias is determined to help Laia succeed, even if it means giving up his last chance at freedom.
But dark forces, human and otherworldly, work against Laia and Elias. The pair must fight every step of the way to outsmart their enemies: the bloodthirsty Emperor Marcus, the merciless Commandant, the sadistic Warden of Kauf, and, most heartbreaking of all, Helene – Elias's former friend and the Empire's newest Blood Shrike.
Bound to Marcus's will, Helene faces a torturous mission of her own – one that might destroy her: find the traitor Elias Veturius and the Scholar slave who helped him escape… and kill them both.
Turbulence by Whitney Gracia Williams: purchase link to come soon
Synopsis
Turbulence by
Whitney Gracia Williams
: link to come soon
Synopsis
Fuck me recklessly
Kiss me harder.
Take me again and again…
He and I met under a cloud of clichés:
Boy meets girl. Boy charms girl. Boy fucks girl.
Our story was supposed to end right after the orgasms, right after we went our separate ways.
But then we saw each other again…
And neither of us could walk away.
Our rules were simple.
Our passion was scandalous.
Our hearts were supposed to be safe…
But when you find something so all-consuming—something so intoxicating and inescapable, you'll risk everything you've ever had, even if you're destined to crash and burn.
This is us.
This is our messed up love.
This is turbulence
Wide Opens Spaces by Aurora Rose Reynolds: http://amzn.to/2bNlsmq
Synopsis
That moment your life changes.
That moment that changes your life.
That moment you love someone more than you love yourself.
That was the moment we gave our son up for adoption and the moment I was left bare. A wide-open space that would forever be empty.
There are moments that define you as a person, moments that prove just how strong you are, moments you push yourself to keep going forward when all you really want to do is give up. It was in one of those moments when I reached out and found him waiting for me.
When Shelby Calder left home fifteen years ago, she never planned on returning to the Alaskan town she left behind. But after the death of her grandfather and a bitter divorce, she hopes going home will be a fresh start for her and her ten-year-old son.
Zach Watters has made a lot of mistakes in his life. But when he sees Shelby Calder, looking more beautiful than ever, standing outside her childhood home, he promises himself that letting her go won't be a mistake he ever makes again.
Some things never change and love is one of them.