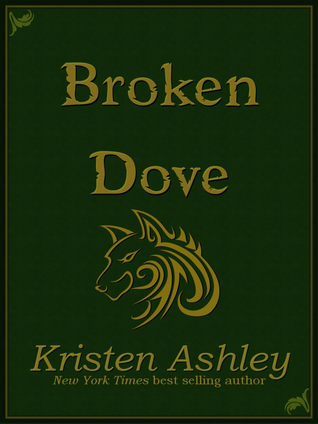 Broken Dove by Kristen Ashley
4 stars
"A dove has great beauty, but is easily broken."
Broken Dove, the fourth book in the Fantasyland series, is the story of Apollo and Maddie. Apollo lost his wife Ilsa, and mother of his children when she died from a sudden illness. Grief stricken for years, he discovers there is a parallel universe, our world, where a twin of his wife is still alive. Apollo also learns this other Ilsa has an abusive husband Pol, so he journey's to this world to rescue her and bring her into his.
This new Ilsa is a disappointment to Apollo, she's not the same Ilsa he expected. But Apollo has approaching threats which puts Maddie in danger, but Apollo will do everything he can to keep her safe.
"It's my experience that a weakness understood is no weakness. If you know you have it, even if you can't control it, you can make allowances for it. It is those who ignore or don't understand their weaknesses who are wasted by them."
This was actually my second attempt at reading this book, the first time I tried reading it I put it down at 17% with the intention of returning to it later….. and it took a while lol. But with the upcoming release of the fifth book I wanted to be caught up on the series. I enjoyed reading this much more the second attempt, and while it doesn't have the WOW factor the first 3 books had for me, I still really enjoyed this story.
Apollo and Maddie were an interesting couple and had a hard balance for Ashley to pull off but she did. Apollo being in love with Ilsa and then Maddie, you would think there would be a lot of issues but Ashley did a wonderful job of highlighting the differences between the two women and why Apollo fell for them both. He was kind of a dick at the beginning but over time he grew on me and at the end of the book he was amazing.
Maddie was a great heroine, I felt she was very resilient after everything that happened to her and she was strong. This book was also about her struggle regaining her self worth after her husband Pol had beaten it out of her. Apollo helped her with this a bit, but it was mostly a journey for herself.
Anyways, I think this is Kristen Ashley's BEST series, so if you haven't read it yet now is the time as the fifth book is coming out soon!!
"Remember this kiss," he ordered on a whisper, his eyes staring into mine.
There weren't many kisses Apollo had given me that I didn't remember.
I didn't share that.
I asked, "Why?"
"Because it is special," he answered.
"They're all special, Lo," I pointed out and watched his eyes smile even as I felt his lips do the same.
"They are, dove," he agreed. "But this one, the first I will give you knowing you return yours with love, will be the one I most treasure for the rest of my life."